Merril Diniz
Last updated 6 Feb 2018

.

1 min read
Our SHEROES Tell Us How Safe Online Communities Help Them Grow
SHEROES was recently invited to be a guest in a vibrant Twitter chat hosted by our partner Sayfty, an organisation that's building important conversations around women, gender equality and safety in India. Founded by gender equality activist, economist and social entrepreneur Dr Shruti Kapoor, a Shero we deeply admire, the focused on the importance of safe online communities and how it connects to women's progress. What excited us most, though, was to see so many women across the globe jumping into the conversation with amazing insights and real experiences.
Here are some snippets from the twitter conversation, hosted by Subuhi for Sayfty, and merrild for SHEROES.

Sayfty: Why are online communities so important for women?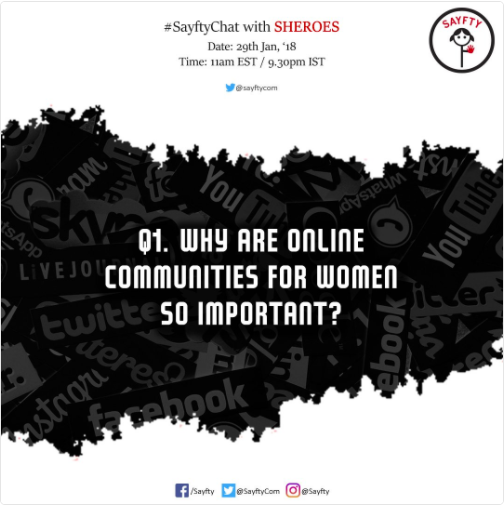 SHEROESIndia: Women's identities, aspirations are so very diverse, and online communities are a great way to engage, learn, and grow via shared interests and journeys, conversations, debates, and more!
Online communities are also about creating a larger, more resourceful circle of support. They are spaces to network, share and ask for advice, swap stories and ideas!
On SHEROES, we have over 30 online communities - from health and relationships to career guidance, parenting and travel. We encourage women to make space to invest in their own growth journeys, and goals. What women can achieve has no limits! #SayftyChat
And we received some great responses from women around the world!
@kapoors_s: Online communities for women are important because they can be a safe space to share, get help, offer resources and share stories and experiences. Yes, it's important for support and belonging, especially when you can't be with someone in person.
@kritimakhija: Online communities are an enormous tool to engage, share, learn, support and create awareness and advocacy. Reach and speed both work in its favour too.
@alittlemasala: Because it's important to have "our own spaces" that belong solely to us. Creating a space to explore identity and voice.
@dvsutaria: Communities are the source of information and inspiration and much more activities, support and campaigns.
@s_narmadhaa: Online communities also provide the perfect balance between personal space and collaborative space. Even people who aren't outspoken offline, tend to share their views with more confidence online.
@gopika_kaul: Sometimes it's much easier to communicate with people who don't know you, but still understand your issues...no baggage. It's therapeutic.
Sayfty: Online safety is a major concern around the world. How can we nurture safe online spaces?

SHEROESIndia: There's a need to look deeper into the values upon which online spaces are built. Being accountable for the safety and well-being of community members is important. But it has to be a deliberate effort. We are already seeing that shift, globally.
On SHEROES, we're nurturing a high trust, high empathy space where women can have authentic, honest conversations. And aspects like #bodypositivity, #inclusivity, growth and constructive engagement are as important.
@shaliniharnot: A community is built by its people. A precise and "not so invasive" guideline before joining would be essential. The values need to to be communicated clearly and defaulters should be shown exit door promptly.
@trivediship: Members should keep an eye on each other. One should not divert the purpose of the community. No offensive stuff should be allowed and strict action should be taken against people who violate rules.
@missheardmedia: So true! Moderators and admins need to block trolls and ensure that members' privacy is protected. Be sure that every voice is valued.
@myle_l_v: Often, kindness and non-judgement are the keys to ensuring safe spaces remain as such.
@fasihahfarrukh: By making sure that only concerned people are present in those communities and none of the members is jeopardising the details of other members.
Sayfty: What are the unique communities on your radar that women can benefit from?
SHEROESIndia: We love @SayftyCom @Womensweb @WomensHealth_in @Inclov_ @YouthKiAwaaz @TheRedElephnt @RebootWellness and FB communities like Invisible Scars and Rewire that are creating unique spaces for women.

We love the idea of coworking spaces for women, platforms like @reboot_network @LeanInIndia and @WomenOnWealth, which visualises women as wealth creators. We need more constructive spaces geared to power women's growth journeys. Spaces that ignite the #TakeCharge spirit!
On SHEROES, we have a unique community called MAALA, a space for women experiencing abuse, to seek support. Also a buzzing health community, a growing space for Aspiring Writers and a community about money matters!
@myle_l_v @letsgowonder is targeted at women travelling (all ages, all types) and now branched out with a group of "working travelling women" @FeministsRising is way broader and more activist lead. The accent is on intersectionalism.
@kapoors_s: The @SexAbuseChat is a great community for survivors of sexual assault. I love the information shared on it and the support for each other. @SpeakOurStories is also another excellent online community for survivors to share their stories and support each other through resources and information.
@anki_live: Depends on what your goals and purpose are for being online. #TwitterSmarter is where you get to learn more about how to use Twitter better. #ContentWritingChat is somewhere you learn more about content writing. And there are many more.
Safty: Any success stories of women who have made a 360-degree transition through this community ecosystem?
@SHEROESIndia: There are so many. There's Sathiya Sundari, a single mom & mobile beautician from a small village in TN, who joined SHEROES to seek advice on entrepreneurship, and some personal struggles. She's now about to open her own salon. You can read her story here!
We have @Raks_d & @PiyushaVir, proud SHEROES community members now pursuing their true calling, with a little support and also giving back as SHEROES champions!

The beauty of the ecosystem is that a woman can access it via mentors, a helpline, communities, opportunities, conversations, in a way that is meaningful to her.
Through the SHEROES app, thousands of women talk to our counsellors, every day, about literally everything - from entrepreneurship dreams and fiscal health to relationships and sexual health.
@anki_live: Hey I'm a @SHEROESIndia success story, too, and I've got the Sheroes Cup to prove it :D After my sabbatical, I was trying to restart my career and Sheroes happened. I even became a mentor on SHEROES too, to give back to the community in whatever small way I can.
@shaliniharnot: More than 100 #mumyupartners of @MumyuIndia got their first ever #socialrecognition through #mumyuBlog and @SHEROESIndia. These women are now stars of their small villages in Himachal Pradesh. That's a step forward towards #empowerment too.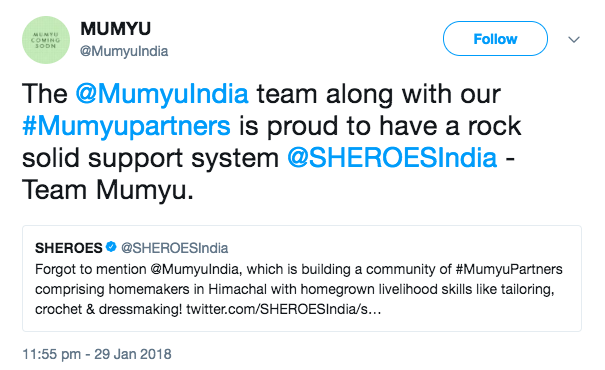 @deeocter: This community has been successful in bringing women from different regions together to discuss topics of importance to today's generation of women and in doing so, have been able to stir many women to speak up and voice their opinion. One being me.
Sayfty: What excites you the most about building a safe online ecosystem for women?
SHEROESIndia: One of the most beautiful things is that some of the women who support and help other women are going through their toughest times, themselves. Also, a lot of younger women, right out of college are joining the platform and they are so open and candid about their lives. They're not afraid to ask for advice.

Our collaborations with progressive partners also play a role in building towards critical mass, a movement around safe spaces for women. It takes a village.
But what we're most excited about are wonderful women like @HitiRangnani @SwarnsB @RaiSwatiRai @BeingAKaur @DrBhaviMody @rashmeet279 @shaliniharnot @mehnaz_amjad, joining the fold as Champions to proactively support other women/share what they know for sure #CircleOfSupport
@missheardmedia: We're inspired by the stories @SHEROESIndia is sharing! It's exciting to nurture, encourage and support women, to provide the resources and to watch them succeed!
@alittlemasala: I get to meet women like Sathiya. I see women bearing their hearts and souls at @sheroesindia every day.
@authorpriyanka: That we women will be able to offer diversity, dilute/forego issues such as racism, bullying, ridiculing etc. Building a safe ecosystem for women, for me, will be beneficial in terms of being able to use it 'as' a woman.
Ladies, you can also be a part of SHEROES online communities on web or by downloading the SHEROES app. Share your story, engage and let's grow together!
---

Merril Diniz
---
K*****

That's very very true. Few months before we had a news that net neutrality will be banned in India but later it was revoked and once again people are free to voice their own views and opinions without any fear...:-)
Similar Articles You love