Mahima Sharma
5 Feb 2019

.

1 min read
Bringing Ayurveda & Technology Together To Solve Period Problems
"Since childhood, I have been asked by family, friends & colleagues - How are you so happy and cheerful all the time...? I have acquired secrets of happiness in three ways: - Experiences, Observations and years of Research. 'Thoda Hai, Thode ki Zaroorat Hai' sums up the nature of happiness.
You've got this subtle feeling that you are happy, but you also feel the potential to be a lot happier. But you don't know how to unleash this untapped potential within you. A strong urge to share my secrets of happiness inspired me to be a HAPPINESS COACH and enable women to lead happier lives," says 43-year-old Rachana Gupta who is based in Mumbai.
Author to the book HAPPINESS KI KHOJ, Rachana is also a Champion at SHEROES. And she is all set to launch GYNOVEDA.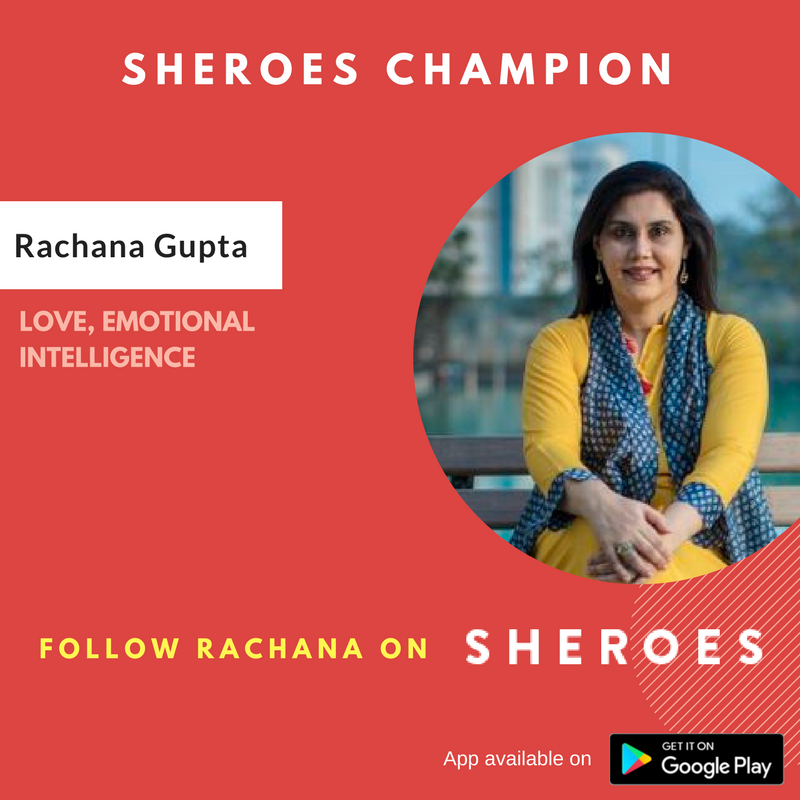 So let's know more about Rachana Gupta and her upcoming online portal that aims towards a healthy living for women by connecting them to the virtues of Ayurveda.
"During my journey as a Happiness Coach, I have extensively worked with young girls, working women, Moms. During my interactions, I have realized that women's understanding of their reproductive health, especially menstruation is dismally low. Any abnormality in periods not only leads to physical discomfort, but also affects us mentally. Women's health and pain-free periods is an important aspect of happiness. Gynoveda.com is born out of my personal belief to be in charge of my health and happiness, and I am on a mission to create a smart solution for women to take charge of their health & happiness from the comfort of their homes using their smartphone," details Rachana, who is a mother to a 13-year-old boy, and is training him to be empathetic towards girls, and women.
Not just this, the mother-son duo also discuss sex education, without which, Rachana believes that men cannot be empathetic towards women and provide necessary care. "When my son was 10 years old, I explained the process of 'periods' to him and then also chronicled this in a blog titled 'Kuch Daag AccheHote Hain'. As parents, it is important that we address all issues pertaining to sex education, women's health and other related issues in an age-appropriate manner," Rachana recalls.
And GYNOVEDA, she says, is just one step towards women-healthcare. The web-portal will be public in Jan 2019. so my next question had to be, how does it work for women?
"Mahima, through my personal research and experience over five years, I believe Ayurveda is the world's best medical science when it comes to understanding a woman's anatomy. And we are simply taking it to women faster through technology. We developed MenoBot, world's first artificial intelligence robot to detect gynecological disorders using your smartphone. MenoBot is a robot that resides at Gynoveda.com and it is trained to ask you 20+ questions related to periods, and intelligently compute those results indicating internal disorders. But like it's rightly said, no robot can replace human intelligence so we have gynecologists who are simply a phone call away on gynoveda.com. You can WhatsApp , chat or even call to discuss your MenoBot report with an MD Gynecologist to understand your health better," Rachana details all elaborately.
And why only Ayurveda Rachana? You could have done this through any other medical science?
Rachana asserts, "A menstrual disorder is the first signal to something abnormal in a woman's body. And only few are aware that Ayurveda has some amazing herbal formulations that can treat the root cause of any menstrual disorders. Moreover Ayurveda treatments are completely non-invasive and in 98% of the cases, it does not require any physical examination and surgeries. Treatment plans are personalized and medicines can be ordered online and shipped anywhere in India. In GYNOVEDA's launch phase, we are entirely focused on menstrual disorders – PCOD, hormonal imbalance, vaginal infections, fibroids & cysts and menstrual pain."
Here I must inform the readers that Rachana is a Commerce graduate & M.B.A in Marketing. "I worked for 16 years in the corporate world in leadership positions and lead teams." So my I wanted to know, why a turn around to something totally different Rachana!?
"Yes, my qualification is non-medical, but I am passionately educated on Ayurveda and have teamed up with MD Ayurveda (Gynec) & my husband as a Technologist to develop Gynoveda as a tele-healthcare for women. If one is passionate, one can solve any problems through, irrespective of one's academic qualification. We have to #takecharge to make lives better for others," asserts a very determined Rachana Gupta.
An online portal means a place for literate women who have some awareness about how to use technology. What about those who form the masses, who don't even have education on basic health and hygiene? Rachana is not startled, since she asserts that she is ready with a future plan, "While Gynoveda is an online platform, the aim is to also do various offline interventions such as orientation programs and medical camps for uneducated women to increase their understanding and offer treatment. We are working at it Mahima, we will share that good news as well, soon."
I must also inform the readers that long before delving into the field of women health, Rachana has been a SHEROES Champion who helps women deal with various issues through her profile. So I asked her how's that journey going on?
"SHEROES is a powerful platform that binds women together and enables them to share, learn, discuss and encourage each other to take charge and achieve their dreams. I have been a Champion on relationships & emotional intelligence for the last 8 months and it has been a very interesting & impactful experience for me. Such varied women voices and such amazing narratives that come out every day on the platform. Every story is different and yet teaches us the same thing about courage, compassion and connection. Cheers to SHEROES and our circle of sisterhood," says a very upbeat Rachana Gupta.
And since GYNOVEDA is nearing the launch date she is super-busy. She bids adieu with the following message to all those who are reading her story of grit and determination to make others' lives better:
(Check ou this article by Rachana - Five Habits Of Happy Mothers)
"Every woman has a right to be happy and to enjoy her life to the fullest. So, make the most of every single moment and you must be able to celebrate life right here, right now. Your health is the most important, not because you need to take care of your family, but because you need to be healthy in order to enjoy life and live on your terms. Take Charge of your health and become self-reliant, you owe this to you."
Any news related to women health must reach the farthest corners of the world. So do share this story as well as leave some best wishes for Rachana in the comments below. After all, SHEROES is all about holding hands to rise and shine, isn't it?
You can follow Rachana on SHEROES.
---

Mahima Sharma
---
P*****

Wow! Awesome! Loved your story! You are a true role model for 'If you are passionate about something, you can do it'! And I love that you are a Happiness Coach too! Best Wishes for your purpose driven venture!!
R*****

************ So glad to hear that, thank you :)
S*****

Thank you! Rachana😍 I'll start taking more care of my health❤ Great work Mahima Ma'am😍
R*****

************** Thanks much :)
R*****

*********** Thank you
R*****

************* Thank you and lovely to get connected with you :)
R*****

************* Thank you for being YOU and the force to reckon with . You lead the pack with elan and love you for what you do & binding this circle of sisterhood . Shine on and much love to you.
R*****

************** Thank you Karishma, we are in it together :)
R*****

********************* Thank you my dear for those kind words and appreciate all your encouragement & support . We as women can build such magic together and thats the part I enjoy the most . And yes , ************* & *********** are both amazing women who are adding immense value to our community
K*****

Really appreciate... Keep it up..


P*****

Love knowing you @Rachana Gupta ji. Loved your concept of happiness.Looking forward for Gynoveda App. All the best to you.
K*****

All the best mam. You are really doing the great work.
P*****

Actually I'm spellbound knowing the wonder Gynoveda.com and the wonder Rachana Gupta Mam.Mahima day by day I'm getting addicted to the SHEROES and all the wonderful and super duper ladies here.This app is going to help innumerable ladies and U believe it will work like magic.I too believe in ayurveda which has no side effects and Dhanwantari and India has the credit of it's inception in world.A ton of thanks to Mam Mahima and I wish all the best to Gynoveda.com.I will help as much as I can.*I .Thank you @Shiny mam for all the amazing news.
R*****

********** Thank you Uma, we are in this journey together :) Much love to you
R*****

*********** Thanks much, very sweet of you to say that :)
R*****

********************* Thank you :)
R*****

************ Thank you :)
U*****

Good Morning lovely ladies!! This simply makes all our day, what a productive transformation?? With the key wellness of women🙏🙏💜💜Much Love with wishes to move towards success delight👍
G*****

Tqs @Mahima sharma, dear for bringing such a wonderful , inspiring stories for highlight. Feel motivated towards life. 😘😘Love you. Hats off to such achievers, Rachana 's smile is so contagious, 😘😘
S*****

Great info Mahima ji and great initiative Rachna ji.

Similar Articles You love