Look How Our Community Is Celebrating Their Apna Time
Last updated 23 Mar 2019

.

1 min read
Hey fellas, Apna time is here! And you have been killing it by sharing your best now moments with the hashtag, #ApnaTime.
Women have been breaking the ceiling in defining it but for a start, it's what we have NOW. While better things may await us in our future we need to cherish our time right now. Great things are happening in the present moment so why not celebrate them and throw the spotlight on that aspect too?!
No makeup look
At the end of the day isn't it all about feeling good. We do everything to feel better about ourselves. So whether it be grooming yourself with all the best products one can get their hands on, or being make-up free and appreciating ourselves in all our natural glory, it works just fine! You look fab either way.
Saree love
Apna time can be about anything. It can be a celebration of what you believe in, what you want to do, what you want to achieve, or just that little moment where you feel happy. So here we have a SHEROE in a saree. Sometimes we find our happiness in draping ourselves in nine yards of grace. And why not, it makes us feel beautiful inside and out. You go, girl!
Celebrating the love of your life
All our life, we seek people who would nurture us and give our aspirations wings. We can be that person to others but sometimes it becomes really difficult to find that genuine appreciation that we seek. But once we do get someone who appreciates our being, it's definitely #apnatime. Love can make any time, Apna time.
Mandala Art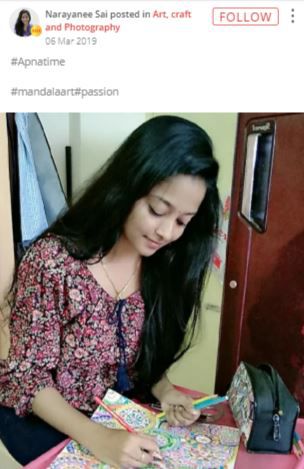 Life has lots of struggles but finding things that make you feel yourself and bring joy to give us the completeness and fulfilment that few things in life do. The freedom to create is something we tend to underestimate and sometimes underutilise. Create this apna time and find inspiration in our friend's Mandala art!
Simplicity is my favourite
Fashion is a choice that is sometimes undervalued. It is as important as everything else that we choose to put out there. It's a statement we make about ourselves, whatever it may be. Our clothes sometimes show our state of mind and sometimes even our values and belief system. Its #ApnaTime when you find that style and simplicity is one of the boldest statements you can make. Check it out!
It's apna time when you find your voice and cherish your imperfections. Need I say more when there are so many strong voices out there. Let's hear our sister out!
Your confidence is your beauty
When you meet a woman who is comfortable in her skin, is there really anything else that makes her more beautiful?
Moms and sisters are my first besties
Apna time is all that makes us feel better and rejuvenated. And what better way to reconnect with oneself than to spend time with our first girlfriends - our mother and sister! Isn't the knowledge that you truly have your back covered, give you that comfortable cocoon where you can unabashedly be yourself. Love it!
We all need some perspective in life and here is our woman showing us the way!
Not bring down each other
We have to lift each other up at every moment. It's commonly said that you are a "beauty with brains" and I used to take it as a compliment. But I didn't realise that while I may be singled out and praised but the entire womankind is being let down. It's being said that we women can't be both pretty and smart! And that's outrageous.
Taking charge is our thing
Satyavachan my lady! "Apna time ata nahi hai lana padta hai"! We make our own world. We create our own opportunities by living the way we want to and pursuing our dreams. With women so strong how can we ever find a moment of demotivation?
Work from home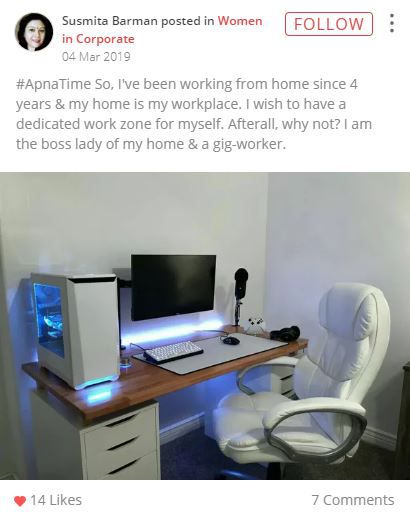 Creating spaces which increase our comfort and make things convenient for us are extremely important. They increase our productivity and ease our life. Work From Home is one of those things and our friend here has nailed it! Look at the suave new space she has made for herself. Its #apnatime for her. You go, girl!
Me time for Apna Time
Apna time aega, manicure karwaega,
jab apna care kara jaega tabhi toh mazza aega,
Apna time aega!
Pamper yourself with the much needed me time as our friend does here!
Claiming their fair share in Share Market
Whoever said women don't handle finances? Managing a household is no mean task. I struggle every month to save money but you all have been doing it for so long and so efficiently! Kudos to you. No matter where we are, we know how to run on a budget. Here her out!
Apna time is here ladies. No matter how down and out you may feel, but that positivity is there and it surrounds you. We just need to take a look. Live, laugh and celebrate the little things because that's where the joy lies. HUMARA TIME AA GAYA!
---

Vishakha Singh
---
---
Like
Bookmark
---
P*****

I have posted Apna Time in the faishon and lifestyle community 😀
N*****

Dimple you have to share it in the Fashion and Lifestyle community.
D*****

Where to share the picture
Similar Articles You love