Meet the SHEROES - Premlata Agarwal
Last updated 27 Dec 2017

.

8 min read
Premlata Agarwal, the famous mountaineer in India to climb Mount Everest
At 48, Premlata Agarwal became the oldest Indian woman to have scaled the world's tallest peak, Mount Everest. She started mountaineering at the age of 37, after taking part in a hill climbing competition in Jamshedpur. Soon she discovered her passion for climbing. She is one of the finest mountaineers in India Subsequently, she was trained and mentored by Bachendri Pal, the first Indian woman to summit Mount Everest in 1984. Premlata talks to SHEROES about her climb and the challenges that she faced –

Having scaled all the highest peaks of the seven continents, what's next?

This question has been coming to me ever since I climbed Everest. People used to ask me, now what next? I used to ponder that I have scaled the highest, now where to go.
One day I had gone to meet Mr Sanjiv Paul, the then Vice President of Tata Steel, in his office. there I came across a house magazine of Tata Steel which had a slogan of Tata Steel " Kar Vijay Har Shikhar " and I got the lead for my future plans and answers.
Now after seven summits having raised the tricolour on all the highest continental peaks of the world, there are two places I would like to unfurl the tricolour are the South Pole and the North Pole.

You have climbed world's tallest peak, Mt. Everest. What were your first thoughts when you set foot on that snowy peak?

When I stood atop Everest on the unforgettable morning of 20th May 2011, I was dumbstruck, speechless for many moments, the first thought that came was "My God you have made me achieve, I was thanking God and my stars and next moment I was praying my Gods to send me back safely as a mission is just half complete until one does not reach back to the base camp as climbing up and getting down are equally challenging.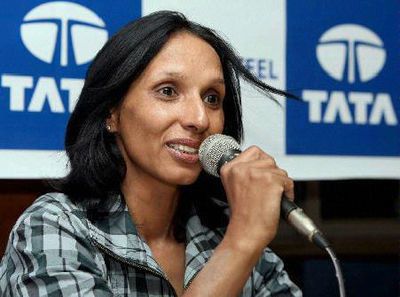 Who was your inspiration to be a mountaineer? How did your journey start?

I used to take my daughters to the JRD Tata Sports Complex in Jamshedpur for their training in tennis; it was perchance that I came upon a notice on the board that a Dalma hill Trek (a small hill on the outskirts of Jamshedpur) was being organized by the Tata Steel Adventure Foundation. I participated in that event and stood third amongst some 500 plus participants.
I went to the TSAF office to collect my certificate and there I came across many pictures of Madam Bachendri Pal's Himalayan adventures. I stood dumbfounded watching the pictures hung on the walls of the TSAF campus.
And it immediately flashed in my mind….my daughters should join the adventure sports.
I headed to the office where I met the ace mountaineer and now my mentor Bachendri Pal. On hearing my desire she observed, "Why don't you join instead?" And I did. My age then was 35 years.
In the year 2008, I climbed Mount Kilimanjaro in South Africa under the leadership of Bachendri Ma'am and while descending back, she said, Prem I think you should try to attempt Mount Everest, you have all the abilities to summit Everest.
If you are ready, I will speak to Tata Steel for the sponsorship. I said Ma'am, let us go back to India and I will speak to my family and let you know.
But this thing took me almost two years to answer. I had to get my elder daughter married, my younger daughter was to be sent to the college for PG
And once both these concerns were settled, I asked my husband about the Everest expedition and he instantly said when Bachendri Pal thinks you can do it then you should go ahead. This was also approved by both my daughters and my in-laws.
I was 48, but the firm belief of Bachendri ma'am on my ability proved that age was just a number and my Everest training started under her wings.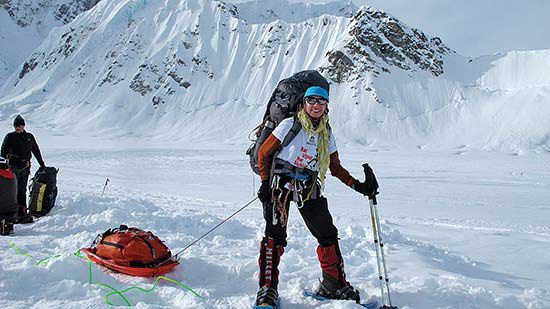 What are the challenges that you faced? How did you deal with them?

When the year 2012 was coming to an end and all were busy welcoming 2013, I was carrying the tricolor, defying all odds, to unfurl it on the highest point of the bottom of earth. And with the good wishes of all, I finally made it to the summit of Mount Vinson (Antarctica) on 4th January.
BUT the pride and joy of this feat by a woman mountaineer of India was short lived.
After my descent a magazine was thrust towards by one of the climbers who was a foreigner, he showed me a news item on the front page of the magazine'. It was a punch on my conscience when I saw the ghastly account of Delhi rape victim, Damani.
To add salt to injury, the foreigner mountaineer observed this is happening in your country. Momentarily, my mind and tongue were frozen. However I blurted out (more in the form of an excuse), 'such things happen in other countries as well. None the less, such acts are a blotch on a civilized human society.'
But, I cannot forget that I too am a part of this very society. Scaling the seven international peaks was primarily with the purpose of proving, on the international format, that Indian women are no back benchers.
In the realms of social and moral reconstruction, somewhere deep within my heart a question rises, 'are women –the tribe of mothers- really respected? Are they safe?
Whichever way one looks at it, rape or other atrocities on women undeniably tarnish the image of societies, nations and above all of mankind termed as Higher Animals in social sciences

Being a woman mountaineer in India you have achieved huge success and glory for our country, something which every Indian woman would want to be, be it in any field of career. Standing on that apex of achievements, what do you think is the status of women in today's India?

Indian women are still considered only as good homemakers throughout the world.
My elder daughter had accompanied me to Kathmandu for my Everest mission "My Sherpa was stunned when he learned that it was I and not my daughter who had accompanied me to Nepal, was to be in the Everest team. He immediately dispirited me by saying that for an Indian women of my age and physique was not suited for the grueling and life threatening climb. Even when the climb started, he was not sure of my accomplishment.
In my expeditions abroad, my team members used to applaud me saying, Indian women are very strong.
I believe gender inequality holds back the status of our women otherwise we are second to none

What about the balance of being a working woman, of having a career and family and relatives and the difficult balance of both the worlds, which is one of the many problems faced by today's woman?

True, women do face this dilemma. In our country 'The mainstream remains very much a malestream' as I said that in our country our gender is more accepted to act as a natural unequal sharer of the burden of adversities between women and men.
But we are changing and with better education and becoming economic contributors in the family, will surely make the difference.

Message to SHEROES out there

My mentor said, put your first step forward the second step will automatically raise. I did exactly that. And this is the secret of any success
---

SHEROES
---
---
Similar Articles You love