Merril Diniz
20 Feb 2018

.

1 min read
Take the SHEROES 'Lives Of Women Survey' & Be Part Of The #TakeCharge Revolution!
We live in a world filled with preconceived notions about what women want, how we should look, what profession we should take up, who we should marry and what age we should marry, et al. But what is it that women really want - do we want to marry at all, what are our views on sex, what do we want from our careers, what does freedom mean to us?
At SHEROES, we love hearing from women - real lived experiences, real stories of struggles and successes, real confessions about love, sex and marriage, the many truths we don't get to hear in real life because as women, we're constantly expected to conform to some stereotype or another.
To get closer to the truth about Indian women and their dreams and aspirations, we crafted a simple survey, and hope to capture as many women's voices as possible. It will help us understand better the mind, heart and soul of Indian women, and where we're at in the multiple areas of our lives - money, relationships, sex, marriage, freedom and tons more.

Through this survey, your voice can help shape the true understanding of Indian women. The results will be published in the coming months and referred to by many stakeholders - media houses, brands, policymakers, men, et al.
So, ladies, we request you to spend 10 minutes and join thousands of women in taking this game-changing survey. Click on the banner below to take the survey NOW!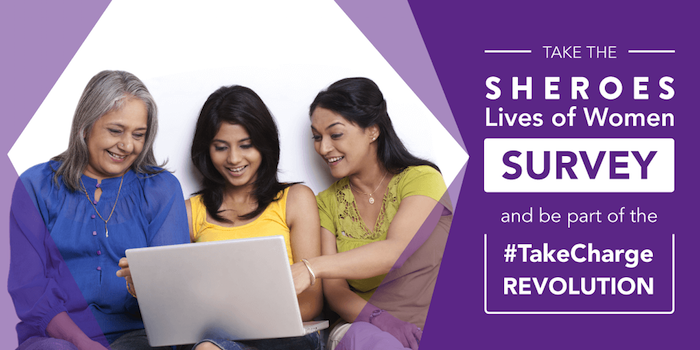 ---

Merril Diniz
---
T*****

I have submitted my response but would love to see other perpectives. Would appreciate if insights would be shared in terms of percentage or numbers. Nice questionnaire and great work.

B*****

A woman has alot of potential in her,more than one can ever imagine. I think she herself is not aware of her potential and strength until challenged by circumstances. I as a woman have a dream or rather my goal in life is to become a journalist. I know it takes alot to be successful and people often want to take up a profession that offers security but I want to take up the risk as I hate monotony and a boring life. So I love taking risks. My opinion on love , sex and marriage is yet to develop but as of now it's all a fantasy and yes I still also believe that everybody has a fairy tale of their own to say and my endind still does not seem quite clear as alot of pages are yet to be turned.❤😊
M*****

Rekha, just click on thebanner

R*****

Nice idea👍👍 every one could share their views..I had shared mine😊

R*****

Hi, how to join the survey?
M*****

Hi I'm not able to access your challenge ye page expire hogaya hai kya?
M*****

Hey Hema, do take the survey and also share with your friends

Similar Articles You love