Priya Das
Last updated 13 Jul 2017

.

4 min read
Women Are The Gamechangers @Mia SHEROES Summit Delhi!
It was a muggy Tuesday morning on July 11th, 2017 in Delhi, when SHEROES held its 5th edition of the Mia Summit for (and by!) kick-ass women from all corners of the world. But the atmosphere was bubbling with energy and anticipation. What did we have in store for Delhi this year?
Here are 4 quick highlights of what we saw and engaged with in this Twitter-trending Event of the Year!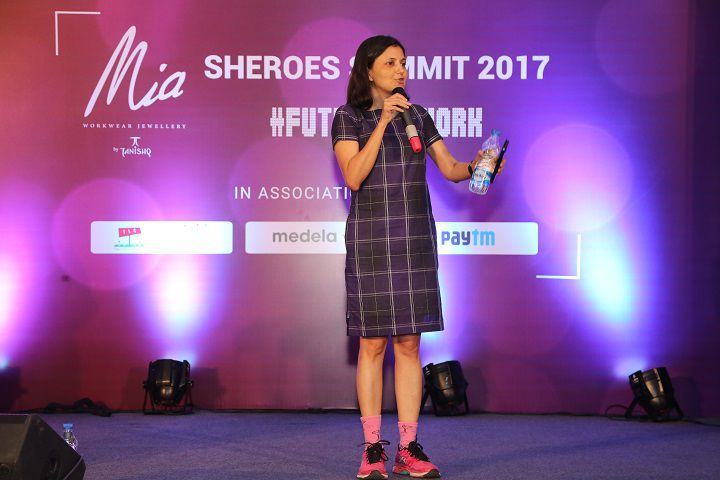 "I want to break the myth that a good business can't be a profitable one." Sairee kicking off the Summit with her key-note speech.
The #BESTATWORK Panel
Four women (and a man) talked about empowered women bringing in their #BestAtWork on stage! The debate revolved around how women don't need to be treated as Superwomen, only regular ones.
Mishi Choudhary (Founder, SFLC) agreed on the importance of DEMANDING while Emilie Moulard (Managing Director, Medela) and Vinati Kastia (Partner, AZB & Partners) refused to feel guilty for their success!
Special shoutout to Priya Krishnan, CEO & Founder of Klay Schools, whose life has been like a roller-coaster of self-discovery.
Faisal Farooqui rounded up the rest of this awe-inspiring panel, his take on Power Women balancing logic and emotions hitting the mark!

The BestAtWork Panel discussed the problematic societal pressure on women to be perfect.

"Don't empower me, pay me." Cindy Gallop encourages women to earn 'a shit-ton of money' unapologetically.
Cindy Gallop Designing the Future of Workspaces!
With her powerful stage presence and no-holds-barred attitude, Cindy Gallop was that shot of truth that burns down your throat like fine whiskey.
Fierce and unapologetic of her ideals, she insists, "We need to design our own financial eco-system because the male-dominated one isn't working for us. Don't just lean in, redesign everything"
She brings jarring facts to the table and talks about sex because she isn't ashamed, and neither should we be!
"When we talk about good sexual values, we end rape culture." Cindy Gallop was a true champion on stage.

Two worlds meet when a confident housewife shares the stage with our passionate speaker, Cindy Gallop!

Women from all corners of the world networked and socialized over tea and biscuits at the event!
Relatable Ritu Kapur and her Journey till Date…
For 25 years, Ritu quietly built her business, thinking invisibility was a virtue. Until one day she realized it wasn't. Now the affirmative-and-badass Co-Founder of The Quint, Ritu Kapur insists on breaking the 'Achchi Ladki' narrative that puts all women in boxes.
"BE the buri ladki!" she says. Embrace your own imperfections and #takecharge!

Ritu Kapur's endearingly relatable speech encouraged us all to go out and be the future PMs!

Sabika Abbas Naqvi questions the 'capitalist misogyny', with her words getting under our skin.
From Soothing Melodies to Chest-thumping Percussion Beats
The Mia SHEROES Summit brought around a diverse array of performers and poets to the stage this week.
Sukriti Sen's morning ragas filled our souls with peace, calm and hope, while Sabika Naqvi, with her take on un-gendering what we wear, questioned the status quo.
We hosted Sonam Kalra and The Sufi Gospel Project, their soulful music urging us to sit up and #takecharge; and percussionist Fakhroddin Ghaffari got the women to physically to create their own beats, synergising as one and synchronized his Persian drums. That left us thoroughly energized! What a workout!

Percussionist Fakhroddin joins in with Sonam Kalra's rhythms during the musical session at the Summit!?
It was an eventful day indeed: fun audience engagement, hesitant homemakers embracing their identities, and a biker lady speaking up, the Mia SHEROES Summit Delhi was a mix of the brave and the bold.
We cannot wait for you to come back for more. Mumbai, are you ready?
We are coming to a city near you! Check out these links:
Mia SHEROES Summit BANGALORE (July 29, 2017)
Mia SHEROES Summit KOLKATA (August 5, 2017)
Mia SHEROES Summit CHENNAI (August 19, 2017)
---

Priya Das
---
S*****

Looking forward in delhi as well

D*****

Mumbai is waiting.....Sheroes keep rocking??
M*****

?? ?? ????Great! ?? It will really help the women's sitting inside 4walls of their life to up come and take part through digital world N
R*****

An amazing day painted with Awsumm words.
Similar Articles You love