Nirupama Kondayya
Last updated 7 Apr 2018

.

1 min read
My Journey From Being A Lecturer To A Full Time Blogger
Ahoy beautiful ladies! I'm Sonali Agarwal who totally hates it if anyone calls her 'Sonal' :P A former lecturer, now a full-time freelancer and also a 'proud' blogger. I had to mention 'proud' because as I see around me, people are quite sceptical about blogging and I'm often been asked, 'Aur kya kar rahe ho blogging ke saath mein?' (what else are you doing apart from blogging), with such worried faces! Trust me, their looks are more scary than the 'Shaadi kyun nai kar rahe ho?' (why aren't you getting married) question!
It may sound funny but seriously, being a freelancer and a blogger in our society is still not an easy task, just like being a woman. Many people who know me, see me or are fascinated by my lifestyle don't know that I belong to a super conservative background which includes my relatives, society and even friends I grew up with.
The journey has not at all been easy. As they say, sometimes, you have to snatch your freedom and that's exactly what happened with me; and behind this so-called independent woman is her younger brother Sunny. He supported me in taking the first step which was enough to ignite the fire in me. So hey hey... feminists out there, a man can also be standing strong behind a woman's success.
The Fire Within
I always wanted to do something on my own but I belong to a family where a woman's marriage is considered as her ultimate goal in life. It's a more serious concern than any national crisis where unmarried women are seen with suspicious eyes. I was not at all allowed to even pursue a job. This gave me a strong urge to look for online earning sources of income. Luckily, I got my first job through Twitter, as a web content writer, while I was in college. I still remember my first pay for my first assignment that filled me up with so much of confidence that I continued to study and got a decent job as a lecturer.
Why a lecturer? Well firstly, I 'thought' it was my dream job and secondly, it was easy to convince my parents for this job because of it's 'convenient timings'. As I said, I thought it was my dream job because I realised that after giving my four years to a job, even with the most supportive management and all the comforts, something was missing.
I felt caged, trapped in a cubicle and after four years of being a lecturer, I took a sabbatical. I was feeling super insecure about what I was going to do next and trust me, the future was looking absolutely blurred. After a month of sabbatical, an idea crossed my mind - of selling printed merchandise online. I became super enthusiastic about it, did the whole research, did some selling too but later on, failed at it badly which cost me an enormous amount of money, energy and optimism.
After this blunder, I was ready to join the college from the next semester but I met with an accident which fractured both my legs. With plaster on my legs and stress on my mind, I was on bed rest for two months. Call it a blessing in disguise, the only companion I had with me was my laptop. So I searched on the net and got exposed to the blogging world which was always around me but I never knew that it was going to change my destiny.
My Tryst With Blogging
I had zero knowledge of blogging but while being on bed rest, I made my blog on Wordpress and I used to post blogs about the books I read. Within a month, I got my first paid campaign and since then, I have never looked back. I grew as a blogger with Wordpress and after a few months, Sonalify came into existence.
Today, after a year, with having more than 15k reach right now from my blog and social media accounts, I want to tell people that blogging is not just about making an account on Instagram and posting pictures with silly captions. I have been asked by many youngsters, "Ye food blogger banne ke liye bus Zomato aur Instagram pe account bana le toh chalega na?" (To become a food blogger, creating accounts on Zomato and Instagram will be enough?) I tell you, during the initial stages when I was not sure about my niche, I tried many things but one has to decide the 'niche'.
It's not at all easy to become a food blogger or a book blogger. It might get you a little fame in the initial stages, but that won't last for long, if you are not good at it. Blogging is a big responsibility. You have to decide what exactly you want to do in this field. Anyone can go to a big restaurant and eat good food or anyone can get a free book and read, then share their opinion. But staying honest with yourself, with your followers and even with your clients when the campaign is paid, becomes really difficult and here the 'art of blogging' comes into the picture. Not everyone can master it, no matter how easy it may look like.
So for those who really want to enter this field, please be aware about your choices and make sure that you are ready to do a good investment in the early stages without expecting anything, it may look like fun but it's definitely not.
For A Woman, By A Woman
Being a part of the SHEROES platform, I would like to mention about my own project which I run for homemakers, who are working as freelancers from their homes. This project is called 'Queens of the Homes', where I promote homemakers without charging anything from them. This is my small initiative for women. I started this project because being a freelancer for so long, I understand how difficult it gets to reach to the clients and get a platform. So if you are one, do contact me, I would love to promote you on my blog and on my social media platforms.
In the end, I would like to say, STAY ORIGINAL, no matter what. During your journey, many people will come into your life and ask you to change but JUST DON'T. If you are honest, then you are going to face many difficulties in your life but in long run, you are going to be super proud of it. There is no harm in accepting yourself the way you are. Just focus on improving your own version and one day, the noise of all taunts and criticism will convert into applause.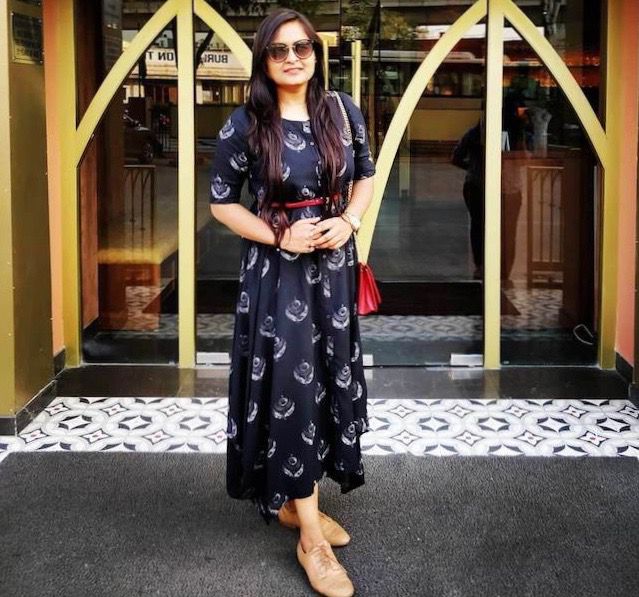 Sonali Agarwal is a full-time lifestyle blogger, a chai lover who prefers reading books over WhatsApp chats and a former lecturer. Just trying to create a balance between her love for marketing, teaching and writing and thus she likes to call herself a Storyteller of People, Books, Events & Brands. You can contact her on Twitter, Facebook, Instagram, LinkedIn and via Email.
---

Nirupama Kondayya
---
S*****

Hi my hobbie is to write stories, poetry,food making and many more. But no idea? u will suggest me.
A*****

I love writing poetry and short stories it is the only thing which can make me happy and keep calm i write on yourquote app but want to start my own blog can u help me for this
R*****

i want to start writting blog if u will suggest me
M*****

very inspiring....blog!

R*****

How can start career as a blogger
S*****

Hey Jenita, here is my email id :

[email protected]

Please send me your query. Would love to guide you :)
J*****

Hi ,your story is really inspirational.Actually it relates to my life story so much.I love blogging and vlogging.I have my own channel in YouTube but since nobody in my family encourages me,I am unable to put in some quality work as there should be a small investment.I have a strong passion to blog but I'm kinda of confused how to put things in path.Could you please help through?
A*****

Hello will u please guide me how to make a blog account
Similar Articles You love