I Am The Only Licensed Lady Tourist Guide In My Region: Jyoti Chaubey
Published on 14 Sep 2019

.

1 min read
Today I am taking you to meet 35-year-old Jyoti Chaubey from Varanasi. But before that take a look at some of the beautiful posts on her timeline!
Lovely images like this from Varanasi are a regular feature on her timeline. But what made me halt and scan her profile deeper was this image - female tourists from abroad dining at Jyoti's house! Take a look...
Who is Jyoti? And how were these women from a foreign shore so comfortable at her home? Jyoti Chaubey informs me that she is the only licensed female tourist guide in the Varanasi region! "We live together at Sathawan village in Sarnath, Varanasi. And I travel regularly to work as a tourist guide," Jyoti shares with pride and joy in her voice." Whohaaa! Doesn't that sound wonderful?!
She smiles and informs," Mahima, it is a matter of pride as well as, of great responsibility. Rather the latter part of my life is very stressful unless I get the family support the way I get. Being a tourist guide involves working early mornings and late nights. I will illustrate with an example. People love to watch the sunrise by the Ganga and the Aartis in the evening especially the last Aarti. And then go for a stroll in the markets nearby. So imagine the kind of hours I have to put in if all this has to be done in one single day!" I am overwhelmed, as being a passionate traveler myself, I know exactly what she means.
And she tells me all this has been in process and progress since 2013 when she got her license. And that also means that at that time she was just two years away from giving birth to her son who is four years old now. How did you cope up with all this and while taking care of a daughter who was just six then, Jyoti?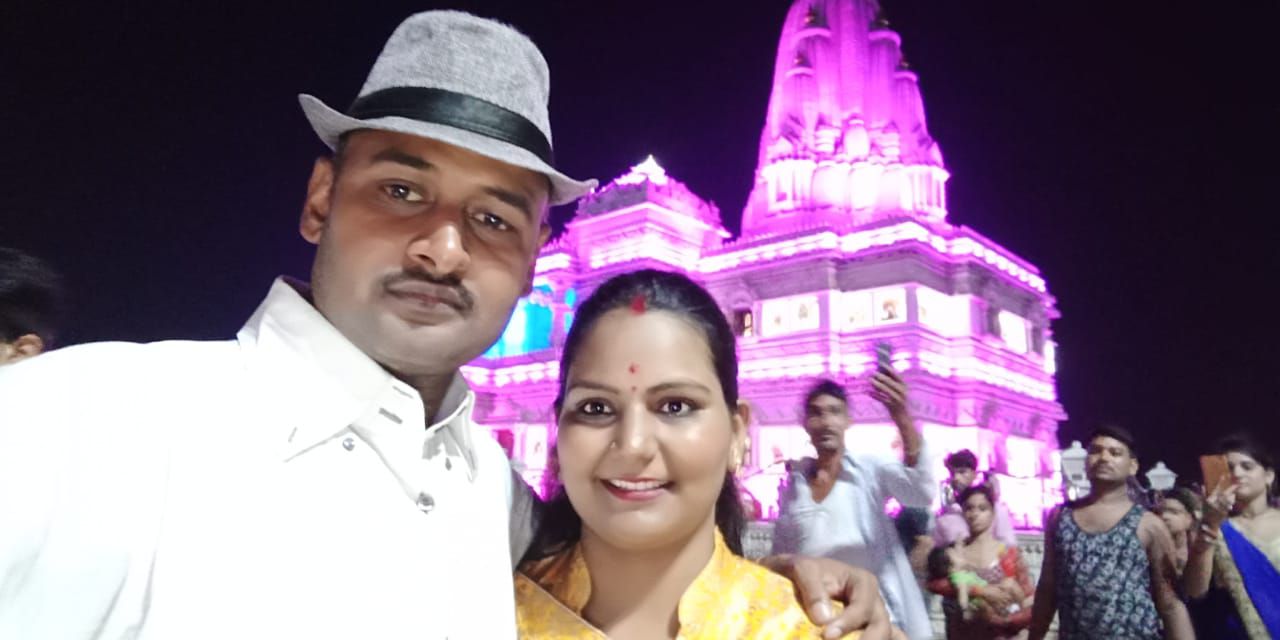 Jyoti credits her husband Madhukar for the undeterred support, " I am an M.Phil. in English. I always wanted to be financially independent in life. Traveling was a passion. But my daughter was too young to be left alone. So I took up a teaching job. But then, my husband always knew that I had that spark in me. And when I began taking small groups of people for touristy travels across Varanasi, then he coaxed me to stride ahead. I did a Diploma In the Spanish Language and also applied for the License. Some of the relatives were not upbeat about it and criticized the move since at times I would leave my baby son at home and take travel groups for tours. But due to my husband's unconditional support, that also came together with my mother-in-law helping me out all the time...I was able to pull through all the tough, personal times. In short, I will say, if all families take care of the daughter-in-law by sharing work mutually, each house will be warm and happy. And this applies in general to all, whether a woman works outside or if she is a home manager."
Here she adds one more thing, "Society also needs to come out and support women who work. At times I have faced a lot of discrimination from my male colleagues. I struggled to get work initially. But I stood strong. And my husband also kept me motivated. But then, it is high time that society considers us as equals not just at home but also at work. Why should a woman not get work, if she has kids? If she has kids and if you think she is not performing well, then it is actually not her fault. It is a support system at home that has failed. And that is where the thinking process needs to change." As Jyoti roars this and more, I get goosebumps. What she speaks is the bitter truth. And a call for a change...
Her hard work and dedication reflect in the umpteen testimonials that she has got from her foreign clients over all these years. Check out this one.
At the work front, she says she has to take a lot of precautions for tourists' safety, especially for women travelers.
"Being a tourist guide isn't just about helping people explore places in and around Varanasi. It is also about safe and happy travels. And the following are the points that I have to keep in mind on a daily basis, no matter what. It has to be a by-default mechanism since these works involve a lot of responsibility," asserts Jyoti.
Here are a few safety precautions she takes care of...
Prepare in advance and study the environmental conditions of a place, before you take a tour.
Send a list of the Dos and Don'ts well in advance to your tourists
Study the age and physical abilities of your tourists in advance, if the travel involves a lot of physical activities. Eg the same tour group has to be divided mentally into aged, adults and children to plan a smooth tour for them
Ensure all first-aid kits are in place before the tour begins
Ensure registered vehicles and licensed drivers for commuting
Have all local police as well as hospital contacts in your diary/phone in case of
Abide by the local administration rules while visiting a place. Eg. Vacate the premises of a wild-life sanctuary or a deserted fort half an hour before the time mentioned in the manual so that tourists don't fall in unsafe zones.
Keep your tourists hydrated and energized from time to time, so that no one falls sick.
Two-Way communication with tourists, especially if they are feeling uncomfortable about something or someone so that the same can be dealt with immediately.
Work by the clock; always be on time. Time management is the key to safety management also. Half the problems will keep at bay if you live by the clock. And this applies in general to all professions, not just mine...
...says Jyoti Chaubey, whose typical day around her family and work, is like a rollercoaster ride. And after what we have read just now, we surely know why!
She says that she joined SHEROES because here women aren't judged. "But rather supported for who they are. We can get solutions to daily life issues. Consistent, empathetic interaction with everyone is the key to enjoy and get support, whether here or anywhere else, Jyoti," I share from personal experience. And she smiles back saying, " Let's do it!"
As we talk, I can hear Jyoti's son and daughter doing some interaction in the backdrop. 12-year old Shivanshi is asserting something to 4-year-old Dewa. As the voice gets louder, Jyoti requests a minute from me, goes to them and instructs Dewa and calm falls in place. I am curious as to what made peace because I could sense it was not a regular conversation.
Jyoti laughs, "Both of them were playing together and Dewa wanted to do something against the rules of the game. Shivanshi was instructing him, but he was being naughty. All I did was go there and ask him one little question, "How can you disobey your elder sister? What did I teach you when I taught you the stories from Ramayana?" Calm and peace was the response. I don't instruct my children. I simply teach them through examples. And this I do in particular with my son. I want him to grow up and be an understanding man like my husband or maybe better than him. Thus, I always give examples of great people who respect elders or who gave respect to women. I believe children become what you make them. I know there is peer pressure these days, and more mothers are going out to work. Thus, the best way to teach them is to spend whatever time you have by telling them stories, by sharing live examples and above all by being an example yourself, to them. They learn, what they see, what they feel...so be your best. I want my children to be great global citizens. And that's the only strongest way I can teach them." And I strongly agree with her, because that's how my mother raised us, two sisters. We were told, you have no brother, that doesn't mean you can't do manual jobs that you see only the men did. "Thankfully, I know how to do some plumbing as well as some woodwork too," as I inform this to Jyoti, both of us burst out in laughter! I know a deep bond has been struck, a lifelong one perhaps!
But then that's her indirect message to the mothers, to SHEROES, to society. What about a direct message to them all?
Jyoti smiles, "I don't advise people, as I feel each one has a unique life. And till they ask me personally, I would not like to instruct them randomly and share my opinion. But yes, then there is one thing that I would like to assert: DO NOT SEARCH FOR GOD IN TEMPLES OR OTHER PLACES OF WORSHIP. Serve your parents, your in-laws the best. They are the DIVINE PERSONIFIED. I am not saying lose your identity, all I am saying is, do GOOD KARMA first and GOD will bless you in a multitude. He is inside you, inside us all. Make a person smile genuinely, and God shall smile!"
So that what Jyoti Chaubey sharing her life unique, lovely life-story in the ongoing #MeetTheSheroes Series. Her next goal in life is very simple and heart-warming:
"I wish to be a tourist guide to my family since so far I have no travel memories with my family yet. My kids are small and my mom-in-law an aged lady. But surely soon, I wish to take them out for some fun.
"My next goal is to get Support from fellow women at SHEROES."
So here is where you can follow Jyoti.
And leave some love and support for her on her wall. Don't forget to share her story as well, because sharing means caring! Catch you soon with another #NinjaNari very soon!
---

Mahima Sharma
---
---