Surviving Depression Led Her To Help Others Overcome It Too
Last updated 29 Mar 2018

.

1 min read
Never before did human existence realize that mental health issues have coexisted with life. At this time, mental health has come to occupy a chunk of discussions, attention as well as importance. It is not unusual to find a cousin or a friend going through mental health issues or even undergoing clinical counselling. The stigma around this niche is fast vanishing and thanks to practitioners who have made mental health a topic sans any taboo, we are better able to cope and emerge fitter.
One such name in the industry is Smriti Joshi, the first and only trained and certified telemental health provider in the country and the only clinical psychologist member of Telemedicine Society of India. She was offered the role of a chief psychologist by one of the first online therapy providers in India and there has been no looking back since then. Smriti currently works with Touchkin e-services, the proud creators of the first mental health chatbot in India. While all these tags seem flashy, our SHERO has battled a lot of mental health issues of her own, before emerging afresh like the Phoenix.
When quizzed on the kind of early background Smriti had, she surprisingly revealed nothing too glamorous or different. She says, "I was born in a traditional North Indian family with my parents into the teaching profession. Right from my childhood, I was exposed to an atmosphere at home where I saw my parents guiding their students and other loved ones in need, unconditionally. So even as a child, I also found myself offering any assistance I could to anyone in need ranging from people to stray dogs and cats and injured or sick birds. My parents would often say that I would make a good activist, as I would voice my opinions openly if I saw kids fighting or anyone hitting animals.
I did my Bachelors and Masters in Psychology from University of Delhi and during these years I was a volunteer with two organisations - Snehi and Karm Marg - both providing support to children and adolescents with the former providing it to the population from urban areas whereas the latter catering to children on the streets."
For her, both these places were a guiding force in shaping a career, helped sharpen her empathy skills and the ability to give unconditional positive regard. Academically, she was blessed to pursue an M.Phil from Institute of Human Behaviour and Allied Sciences in Delhi (famously called the Shahdara Mental Hospital). This, she brands as the most challenging phase of her life.
Smriti reminisces, "My mother was struggling with severe osteoarthritis and even though she was brave enough to manage her job, I was constantly feeling the guilt of not doing what I could have done for her due to the demands of my course. I would wake up at 5 am, finish all my household chores for the day and reach my institute, which was about 50 km away from my home, by 9 am and attend classes and OPD till 6 pm then rush back home to cook dinner and then finish my assignments."
There were moments of despair and thoughts of giving up, but the support from her parents and her teachers kept her going. The demands of this very challenging M.Phil course, along with the sheer determination to fulfil her dreams to earn this prestigious degree and start practising as a clinical psychologist, helped Smriti through this tough phase.
By the end of this M.Phil degree, she got married and moved to a new city where she set up an independent clinic. She adds, "There were many smaller challenges I faced like standing up for patients referred for psychodiagnostics to me when they didn't even need one, simply to earn some extra money! It made it difficult for me to get client referrals via the psychiatrists practising in that city. Yet slowly, via word of mouth, I had established a decent practice."
Interestingly, her entrepreneurial streak was evident from early on. Smriti recalls, "I even started my own organisation called Ourja Energising Minds which conducted almost a 100 school mental health programs in Delhi but it had to die a slow death, as I had conceived and due to complications, was advised bed rest. My newly founded team disintegrated in my absence.
We then left for the USA when my firstborn was 1.5 years old due to my husband's relocation, but it had an impact on my mental health. I was jobless and a hopeless soul for the next 2-3 years in the US. Luckily, I discovered a course in Telemental Health and even got a scholarship for it from the Telemental Health Institute in San Diego, USA. I took the risk of choosing to practice online when most of my peers were already having a large practice in India. But this helped me create my niche."
Taking A Risk & Making It Work
Her turning point in life was the birth of her second child post which, her depression intensified and sadness and anger outbursts were at its peak. However, the instinct to nurture and the helpless cries reminded Smriti of her own helplessness - that of being jobless and feeling worthless for the two years of her stay in the US till then.
It was then that she decided to take charge and stop wallowing in self-pity. Smriti says, "I started writing to my clients in India, offering them therapy using skype/telephone. That was the 'wow! factor' for me, as it gave me this idea to explore the field of Telemental health, pursue a certification in it and gain expertise in this new way of being connected and delivering services to people in need.
Eventually, the helplessness and worthlessness that I felt in the first two years of my stay in the US vanished, and I did benefit by gaining this training there. It gave a huge boost to my career when I was offered the role to be the chief psychologist of a leading online therapy provider in India, while I was still in the US, and I also reconnected with my school and college alumni and offered my services without any fee to students and young adults in need. I had to give it back to maintain the balance."
As our conversation got interesting, I asked her, until this point in life, what's been the most challenging part of your journey. She quips, "We had moved to the US due to my husband's relocation and my excitement and happiness of moving to this great land of opportunities were only short lived. I went there with my degrees and experience hoping I would soon find a great job, not knowing they wouldn't hold any value there, plus I was on an H-4 visa which meant I was not allowed to work legally there. I had never felt so helpless and worthless at that time."
Despite all this, Smriti believes she was born to be a psychologist and wouldn't just give it up. One person who's been a constant source of her strength is her mom who is resilience epitomised. Smriti has seen her bounce back with even more vigour, post the multiple health challenges she's had and still has. She has been lucky to have a very supportive family on both sides, who've just been there comforting her when she was hopeless.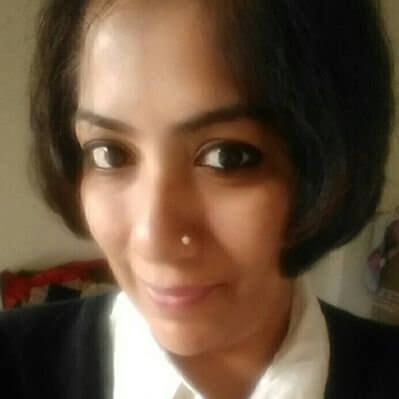 Emerging A Winner
Smriti had seen major setbacks in this journey and could have reconciled with her fate but that would have killed a large part of what she was. She accepted herself but didn't give up and stood up each time she was pushed back. "I was mocked and looked at with doubt by my own fraternity initially, when I restarted my life as a telemental health psychologist and they were already into ten years of successful practice. But I wished to help not just those around me but reach those too who had no access to mental health services. And today, I have clients from the remotest corners of the country as well as the globe. My young friends, and a lot of women who seek my assistance, know I am just a WhatsApp message away and that too with no pressures of paying a hefty fee."
You can get in touch with Smriti on LinkedIn and Twitter. If you or anyone you know, is going through similar issues of mental health or stress then do visit our community on SHEROES.
---

Satarupa Kaur
---
---
Similar Articles You love