Nirupama Kondayya
12 Apr 2018

.

1 min read
Her Love For Indian Crafts Made Her Establish A Jewellery Brand
Rebekkah is the founder and CEO of fourseven, India's fast-growing jewellery and accessories brand in the affordable luxury segment. Rebekkah bootstrapped the venture initially and then secured funding through the Indian Angel Network. The company is now established as an omnichannel, make-in-India brand with a global customer base.
She holds an MBA from the MIT Sloan School of Management and has over 20 years of industry experience in Internet and high tech. She is a Microsoft alumnus where she led e-commerce product/brand management and business development. She began her career as an engineer focused on supply chain management systems.
Rebekkah fell in love with India even before her first trip to the subcontinent in 1994 for her marriage. Her personal journey has led her to couple her passion for jewellery with her business, marketing and technical experience and her love of Indian craftsmanship and culture into the fourseven brand. She named the brand fourseven as a reflection of the independence of both the US and India, underlining her belief that people are happiest when they are true to themselves.
She hopes customers will see fourseven as their own jewellery brand, celebrating their personal journeys, passions and life memories.

Establishing Fourseven
We launched the fourseven website in March 2014. In November 2015, we were fortunate to secure angel funding from the Indian Angel Network. In October 2016, we launched our first shop-in-shop with an Iconic multi-brand store and then in April 2017, we opened our first concept store in Gurgaon's high-street Galleria Market.

I bootstrapped the venture initially, putting much of my life savings into the company. We started as a two-person team and worked out of my apartment. I met manufacturers across the country and learnt everything about making jewellery and the full design-to-market value chain. Given that many of these businesses are run by Hindi speakers, the language barrier was a challenge for me. Also, my business experience was primarily in the U.S., so culture and norms were different.
But I found that these business culture issues are easily overcome if you simply treat people well and have a shared goal.
I had to earn their trust because my business model was about understanding their skills, capabilities and designing around those so that we could, together, make beautiful products. Even today, there are times when I struggle with Hindi but because we respect each other and trust each other, we are able to communicate, nonetheless.
One more challenge I faced was trying to establish the stringent quality requirements I wanted for our products and our packaging. Sadly, when our partners found that we were designing for the Indian market, they automatically assumed that we had a low-quality requirement. It took time, patience, perseverance and a strict adherence to our standards for us to build the level of quality we have achieved today.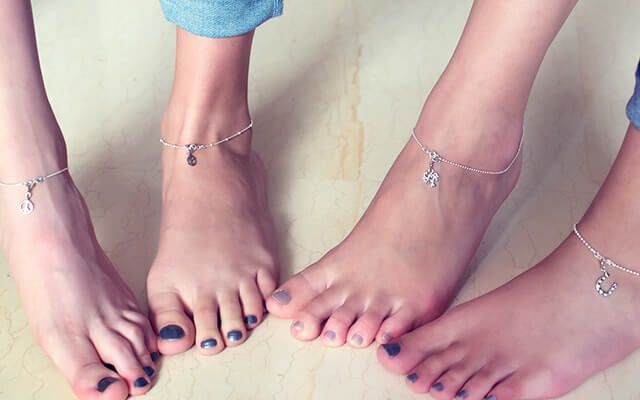 Anklets by Fourseven
Lastly, as founder and CEO, I was expected to wear the hat of a salesperson at every level to customers of course; but also to friends, to family, to investors, to partners and to potential employees. It is not in my personality nor my comfort zone to toot my own horn or to ask people to buy from me but it is very important to hone this skill if you are to lead a company. The way I overcame this challenge is by making sure that we had no reason to feel anything but good about what we are offering and what we have achieved. I am excited and proud to speak to potential investors because I know this is a great business.

Today, we are shipping pan-India and in 12 countries across North America, Asia, Europe and Australia from our website, and we are listed on several marketplaces. Our unique design language, laser focus on experience, excellence and adherence to international product and business standards enable us to lead this underserved market segment.
We proudly design and make our products in India with love.
I have a very large vision for fourseven to be India's leading brand in the global market for affordable luxury jewellery. Building a highly differentiated global consumer brand that is innovative and online, first requires a very clear and focused position in the market. We are proud of our strong business fundamentals with high repeat purchases, exceptionally low refund rate, excellent customer satisfaction ratings and strong unit economics at the contribution margin level.

I have a great mix of creativity, business and team building in my daily work. I am so proud of our team and what we have built together!
This personal narrative is written by Rebekkah Kumar, Founder & CEO of Fourseven. Her story is a part of our 'Women Entrepreneurs' series. Rebekkah was the guest moderator for our Fashion & Lifestyle community wherein she helped answer the questions by community members, shared her experiences and her inspiring journey. Come, be a part of the SHEROES community and connect with like-minded women.
---

Nirupama Kondayya
---
Similar Articles You love