I Took A Break From The Corporate Industry To Start My Own Venture
Last updated 16 Apr 2018

.

1 min read
The road to being a successful entrepreneur is not easy. It's a way with fear, doubts and loads of challenges. And for a woman, there is an added struggle to battle with the stereotypes and prove themselves.
Let me briefly introduce myself. I have grown up as a 'Fauji brat' with my father being in the Indian Navy. Now, 'brat' describes a lifestyle, a way of growing up that is distinct from those brought up in a 'civilian' life. The term brat is actually one of endearment, implying a quality of spunkiness and adaptability, which means we are able to adjust to any circumstances in life.
It is important to mention this, as it is the foundation of all the strength and the never-say-die attitude we develop towards life.
I am a commerce graduate and have an overall working experience of 8+ years in various domains including Human Resources & Administration and assisting top management of MNCs like Jones Lang LaSalle. Life has been a long, tough, exhilarating journey. Though I have faced challenges on the personal front, I was raised to be an independent and a strong person, which has made me face all the challenges gracefully.
For a long time, I was just another corporate employee which was the need of the hour and now, I am a full-time freelance writer/blogger.
It All Started With A Break
After a successful term in the corporate world for years and things being settled on the personal front last year, I decided that I needed a good, well-deserved break from the fast-paced business world, where we are on a clock all the time. I wanted more flexibility and control over things and now, wanted to do the things which were more fulfilling and made me happy.
A few years ago, blogging was a mystery to me. When I would see blogs I would always find myself agreeing with the fact that the concept is interesting. I ventured into this modern and amazing world as I have always enjoyed writing.
Initially, I started blogging just out of fun but then blogging opened up a whole new world for me. It turned out that this passion could also be turned into a source of income with the right path.
The first opportunity came with the leading News app - UC News. We have an exclusive signup with them to write articles. Thanks to UC News, I even got a wonderful opportunity to do an exclusive interview with Ratna Pathak Shah and Konkona Sen Sharma for the highly acclaimed movie, Lipstick Under My Burkha.
It was a wonderful opportunity to write exclusively for such a reputed brand while earning an income. Though the earnings were not too much, we won many competitions which were inspiring and gave a boost to the writer in me, from the inside.
An Entrepreneurial Idea
Currently, I am trying a stint in Content Writing & Management by developing my own website, Women Yeah.
I guess in some ways I wanted to celebrate being a woman. Women have incredible strength, power, wisdom and intuition. In our busy day-to-day lives, we can often forget to pause and take care of ourselves.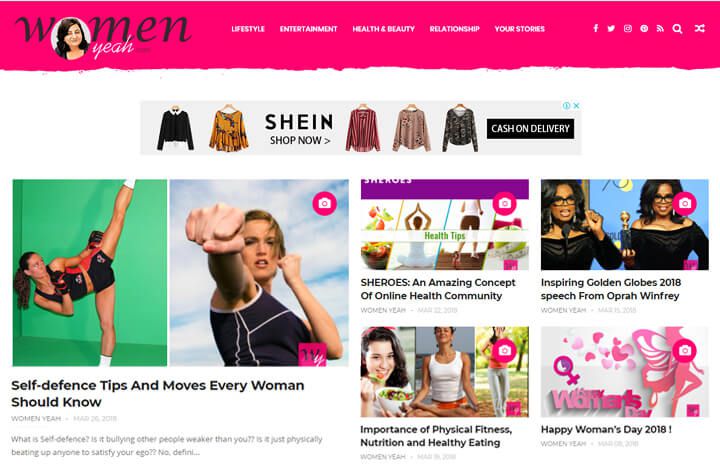 The website is an attempt to share quality information across various genres like Entertainment, Lifestyle, Health, Beauty, Relationships and many other topics which every woman would love to know about. It is an endeavour in understanding how women are influencing changes in commerce, leadership, business and the society in general.
Gradually, we have developed a team of writers to create original articles. The content published on the website is 100% original and is verified by our moderators.
Your Stories
Apart from sharing useful information, Women Yeah serves as a platform for every woman to share her own life experiences in the Your Stories section.
We all love to express and speak our heart out; however, we don't always find a proper outlet to share our experiences. Sharing stories can be an overwhelming experience for the narrator, as well as for the reader. We all can learn, connect, heal and lower the sense of isolation at the same time.
India is a country known for its cultural heritage, traditions, civilization, religion and geographical features. On the other hand, it is also (un)popular as a male prejudiced nation. There is a high level of gender inequality, where women are ill-treated by their family members and outsiders. There's Illiteracy, a dowry system, sexual harassment, domestic violence, rape, prostitution, illegal trafficking and numerous other issues.
Everyone is welcome to share their articles, stories, encouraging episodes and any positive or negative experiences with us.
As rightly said by Pandit Jawaharlal Nehru,
"To awaken the people, it is the woman who must be awakened. Once she is on the move, the family moves, the village moves, the nation moves."
This is a personal narrative written by the Founder of Women Yeah, Vaishali. You can contact her via email.
---

Nirupama Kondayya
---
---
Similar Articles You love