Palak Kapadia
Last updated 1 Aug 2018

.

1 min read
9 Handpicked Best Honeymoon Places In India
Wedding planning isn't easy. You've spent innumerable sleepless nights planning every small detail - your dress, the guest list, the food, the photographer… the list can go on and on and on.
In between all of this chaos, the elation of starting a new life, planning for your honeymoon might have slipped through the cracks. Don't you wish a wedding planner could appear out of thin air to book the best romantic destination for your honeymoon trips in India?
After all, this part of your journey needs to be perfect too.
We are here to put an end to your worries!
While a lot of couples prefer to go abroad for their honeymoon, there is no dearth of amazing, romantic destinations in India as well. If you're the kinds who want to keep your romance Shuddh Desi, here are 9 handpicked honeymoon destinations in India.
#1. Goa: Couldn't go being a Bachelor, pick it for your Honeymoon in India!
The spirit of Goa is best captured in the Portuguese word - susegado. One can never have enough of Goa.
A destination for all occasions and celebrations, it is also one of the best honeymoon destinations in India. Whether you want to laze on beaches with your love or party all night, go for a relaxing spa or do adventurous water sports.
You could also choose to visit the churches, some of which are UNESCO World Heritage Sites. A trip to the famous flea markets could appeal to the shopaholics in you and even find you a little souvenir to remember your honeymoon by.No matter what kind of couple you are, Goa is sure to have something that will make your honeymoon super special.
#2. Jaisalmer
When it comes to your picking your honeymoon destination, you deserve all the royalty that the world has to offer. Having your Honeymoon in Jaisalmer is truly a hearty affair!
About 568 km from Jaipur, Jaisalmer is located right at the heart of the great Thar Desert and nothing compares to an all-inclusive honeymoon in the 'Golden City'. Subdued in the glorious hues of its surroundings, the city lies sprawling against the majestic Fort, that seems to rise from the desert.
You and your partner can have hearty conversations under the stars, camp in the desert, live in a palace and savor the delectable Rajasthani cuisine. Jaisalmer is all about art and crafts, culture and tradition, the warmth of each other 's company and promises for life.
#3. The Andaman and Nicobar Islands
The Andaman and Nicobar Islands are one of the seven union territories of India. They are a group of islands located at the meeting point of the Bay of Bengal and the Andaman Sea.
These islands situated at the heart of a union are perfect to celebrate your union as well.
A honeymoon in Andaman and Nicobar islands gives you the feeling of having left the world behind. When it comes to the beaches in Andaman, Radhanagar Beach stands out for its picturesque beauty, having been honoured as Asia's best beach by TIME Magazine.
Explore your adventurous side at Andaman. Indulge in water sports like snorkelling and scuba diving, explore the natural trekking trail from Mt. Harriet to Madhuban and enjoy the wilderness and admire the varied species of flora and fauna. Very few places are as romantic as the Andaman & Nicobar Islands. The islands offer you some of the most splendid opportunities to make your honeymoon super memorable.
#4. Pondicherry
Paris is and will always remain one of the most romantic places on earth. But for your honeymoon experience, you can get a little piece of Paris right here in India.
Pondicherry used to be a former French colony and to this day, retains the French influence. For the feel of a quintessential European vacation pick Pondicherry as your honeymoon destination – a replica of the French way of life.
Fill your eyes with the vibrant pigments littered in the street as they embellish the exteriors of the buildings, or sip on the crispy aroma of freshly baked pancakes and brewed coffee as you go for a leisure walk along the cobblestone streets, explore the pristine beaches, discover your spirituality in Auroville and gorge on lip-smacking French food in any of the numerous cute cafés.
Pondicherry is for all the lovely couples out there. It is an absolute win as a honeymoon destination within India for you and your beau.
#5. Agra
We are super lucky to have in our home country what the world regards as the epitome of love. What better way to immortalize your love for each other than by admiring the embodiment of eternal love, Taj Mahal?
Add to that the Mughal grandeur and say hello to a 'shahi' honeymoon destination in India. The glory of Agra Fort, Fatehpur Sikri, Tomb of Itmad-Ud-Daula, Tomb of Mughal Emperor Akbar and Soor Sarovar is magnificent.
The fascinating mix of a history full of romance, love, sacrifice makes a perfect and cherishing vacation for newlyweds. Agra is undeniably one of the most romantic getaways in India from Delhi and the cities of Uttar Pradesh. Plus, imagine the amazing photos! You're going to be the envy of them all on social media!
#6. Srinagar
If ever there was a heaven on earth, it is this, it is this, it is this. The capital of the region, most famously called the "Paradise on Earth", Srinagar is a city of heavenly sights, beautiful serene lakes, glorious gardens and exquisite climate.
The houseboats and the Shikharas on those shimmering lakes and the mesmerizing Mughal gardens make Srinagar a beloved destination for honeymooners.
The glistening snow-capped hills during the winters and the colorful summers, the perfect weather for snuggling with cups of hot chocolate, the love in the air and overall beauty of Srinagar is sure to leave you spellbound.
#7. Coorg
Well known as the Scotland of India, a trip to the evergreen scintillating hills in Coorg are sure to add more color to your life and relationship.
Coorg is nestled in the lush green hills and forests of teakwood, sandalwood, and coffee and tea plantations. It is a very convenient and romantic getaway from Bangalore and is everything your Haseen Vadiyaan, Khula Aasmaan fantasies are made of.
A little town with an exclusive old-world charm, it is the perfect backdrop to snuggle with your loved one. Coorg also brings you an opportunity for outdoor activities like trekking, angling, and white-water rafting. So even if you're a thrill seeker, you are covered.
#8. Kerala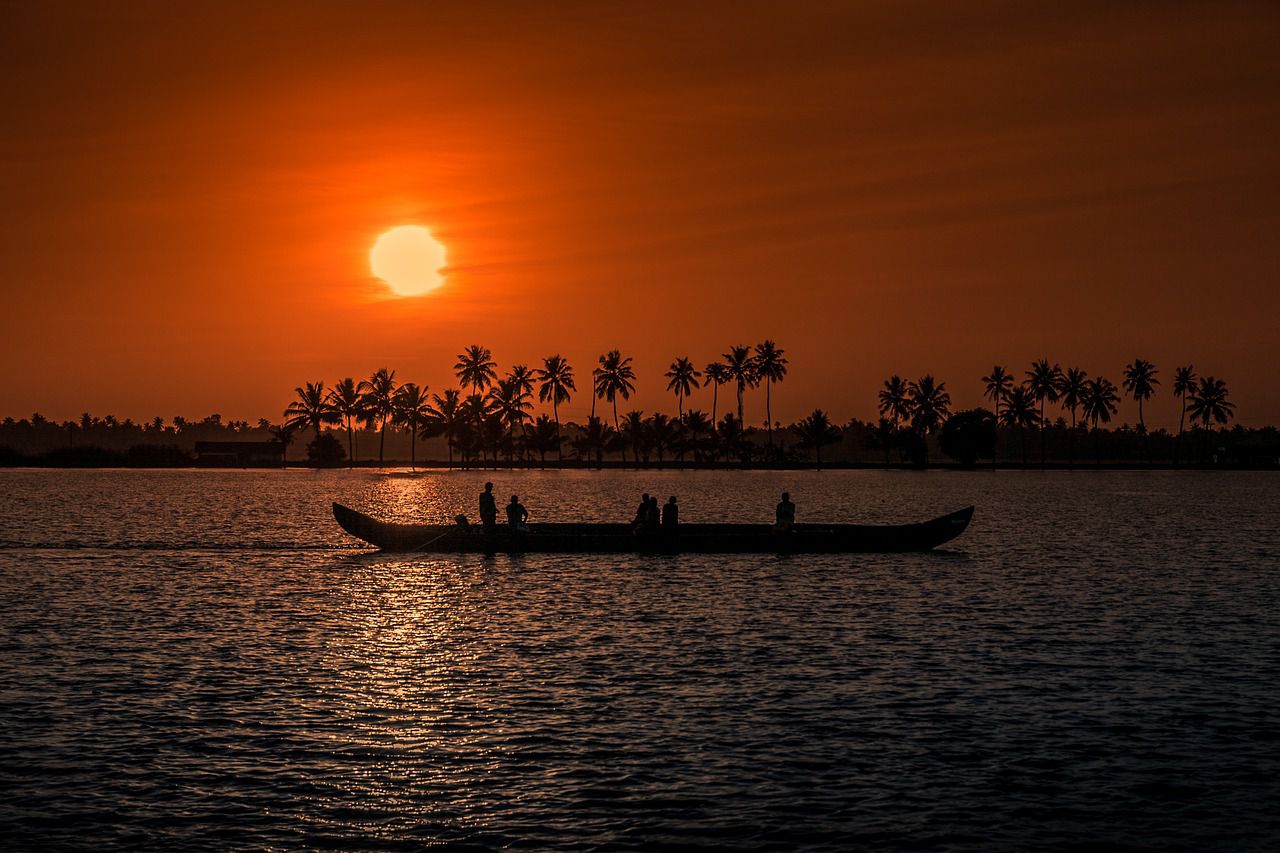 From mountains to lakes, coffee to spices, houseboats to spas - Kerala has it all! Walk together by the lush green tea plantations, soak in the mountain air, go for the famous
Kerala massage or just sit on the porch in one of its cottages and admire the never-ending vistas in front of you. One of the most famous resort towns in Kerala is Kovalam. It was once an isolated fishing town which has now transformed into a tourist spot that has consistently remained popular for travelers from around the world.
Kovalam is filled with beautiful stretches of azure waters with sandy shores. Lighthouse beach, the main track is dotted with affordable hotels and restaurants but is usually crowded. A better alternative is Samudra beach which only 2 km away is more peaceful and has better joints and resorts.
Kovalam is an excellent place for experiencing the culture and cuisine of Kerala. Clean beaches, peaceful ambiance, gorgeous seawater coupled with an advantage of Ayurvedic treatments and yoga - Kerala's charm will keep you coming back for more and more because you can never get enough of the backwaters and the verdant delights of Kerala.
#9. Gangtok
When making a list of romantic spots in India, it would be a crime to skip Gangtok. Imagine you and your better half on a vacation, admiring the scenic beauty while sipping hot tea and sharing the same blanket! The snowcapped mountain peaks of North East
Himalayas, lush greenery, aromatic tea gardens, colorful monasteries, and adventures will bestow you with an unforgettable experience. Experience the breathtaking sunrise over the horizon of Mount Kanchenjunga with your love. It is one of the most romantic getaways in India for honeymoon from the states of Northeast.
---

Palak Kapadia
---
M*****

I've been to Jaisalmer and goa had an incredible tour experience
Similar Articles You love