What Happens In The Bazaar Community On Sheroes?
Last updated 7 Jun 2019

.

1 min read
Do you shop online? Well, in the Bazaar community on SHEROES, you can directly bargain and buy things at the best price. At the same time, you help women economy by buying things from budding business women.
What happens in the bazaar community?
Members post a variety of products starting from ethnic dress materials, sarees to western Kurtis, tops, pants; kitchen utilities to bed sheets, coffee mugs to handmade soaps, jewellery and chocolates.
You can comment to show your interest in buying the product. It's that simple. We have a number of members who post all throughout the day and are our rockstars of bazaar community.
Here is a list of 10 among many other resellers you can follow in the Bazaar community on SHEROES.
Deeparani
Deeparani from Mangalore sells Kurtis and Sarees. She has an experience of 5 years in an IT company. At present, she has decided to stay at home to take care of her little kids.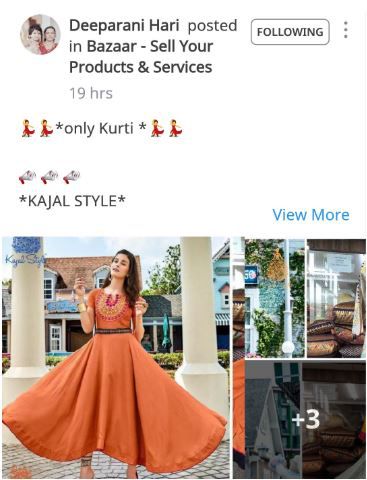 Explorer at heart, Deeparani loves to earn badges on SHEROES.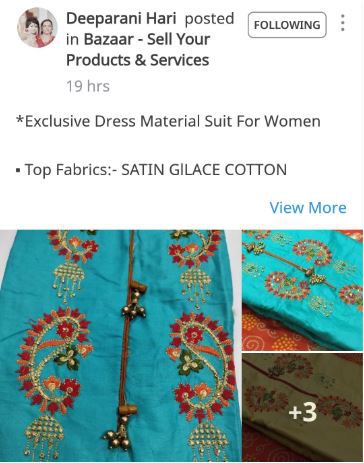 Divya
Divya is an Engineer who doesn't like IT jobs. She loves to teach. While she is preparing to be a teacher, she resells a variety of garments from her mom's boutique, individual suppliers.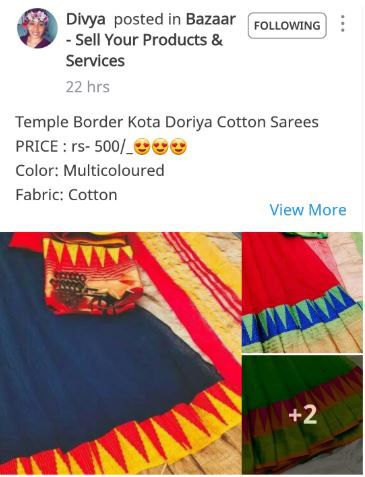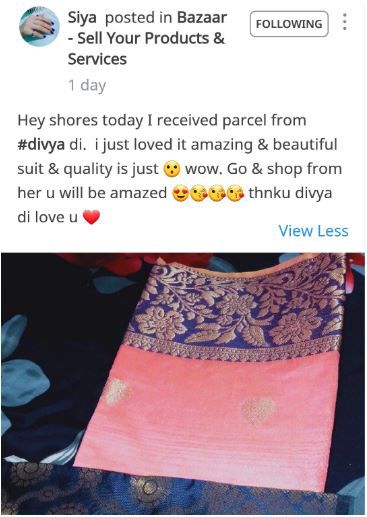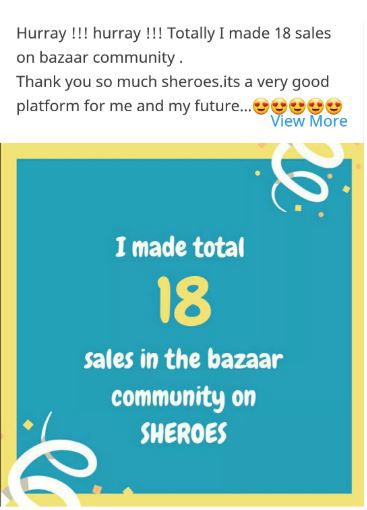 Jyoti
Having a Masters in Arts, Jyoti was a librarian before she had her kids. Now she resells products and is trying to build up her reselling business. She has struggled in her personal life, her life lesson is 'Nothing can stop you from getting justice. Education, money, nothing can stop you. Fight for yourself.'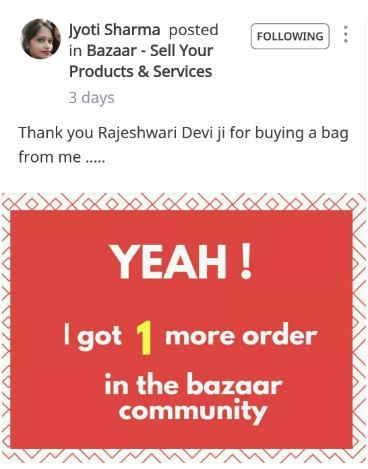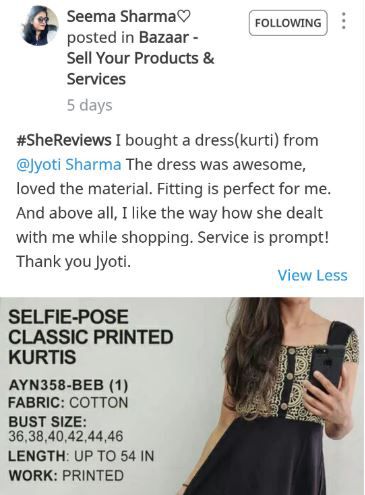 Book lover Jyoti reads stories of Premchand while posting her products in the Bazaar community. Meesho and Glowroad are her favourite reselling apps
Mahi Mahi ( Kayanat )
Brought up by her grandmother, Mahi had a tough childhood with her stepmom. She was forced to leave school after class 10th and get married. She suffered miscarriages, fought conservative family rules where daughters-in-law cannot touch mobile phones.
Today she lives separately with her husband and to support her husband financially, she has started reselling. She uses Meesho and shopperts. She sells beauty products, accessories and dress.
Anjali
Anjali loves everything about fashion and new trending clothes. What drives her most is the wide smile of her happy customers. She loves Meesho and exploring some other reselling apps too.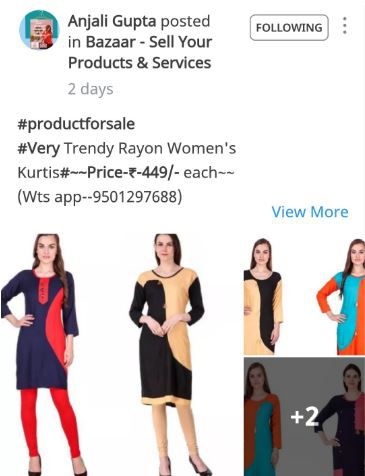 Pooja Taneja
Pooja is a school teacher who has taken a break to look after her kids. In her free time, she resells.
Divya Mandalik
Divya from Indore wants to build her business of reselling. She uses Meesho.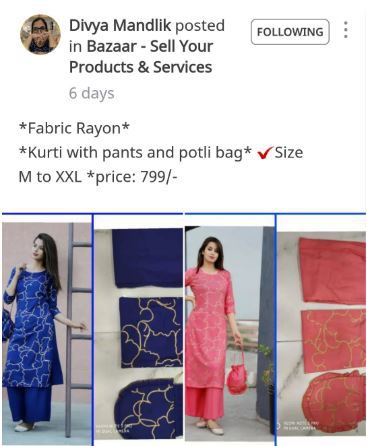 Shubhangi Kaushik
She recycles and reuses glass pots, CD covers, water bottle lids to make pieces of art. It's her passion to turn waste objects into beauty. At the same time, she resells clothes to earn enough money to support her passion.
Nidhi Agarwal
Nidhi gets free time as her son got a job. She uses this time to earn and explore new opportunities. Earning for herself is her driving force.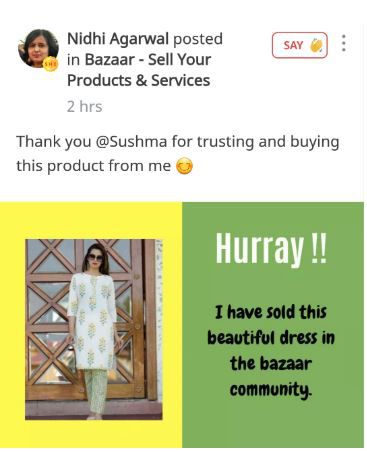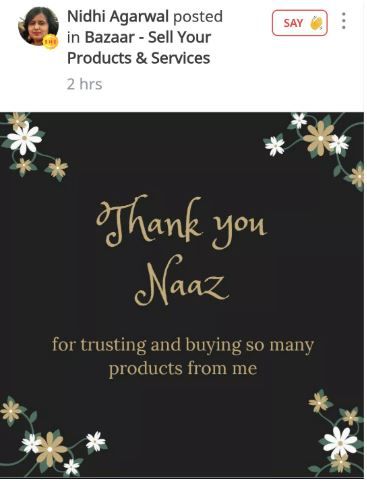 Muskan Singh
Muskan got married when she was in her 1st year of college. She couldn't say no to her family decision but after marriage, her husband helped her to complete graduation.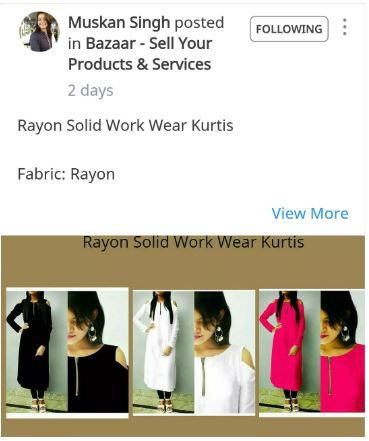 She is now a mother of two kids and to take care of them, she has paused her dreams. To keep the confidence high as always, she resells and earns for herself. Soon she will do her MBA. She loves to use reselling app Glowroad.
Join the Bazaar community on SHEROES to post and sell your products. Here you can connect with women-only customers whenever you want.
Things to keep in mind
Post as many products you want.
Share number only if a customer is interested. You need to give away numbers to everyone. Also, no need to ping people personally. Customers will reach you directly.
No hidden fee. SHEROES is your space. Bazaar community is made to help you get a space to connect with your target customers. No need to pay anyone for that space.
Sell as much as you want at zero commission.
We celebrate your sales!
We are all supporting and lifting each other up here in the Bazaar community on SHEROES.
Join us now.
---

Shiny Hoque
---
---
Similar Articles You love