Dhara Joshi
Last updated 31 Jul 2018

.

1 min read
How Anjali Ameer is making LGBTQ Community Trend
The LGBTQ+ community has always been ignored by the society. They regularly face discrimination and are often robbed of their basic rights because of their gender or sexuality.
But often, there are people who fight these battles bravely and emerge as winners against this narrow mindset. They set an example and tirelessly work towards a progressive society.
One latest news about such a person is Anjali Ameer's wild-card entry in Big Boss Malayalam house. This is the first season of the Malayalam version of Big Boss. Anjali Ameer is Transgender actress in the Malayalam Film Industry.
The model - turned actress, Anjali is the first transgender to do a lead role in the history of Indian cinema. Her bilingual movie (Tamil and Malayalam) with Mammootty is gaining wide appreciation at International film festivals.
Section 377 and How does it matters to the LGBTQ+ Community
The Section 377 of Chapter XVI of the Indian Penal Code dating back to 1861 (British-Era), criminalized sexual activities "against the order of nature", including homosexual activities.
Currently, it's in Supreme Court for a review by a bench of 5 Judges and the LGBTQ+ community is expecting a positive Verdict, legalizing the Homosexual Activities and relationships in India.
To an Irony, it was legalized in the United Kingdom in 1967, but still, after 67 years of Independence from the British, we are still abiding by the laws set by them 150-years ago.
(Also Read - 15+ Indian Laws which Protect women)
4 Indians from the LGBTQ+ community who Battled their way out of the odds
1) Laxmi Narayan Tripathy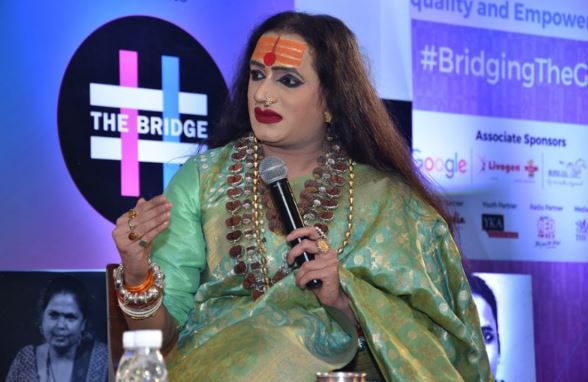 Laxmi, who identifies herself with the hijra community is a transgender rights activist and an inspiration to many.
Born in Uttar Pradesh, in the family of seven, she suffered from bad health in her early childhood. She also faced child abuse by one of her relatives at a tender age.
Even after being mistreated by her classmates, she continued her studies and got an Arts degree from Mithibai College, Mumbai and a PG in Bharatnatyam.
She has starred in several television shows, including the reality show Bigg Boss, and three documentary films. She was the first transgender to represent Asia Pacific in the UN in 2008, where she spoke about the plight of the sexual minorities across Asia.
2) Gauri Sawant
Gauri Sawant is another transgender activist from Mumbai.
She was also invited on KBC last year where most of us came to know about her and her social work for LGBTQ+ Community.
She started the Sakshi Char Chowghi that helps transgender people and people with HIV/AIDS.
3) Manvendra Singh Gohil
Manvendra Singh Gohil is world's first openly gay prince to the throne of Rajpipla in western Gujarat state.
He set up the Lakshya Trust, a charity for LGBTQ+ people in his home state, and became a champion for gay rights. The Trust aims at creating employment opportunities for gay men and also plans to open an old age home for gay men.
4) Vikram Seth
An Indian novelist and poet. He has written several novels and poetry books. He's best known for his novel 'A Suitable Boy'. He's one of the openly gay personalities in India in the field of Literature.
He has also written the poem - 'Through love's great power' expressing his distress over the last year's verdict of criminalizing gay sex.
He's the son of Leila Seth (First Woman Chief Justice of a High Court in India). Leila Seth has openly supported her son and opposed the Section 377 - Criminalizing Gay Sex.
---

Dhara Joshi
---
S*****

I m also interested to do any help from my side for transgender people . I m nurse in sion hospital in bmc from mumbai an interested to do work for them
P*****

Brillient keep it up👍
S*****

Appreciate her work superb

S*****

Huge round of applause 👏 👏👏💟💕
Similar Articles You love