Piyali Dasgupta
17 Mar 2018

.

1 min read
This Mother-Daughter Team Is The Strength Of Their Business
When in doubt, ask your mom!
Lucky for Nikita Anand, the CEO of Elixir Shop, her mom is just there in the office because she is also her boss! Meet Nikita's mother, Seema Anand, the Founder and genius behind Elixir who has over 20 years of experience as an alternate medicine doctor.
Their formidable teamwork, vision and complementary skills invigorated a new life into the brand, which was previously known as Look Beyond. One can say that their chemistry is the reason behind Elixir's new energy and presence in the tough market of lifestyle and cosmetic products.
This powerful mother-daughter duo has together brewed more than just a product, they have shaped an ideology and acceptance of all-natural, oil-based product. Elixir's products not only impress its users by its effectiveness, but also by understanding their needs and requirements from them.
Nikita believes that, "At the end of the day we are not just selling a product, we are trying to touch people's lives in a way that will leave a lasting impression." That's the soul of Elixir which has paved way for a long-lasting customer relationship, excellent products and a great brand image.
Seema and Nikita share their story as entrepreneurs and how they are #MakingItWork in the office.
Every brand has a story. Could you share Elixir's story with us? How did it start and the thought behind it?
Seema: I have a very sensitive skin that would react to any product that had chemicals in it. Now, this became a problem because as even everyday creams today have preservatives which would cause breakouts. My chemical sensitive skin and lack of suitable natural products forced me to look for healthier, natural alternatives.
That is when I decided to use my over 20 years of expertise as a doctor of Alternate medicine, to create skin care products made from essential oils.
When my products started showing visible results, my friends and family also showed interest and wanted the blends for themselves too. This was also the beginning of my life as a Master Blender and what started as Look Beyond became Elixir Shop and came into existence.
I wanted easily-accessible natural, chemical-free lifestyle and cosmetic products in the market and Elixir is exactly that. Elixir Shop has all natural preservative and paraben free, essential oil-based products. Each of the products are made by hand to ensure purity and authenticity where we use the inherent healing properties of essential oils to promote repair of the skin, hair or body.
How did this formidable duo come into action and when did Nikita join in?
Nikita: I joined when Look Beyond was struggling to scale up the business. My biggest challenge was breaking the medicine and therapy tag attached to the company. So, diversifying the consumer product segment and breaking of this tag was a challenge.
That was the reason that I decided to rebrand the products under the Elixir Shop banner back in 2015.
This helped us in two ways -
One, we were able to position ourselves as a lifestyle or cosmetic brand, which is where we wanted to be.
Two, we were able to move from a primarily offline brand to an e-commerce and trendy brand. This helped us bring down customer acquisition rates and increase retention levels while reaching a far wider audience.
How did you go about re-branding? What was your strategy when it came to Elixir Shop?
Nikita: There was a lot that had to be done to turn Look Beyond into Elixir Shop. The first challenge was to improve the product appeal. Since our packaging wasn't visually appealing, convincing consumers to give us a chance was proving difficult.
We re-packaged our products to resonate with our consumers and leave a lasting impression. Post re-packaging our products, we noticed that there was an instant improvement in customer attention.
The second thing that we did was reaching out to our target groups. Since we were a new brand, reaching out to the right people proved to be difficult and that too organically. That is when we decided to use social media and we started talking about our products with a lot of help from our loyal customers who vouched for our products in their social circles.
The biggest challenge, which we still face to date, is educating people about essential oils and how they are an effective solution to tackling cosmetic problems naturally.
Most people think of diffuser oils when they hear essential oils and these are two very different oils that we are talking about. Pure essential oils have tremendous healing power if they are used correctly and the oils that we use do not leave any oily residue behind, which people are a bit conscious about.
On the marketing front, we reduced our offline focus and increased our online presence.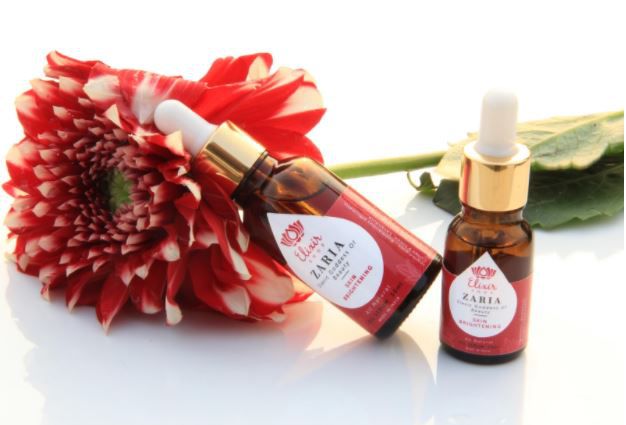 So how is it working with your mother, Nikita?
Nikita: *Laughs* It is very exciting to work with my mother. She has been an entrepreneur all her life and a very successful one at that! The best thing is that we make a formidable team and wherever I lack, she doesn't only make up for it but excels at it.
I have learnt a lot from her and I'm still learning, like her ability to make friends with anyone she meets.
To sum it up, I think we make a really strong team with her ideas, knowledge and passion and my dedication, execution and ability to turn ideas into actions with pretty packaging, of course! Whatever we have achieved that was made possible because we are a team that always stands together.
What do you think are the factors behind this success?
Nikita: I feel that there is only one factor behind our brand's success - our products are very effective and that is our biggest strength.
Seema: All our products are made from 100% essential oils with zero dilution. We only source very high-grade oils that have higher efficacy rather than lower grade but cheaper oils. This makes them very effective and shows long-lasting results, despite the limited daily usage.
Nikita: That's right! To support our product, a part of our brand ethos is laying extra emphasis on the needs and requirements of our customers. At the end of the day, we are not just selling a product, we are trying to touch people lives in a way that will leave a lasting impression.
What is the road ahead for Elixir Shop now?
Seema: Currently, Elixir Shop products are a leader in essential oil-based products in India, now we are looking at expanding operations worldwide, soon.
Any parting words of wisdom for other women entrepreneurs?
Nikita: Whether it is learning about the bigger issues like the impact of GST on your business or simply, the best angle to shoot our product photos from, the learning never stops in an entrepreneur's life. When you are a part of the core team in a new business, it is all hands on deck.
You will end up getting involved in so many processes and you'll pick up many skills in a fairly short period of time, and you will also learn how to interact with all sorts of people and find a way to relate with them.
Running your own business is always challenging but it is really fulfilling, and you won't come across a dull moment. So, have fun ladies!
---

Piyali Dasgupta
---
A*****

@Manjit Doshanjh I think you are in the wrong place. Sheroes is a platform for women, not a marriage bureau or a match making website.

Similar Articles You love