Palak Nanda
19 Sep 2018

.

1 min read
6th Edition SHEROES Summit's Last Chapter: DELHI
After successfully completing all the 4 chapters of the 6th edition of SHEROES Summit, we finally jumped on to create powerful vibes for our last chapter i.e. Delhi Summit on 12th September 2018 at EROS, Nehru Place.
We started with inviting positive energies in our morning zing session by Jenil Dholakia to get all set for the wonderful day. Participation and connection is the essence of a community which is clearly portrayed here.
Having these powerful people on stage and sharing their views was incredible. Som Mittal, Member of Advisory Board, UST Global, Former Chairman & President of NASSCOM says,
"People investing in women is not the future, it's happening now".
According to him, the working should be in 2 phases:
Firstly, we should get back women in the profession and Secondly, making sure that there is the right mentoring for them.
Pooja Goyal, Strategic Head, KLAY Prep schools and Daycare had some great advice for entrepreneurs in our community.
"If you've just started out, build your support network to help you out. Listen to your customer and keep the connection, strong. Have patience, work hard, stick it out!"
Elizabeth Venkataraman of Kotak Bank Ltd. says,
"Financial independence is an imp part of true independence for women. But women want to be spoken to differently about finance - they want to engage around goals"
For us every community member is important, so to make sure that everyone is a part of the SHEROES Summit we had Indian sign language interpreters, Sarah, and Shivoy who helped our deaf community members also participate in conversations.
To keep our audience engaged and excited, Navaldeep Singh, poet, entertained by reciting a fun poem and created some fun vibes in the hall. A line from his poem
"Tum pakvano se ishq karo to hum halwai ban Jaye"
Community is the power of SHEROES, so we had our community members with us, sharing their stories and how they built everything.
RJ Stutee, RJ of Fever 104 FM, was so excited and happy to see all the lady power of SHEROES Summit Delhi.
Swarnima Bhattacharya, founder of TheaCare, an active member of Health Tips community of SHEROES, is creating safe spaces for women where they can talk about their health and personal care actively.
Our Partners, UST Global, KLAY Prep Schools and Day Care, Kotak Bank, created a space for women and children where they have the chance to explore themselves. Mommies with kids happily enjoyed the event while their kids played at the KLAY play area.
The energy of UST Global was so extreme, they mentored the women techies and ready to hire them to create a powerful network. They are dedicated to welcome more women in tech.
Our talented SHEROES team members surprised the audience with their marvelous performances. Garima Gupta, Product Manager, our Kathak queen and Ankoor Das Gupta, VP Brands and Marketing, SHEROES, jammed with Tarit Pal, Percussionist.
Angel investor, Alicia Castillo Holley, flew all the way from San Francisco, US, delivered an inspiring keynote. Her advice to women entrepreneurs,
"Lift yourself up, think in multiples and do not listen to anything that puts you down. Think about your business as your child. Start small, but your success is dependent on the business standing on its own. There are many angel investors looking to invest in women-led businesses. But you need to be prepared to manage and accept funding."
Entrepreneurs from our community had a lot of questions for Alicia and she was happy to answer them.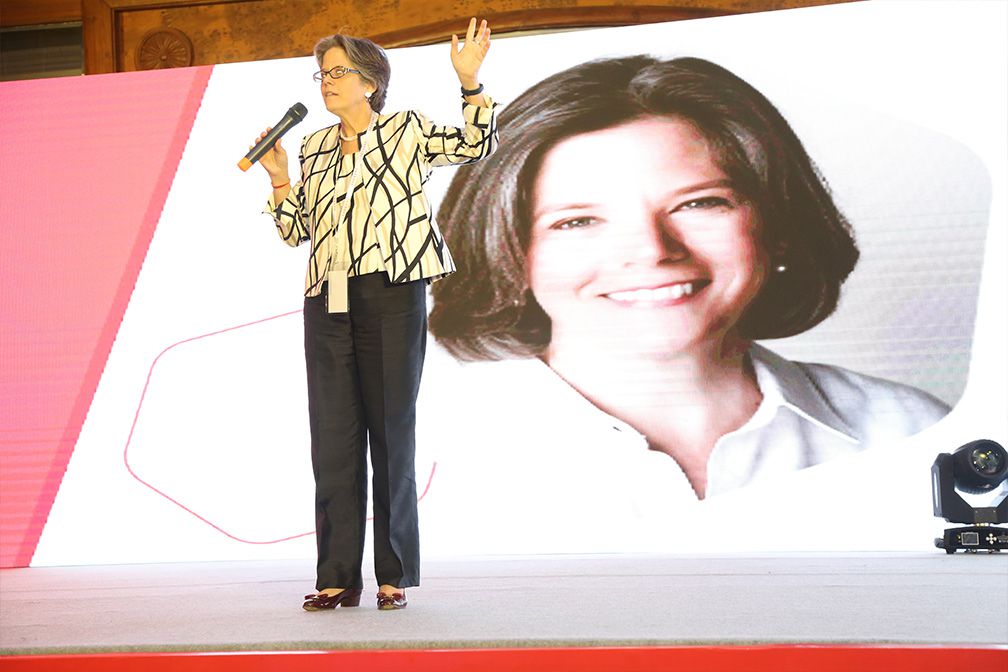 Alicia has started "Women Get Funded" Program with SHEROES and entries for Indian women are open, she is dedicated to helping SHEpreneurs to grow and excel in their fields.
Shweta Jain, Vice President, Luxury COmmercial and key accounts, DIAGEO India, spoke about the presence of women in Alcohol Business, She says,
"When I started a career in the alcohol business, there were over 600 men and just 3 women. I was the only mom. Once you have clarity on your choices, you can go about your profession and personal life without guilt"
And we ended on a high note by breaking a leg on some great songs. We will miss all of them and we are too excited to come back with a lot more energy and fun!
---
Palak Nanda
---
P*****

Hi I m pallavi Summit kaise hoga
R*****

Hi Iam Rita. How to join the summit.


M*****

Want to join it what should i do for join


R*****

M also interested in joining. Plz let me knw.
K*****

I also want to join sheroes team so can u please tell me how can i
M*****

Writer ,poet, App jo kha Muje sans nae aaya kya ache se battaoge
K*****

I want to join sheroes team in work.
B*****

Congratulations and proudly feeling Thank you so much because you are ideal our future
D*****

I am women but I am proud of women Congratulations mam
T*****

Me also want to be part of it
L*****

Let me know how can i be a part of it
S*****

Very nice to hear, a woman is a power builder of the society and present world I congratulate all for the event.
S*****

It was such an exciting read. Well written Palak Nanda. I wish next year I can share my inspiring story of reaching out to become a female journalist in the conservative country -Saudi Arabia , Wil love to share the challenges and overcoming hurdles in my life.. to reach to this recognition as a face of women journalists in Saudi Arabia.
V*****

Nice...I also want to join u for the next session

Similar Articles You love