{{data[0].User.first_name}} {{data[0].User.last_name}} {{data[0].User.personal_bios}}
{{data[0].Profile[0].summary}}
Q & A (70)
mentor Note (0)
Followers (75)
Following (0) priyanka pratheep Akshata Nayak Bindu Malhotra
Diana Christopher

Kusuma Harikar
Divya Chandrakar Mangesh Tidke Q Q AKSHITA SOOD Pukhraj Neogi Sonal Tharthare Madhu Prashant
dhanya Nair Beulah Joseph

Shilpa Sudheer
RIDDHI KATHE dimpal kumari Lubna Shabbir sweta sureka Tanuja Guleria Renusree Naaru
Esha Ravani Mike Fost
Pooja Agrawal Afshan Chanda saba kadiri
Anjali Sirohi
Varsha Pawar Richa Dhar hemlata jalan Jaya Khanna Faithful Rubin
Rajni Agarwal SIMMI NANDA shruti khatri Pallavi kapri
JAHANVI MISHRA Deepti Malhotra Karishma Badani

pawanjeet kaur SARASWATHI MURALIKANTH Suryasree Roychowdhury Deepaa Hotwani Lavanya Srikanth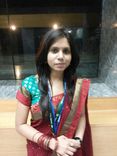 pallavi singh Neha Jalan Megha Chirimunjh Poonam Chandiramani Vijayasri Ratnakar

Alpana Agate ALISHA SAINI Srimayee Bhadra Pooja Jain jyoti bhatt
seema jaiswal Neha Aggarwal Priyanka Kumar . Sneha nooli Veenu Malhotra nini sanjay Kavita Naveen Pooja Chanana Harsha Parmar Poonam A Niyati Kothekar sridevi gangavarapu Ponselvan V Nivedita Tiwari Meghna Mathur
Chaitrali Latkar Ravali Thatipally, PMP Preethi Dhoot

Neeraja Ganesh Vidhya S Rohit .
People you follow will be shown here
Great! The question has been forwarded to SHEROES Career Helpline.