{{data[0].User.first_name}} {{data[0].User.last_name}} {{data[0].User.personal_bios}}
{{data[0].Profile[0].summary}}
Q & A (92)
mentor Note (0)
Followers (91)
Following (0) Deepti Kocher
PRATIBHA SINGH Upasana thakre Susanne Rodrigues Ramya Gurumurthi binish shums

Sairee Chahal Nidhi Chokhani
Diana Christopher Babita Sharma Sugandh Gupta Avani Parekh Tajunissa Pathan Richa sharma Deepa Rao . Runjhun Saxena Pooja Sharma Divya Saini Priyanka Roy Chowdhury
sahana gowda kushaldeep arora insan Sikta Tiwari Thanmuayee roy Bhanumathi Gunnam sudha mani sunitha vellore gayathri jalakam
Pragati Srivastava Venus John varsha paliwal khateja khan m c sreelatha rapolu
Geetanjali Kaur Pratishruta Adhikari jayalakshmi ravipati
RIDDHI KATHE Mahi Srivastava sunita tiwary Meenu Andotra
Tripti Mishra Rashi Kaknani Mike Fost Arshi Shaikh sneha sahu Sheetal Shah
shona jaya BULBUL KUMARI Kanimozhi Karthikeyan Rachita Yadav Andleeb Kamaal Vimala Bhandary Zohaaib Khan . Asifa Begum
Bindhu Biju Ragini Gupta Rachna Modi sunitha reddy Minu Pathak vedavathi vadiraja ranjini shanmugam preetha reddy
Shivani Bakshi Priyanka Sharma divya k p Nisha Kejriwal Daya Lalwani
preeti vandana Himani Bhavsar Akriti Ralhan Sonia Bansal Arora Ayesha Mukthar sarwarunnisa

monika sharma Anila Nair sonal kamble Bhawna Sharma eshita singh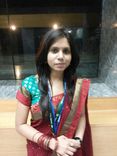 pallavi singh Kanika Sahni dolly jha

Geeta Gupta Rashmi chugh
hema bisht Shruti Sood
parul malik Supriya Kalbhor CHINKAL PATEL Bharti yash
Deeksha Ahuja P K
People you follow will be shown here
Great! The question has been forwarded to SHEROES Career Helpline.