Nabomita Mazumdar
Last updated 12 Dec 2016

.

8 min read
Winning With Work From Home
Do you work from Home? Yes, I do! I have been working for the last 6 years from home. It worked wonders for me . Yes, initially it required me to arrange few things to make sure it works. If you are switching to this work-mode for the first time, please be prepared for every initial hiccups. Yes, right from missing the cosy work environment, to the lavish cafeteria and finally the internet connection. The right balance will take time to arrive:

First of the few things that I got on my list are:

A great internet connection: Yes a promising broadband service along with a dongle and a Data Card. No I don't need all of them together, but in turns. Such as when I travel , the dongle and the Data card works brilliantly. Even at home, during the loadshedding hours, these were my backup plans to continue work. A wifi is a perfect idea. It allows me to work from terrace and room seamlessly. It offers the freedom to move away from the tyranny of the desk.

Space: I created a noise-free home for me. Yes, I can't hear any noise from the road or neighbourhood when I am working. I prefer it that way. I have been choosing homes that are away from noisy places and offers me a great view. Yes, please plan that as it will be your best entertainment at work. If office had offered you a great surrounding, choose to stay in housing societies with parks and trees. These things might sound too tiny and frivolous, but will weigh down on your monotony when you start working from home. In case you don't have the choice, please identify corner where you can take your calls and skype meetings.

Work-station: Please keep in mind, so far you had a Corporation spending to offer you the perfect ergonomics at work. Hence, when you are building it for yourself, just don't pick any office table, but the one that will allow to work for hours together. I prefer a stand-up work station. Yes, my work table allows me to stand and work. I find it healthy and interesting. It also saves me from a bad posture. A friend of mine built her own workstation on her Treadmill! It helps her take 1000 steps and remain healthy. She is an author and is a founder to a community for Schools. I would suggest you to keep a combination of workstations including a folding breakfast-table to help you work from your bed.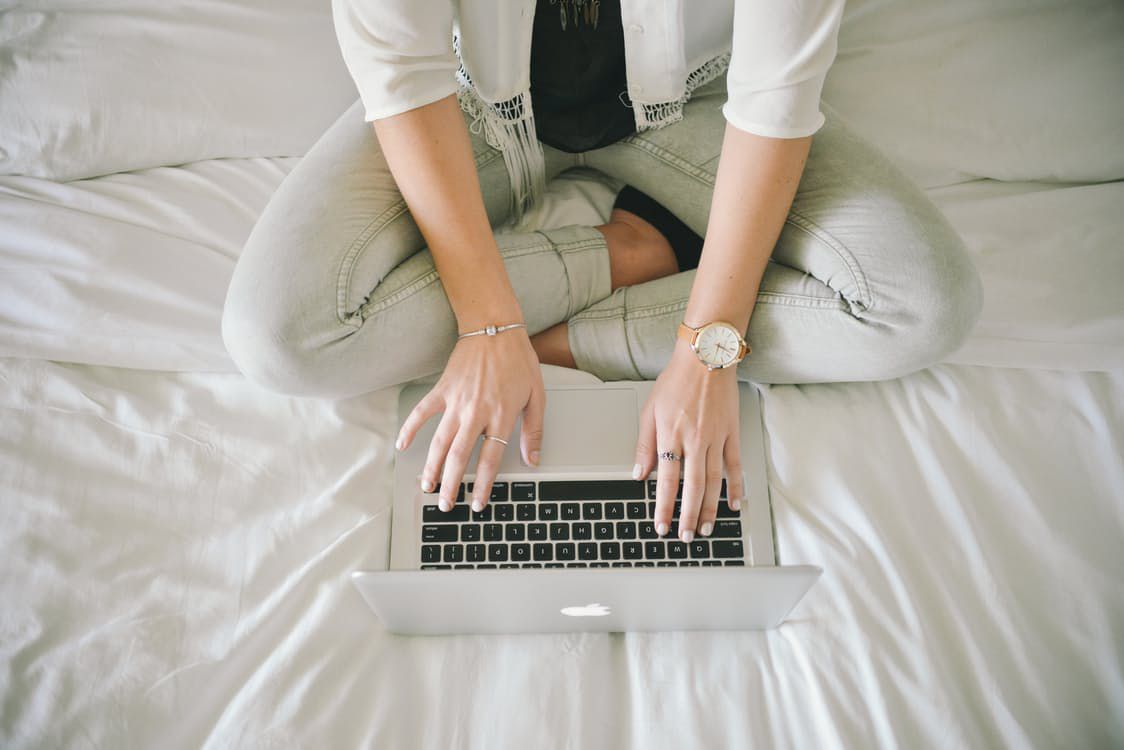 Gadgets: If you are a gadget freak, thank your stars. Yes, the reason being, when you are working from home, you are your very own 'Technical Helpdesk'. Unlike office, you won't have your tech-team visiting you at your work station and trouble-shooting every technical problem that arise. Invest in a good laptop. A Macbook is the best choice, if you have a budget for it. It takes care of 99% of your technical problems. You don't need to worry about hacking or other security measures, unless you download music or movies. A tab along with your laptop will let you shift screens and allow you to work from more relaxed spaces than your work station. My android phone was hacked. Hence, would suggest Apple products as they have far higher security standards. Similarly, plan for room heating and cooling as per the area you live. At your office, you had Air Conditioning throughout the day. In case you don't have such facilities at home, plan for them. Comfort matters the most when it comes to giving your best ,on a daily basis.

Network: Please remember all your networking happened during your work hours. Hence, you need to identify ways for building the rapport using skype, google hangout, even social media. The upside is, it's all under your control, as you get to decide when to speak to whom. The downside is, it requires effort at a whole new level. Dashboard and Slack is a great idea for live sharing of ideas. Count an extra mile, for transparency.

Communication: Remain PROACTIVE ,yes, in capital letters. You will remain in touch with the people, just because you push. Attention is sparse. Everyone is designed to miss out on informing you, unless you ensure every information reaches you.




Productivity: Know your deliverables and metrics. Request for feedback regularly. If you choose to work during the office-hours, identify your body rhythm as per that. Wake up early and start working from 9:00 am till 5:00 pm. In case you have target oriented work, stay focus on results. If you are highly active right after your gym, then schedule the shipping of a product right after that. Your body work exactly the way you feed it and put it to sleep. Check which are your best time to deliver high volume of work and design your day around that.

Training Programs: At office you had the regular on-the-job learning and even elaborate training sessions. If you no longer have your employer deciding on your skill-upgrade, utilise WFH option to hone your skills. Connect with professionals world wide through Udacity or Udemy and keep building on your skills. This is your opportunity to work with collaborators across the world.

Time table: Plan your day around the work you need to deliver. If you have to achieve your targets by 12:00 noon, plan a break right after that and pick the activity you enjoy doing the most. I award myself with a walk when I finish a task. You can even choose to dance, if that makes you happy. Just keep it in mind, the activity you are choosing should help energise and re-focus once your break is over. I love to meditate and it refreshes the most. Even a 20 minutes session, recharges my batteries. I don't own a TV. I find it very disturbing. Incase you love watching soap operas, plan for them accordingly.

Communities: Yes, now you need to join communities where you find better meaning and returns. For example, I am active with The Indus Entrepreneur Chapters , the community that supports startup. It helps me not just connect, but even contribute and be mentored by the best of the leaders in the country. It even allowed me to deliver in the areas that I wasn't delivering at work and brush up new skills. In case startup isn't your area of interest , try technology or even photography . There are active Food and other hobby based communities too. This will bring in the human interaction that you will need and keep you motivated too. In case you do not have an option for the offline communities, and prefer online ones, try SHEROES to stay connected with peers and find mentors too.


Prepare for the monotony: yes, you have no clue how badly the cycle of Monotony can hit you. Please be prepared to deal with it. Choose activities that energises your brain. Observe the intervals at which it happens and plan for the breaks during that. Few of my friends love to work from Starbucks once a week. That helps breaking monotony for them. I don't prefer that unless, I have meetings scheduled there. It's too noisy for me.

Taken for granted: If you are starting to work from home for the first time and no one in your network or family had done it before, please be prepared to be taken for granted. The fact that you are home, it won't look too productive to people who are accustomed to regular office jobs. Set your boundaries and create your curfew hours. A friend of mine wears office clothes during the work hours, including business suits. It's a great idea, to set the message right and also helps to take the sudden live-meeting on google hangout or skype. Initially you may need to remain strict about drawing lines, but it will pay in the long run.

Planning a vacation may not be very different, as your workload will decide when you can afford one. In case you need to take it with you family, choose places that offers great internet connection. And of course, let it be announced that you will need to deliver daily targets.

It's a boon to work from home. Go make the most of it!
---

Nabomita Mazumdar
---
Similar Articles You love