Palak Kapadia
11 Feb 2019

.

1 min read
Tahira Kashyap Teaches Us How To Be A Total Badass!
Over the last few days, it has been impossible to read any kind of media without stumbling across a mention of Tahira Kashyap. And for good reason. This 35-year-old boss lady has pretty much been defining the epitome of battling the odds and coming out stronger for a while now.
Hailing from Chandigarh, Kashyap has a Masters in Mass Communication. She's a writer, professor and theatre director. She has dabbled in PR as well as events and even had her own company. She has been a professor teaching for several years in the Bachelors of Mass Media courses in Mumbai's Mithibai College followed by R.D National College. If that doesn't seem glorious enough, she is now about to make her directorial debut for a feature film!
She is based out of Mumbai now and has two children and a co-written book with her husband and first love, actor Ayushmann Khurrana.
Her relationship with Khurrana may be the stuff of fairytales and we like to swoon over them time and again. But today, this story isn't about that.
This story is about her.
For the uninitiated, Tahira was diagnosed with Stage 0 Breast cancer last year. This kind of news is beyond enough to shake a person to their core. But instead of losing hope, Kashyap decided to battle the odds like the absolute braveheart she is.

In a very open journey that she shared on her Instagram account, she began a long and tedious battle against cancer.
In one of her initial posts, she mentions,
"I was detected with DCIS (ductal carcinoma in situ) in my right breast with high-grade malignant cells. Simply put stage 0 cancer/ precancerous stage, with cancer cells multiplying in a contained area. The result I have become a half Indian version of Angelina Jolie (since only one breast was involved)! I told my doctor now is the time to give some competition to the Kardashians since Pamela is passé. But no one listened to me, so now I have a portion of my back tissue in my breast. Perhaps now I can do chin-ups with my breasts! Jokes apart, this obstacle has given me a new definition of life. Respect its unpredictability and have the faith and courage to be the hero of your own drama of life. The invincible human spirit is God-like, gives you the courage to endure and the will to revive. There is nothing that human spirit can't do."
From the very beginning, she had the attitude of endurance and pushing through. And of course, of coming out stronger.

They say the universe has no choice but to relent to a stubborn heart. And it indeed must be true because she is now healed, healthy and hearty as ever.
Her journey has been a huge source of inspiration and I'd like to share 5 big lessons I took away from following it.
#1. Being The Hero of Your Story
Just because life has dealt us a certain hand doesn't mean that we cannot choose to rise above it. In one of the initial Instagram posts after her surgery, she shared a post by Twinkle Khanna and a picture of Frida Kahlo and said,
"This one will get me going for the next few days. It's something that I'll be reading over and over again as I am about to get my 'badge of honour' soon. I really hope the next couple of days that I will lay to recuperate I turn it into an opportunity to reach my maximum human potential. I am getting into something major, with time and with right frame of mind I will discuss. This post is not to evoke curiosity. The intention is to encourage someone who has or is gone through pain. We all have our battles, we need to decide whether we want to be the hero of our own drama of life. I know I will emerge stronger than ever before."
We can choose to be the victim of our own story or we can choose to be the hero. Tahira Kashyap taught me that I wanted to be a hero.
#2. We're all in it together
Instead of choosing to let the cancer get the better of her, she used it as an opportunity to spread awareness about breast cancer to other women. It takes a huge heart to think about others when we are ourselves going through such an ordeal but she does it effortlessly. Like she says on Instagram,
"I want women of all ages to be aware. I am 35, and I was returned twice over from a mammogram. If any symptoms come up, think of it as a protective force and get yourselves examined. Also we are so obsessed with boobs. This mastectomy has left me with even more self love! Big, small, left or right inclined , gravity pulling or defying, or even none, each breast the presence or lack of it has a story to tell. Mine has made me a 2.0 version of myself! This post is dedicated to awareness, self love and resilience of a warrior that I know each one of us possesses."
Kashyap sets the tone of the new generation of women who are an army that fiercely loves, protects and watches out for her kind.
#3. Bruised is not broken
It is a common belief that you aren't given anything that you are not strong enough to deal with. I also personally believe that you don't realise how strong you are until your only choice is to be that way. In an unimaginably badass post, she wears a T-shirt that proudly says "F*#K Cancer" and writes,
"That's what you do when cancer shows up. You show it the way out! It is a tough phase to be in, but then I would have never known my own strength, which is inherent in each one of us, and which we come to know off when tested. Like I said before, let's choose to be the heroes of our own drama of life. I strongly believe if an obstacle comes in your life it is for you to deal with it, overcome it, beat the shit out of it and become a better version of yourself, which could be a bit worn out but would be experienced, a bit tattered but more wise, a bit left out but more to bring forth, a bit handicapped but better equipped! So now the upgraded version of myself is dealing with cancer stage 1 a, which is still a result of early detection. I'll be going through 12 sessions of chemotherapy. 6 down, and another 6 left. Hence the cap look nowadays. This post is dedicated to my journey where half the battle is won and the other half I want to fight with each of you who is enduring it. Be resilient, be strong, we shall overcome and how! Also I have immense gratitude for people around me who have taken it in the right spirit and didn't give up on me."
#4. Self-acceptance is a gift
In what may have been one of the most beautiful, empowering things the world has witnessed in a while, she posted a picture of herself completely bald with the caption, "Hello world! That's a new me with the old self! Was getting tired of the extensions, so this is how it is and it's so liberating in every sense of the word, so much so that I don't have to duck the shower while bathing or while picking up the soap! I never thought I would go bald, was stretching my time with the good ol' cap for too long. But this feels so good." In a time when everyone is trying to be the best versions of themselves on social media, this was so refreshing and inspiring to see. Doting husband Ayushmann Khurrana couldn't help but share her picture with the caption 'Hottie' and Deepika Padukone too followed suit.

What's more? This unstoppable hero even walked the ramp for Bodice Studio at the Lakmé Fashion week. I cannot stop obsessing over the pictures!! What a queen!
#5. There is no love greater than self-love
And if you think it is all, she is just getting started. On World Cancer day, this resilient, beautiful woman put up a picture of her back with her scars visible. She absolutely owned the day and wrote,
"Today is my day! Wish you all a happy #worldcancerday and hope each one of us celebrates this day in an embracing way. That we remove any stigma or taboo associated with it. That we spread awareness about it and that we have self love no matter what. I truly embrace all my scars as they are my badges of honour. There is nothing known as perfect. Happiness lies in truly accepting yourself. This was a tough one for me. But this picture was my decision as I want to celebrate not the disease but the spirit with which I endured. To quote my mentor, Diasaku Ikeda, "Leading an undefeated life is eternal victory. Not being defeated, never giving up, is actually a greater victory than winning, not being defeated means having the courage to rise to the challenge. However many times we're knocked down, the important thing is we keep getting up and taking one step-even a half step- forward."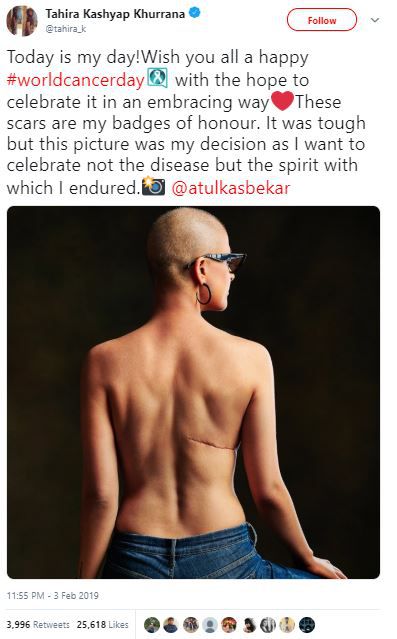 I honestly don't even know what to say anymore. It takes unimaginable amounts of strength to be such a positive and celebratory person even when faced with such situations.

I am so so inspired by this woman. Tahira Kashyap is the SHEROES we never even knew we needed!
Also read About Metastatic Cancer and How To Be Strong Like Sonali Bendre
---

Palak Kapadia
---
S*****

Excellent, will share it with a friend fighting cancer. Thanks
G*****

Just speechless, hats off to her will power and spirit, more power to woman, even she can upbeat destiny with her will power. 😘😘.
T*****

May she heal evrytym, hv long lyf n b as rocking as always😘
J*****

Very inspiring story. God bless her more strength
A*****

Money and power always say something right bcz आप कितने भी ज्ञानी हो अगर पैसा -पावर नही तो सुकरात की तरह पागल कहलाओगे।