Not Just Art, A Mission Beyond Vision
Last updated 22 Feb 2018

.

1 min read
"Love looks not with the eyes, but with the mind,
And therefore, is winged Cupid painted blind!"
While most of us rejoice to this famous quote from Shakespeare by using it on Valentines' Day greetings, one woman made it a mission of her life in her own unique way. She is spreading the same love, but among those who deserve it the most, yet are deprived.
Recently, the courtyard of Government High School for Blind Girls, Malakpet in Hyderabad came alive with colours. Colours of love...colours of creativity...colours of beauty beyond the eyes of the beholder.
As visually-impaired girls painted their imagination, Meera Shenoy, Founder of Youth4Jobs was seen smiling in a corner. Her mission of 'strengthening the disabled' had just taken another leap in an art workshop organised by 'Not Just Art'.
"NOT JUST ART is a startup of Youth4Jobs which focuses on mainstreaming the talent pool of artists with disability. I founded it based on interactions with various parents who showcased the talent of their children when I travelled across the country. We have a portal which has onboard 15 talented artists with disability. Besides this, we plan to have art workshops in special schools, art therapy workshops etc," explained Meera Shenoy who was beaming with joy, the joy that can be seen on the face of a compassionate mother.
The event that was led by the organization Anybody Can Paint was also supported by none other than the Microsoft India Development Centre.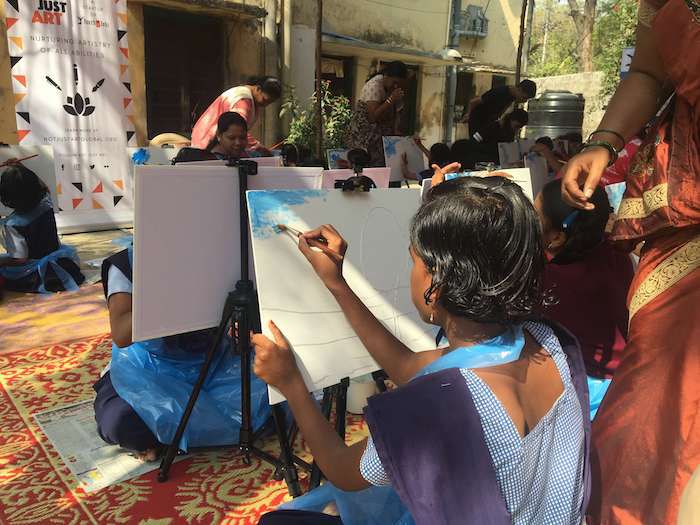 And the event's success was palpable in the excitement and cheerful exchange among these girls who were in the age group of 12-16. As instructor Sameer Nagi led them through the creativity of applying brushstrokes, selecting colours and layering shades, they giggled with joy off and on, leaving me wondering...
As I go to work….
I can see the Blind World around me,
As I travel back home….
The same Blind World exists around me,
Judging everyone around them,
With brains shut and closed eyes,
All this world talks is about "I and ME"
But here we had young, bright talent that felt the beauty of colours and splashed it on paper!
Completely visually impaired Bangaru chuckled, "I am super happy because someone has believed in us and given this chance to hold the painting brush! This feeling itself makes me high."
Another visually impaired girl Manikeshwari said, "I cannot see how the painting looks like, nor can I see the colours used. But I thoroughly enjoyed it since I was given a chance at par with a visually-abled person. It is a proud moment of achievement for me. And I would love to learn and explore further opportunities in this field if someone gives me a chance."
Each girl held her creation close to their hearts at the end of the workshop. Their smiles were shining brighter than the Sun.

Meera Shenoy looks over the girls painting their hearts out.
We could see Meera, again looking at them lovingly. Admiring each stroke, she asserted, "We have so many misconceptions and cobwebs in our mind. We need to remove these and allow these new talent pools to flourish. And this is just the first step by NOT JUST ART, lots more is coming up!"
Not many know that these girls come from the underprivileged families residing in the villages of Telangana, where they are considered a 'burden' and 'useless'.
Meera details again, "Youth4Jobs works in the field of special education. We have adopted a government girls blind school. Here we have set up a computer lab and are supplementing academics by teaching computers, English communication etc. To give them an overall, non-discriminatory learning experience, we also took them on three picnics - one to Microsoft campus, then an up-market residential community and another to Ramoji film city. These girls are all from poor families, children of farm labourers and most often, unwanted in families as they are girls, poor and blind."
Not many are aware that Meera comes from a very affluent family. So what motivates her to live a life of discomfort (by the standards of the upper-middle class she belongs to), many times, even in the remote hinterlands of India?
"The excitement on these girls' faces when we give them these unimaginable inputs. The hugs that I receive when a Divyang gets placed in a job. Can you find something better to be happy in the true sense of the word?" Meera questions back, leaving me basking in the glory of winds of change that have already set in the lives of these talented girls. And my pen dances on paper yet again...
The fear is gone…determination sets in,
As Winds Of Change propel my wings,
Yesterday was mine…today belongs to me,
Tomorrow is unannounced, but isn't far from my reach,
Because Winds Of Change have already set in!
Like me, if you believe that NOT JUST ART must reach every deprived child, please don't forget to share this story. We all need to join Meera's efforts to make the world a better place.
---

Mahima Sharma
---
---
Similar Articles You love