Mahima Sharma
Last updated 19 Jan 2019

.

1 min read
Faced Several Rejections Before I Became The CEO Of SHURU-ART: Sana's Take Charge Story
The younger sibling among two sisters, Varanasi based 28-year old Sana Sabah has been time and again asked the same question: EK BHI BHAI NAHIN HAI? (You don't have a single brother?)
The young lady with boy-cut hair (by her own choice as she hardly finds time to set them well daily) quips, "I find it funny, and at the same time proud that my parents made a sane decision to have a small family, and equip us with the best education possible. Women in our family were never properly encouraged to have a career. It was never looked down upon, but there was no one to look up to. Because of the trust of my parents (and my Nana Abba or maternal Grandfather), my sister became the first. She paved the way for the rest of the daughters in our family. It is only because of her that I even have a career. She inspires me to aim higher. My sister is my SHERO."
But this story isn't about her sister. It is about Sana herself. The story of a young girl who found out that her calling in life wasn't the numbers that she would be chasing during her Graduation in Commerce Field. But that her calling was in being creative and today she is giving wings to more creative people through SHURU-ART!
Before we know more about her 180-degree turn to a different field, let's know what is SHURU-ART. The online-offline platform commenced on Dec 25, 2014. The idea was to give the artists of tier 2/3 cities a professional beginning. Hence the name. So how did Sana reach here and take charge?
"After finishing Post Graduation in Mass Communication from BHU in 2015, I was rejected by FIVE major TV channels as an associate producer. I was depressed. So I started preparing for FTII. Meanwhile, I had to find a part-time job, as a staying at home and studying was killing me. IIT BHU has an incubation center and one of the startups Magzhub there was looking for a content writer. I got in touch with the founder Amrish, who asked me to visit for an interview. It was Amrish who introduced me to the founder of SHURU-ART, who hired me as their social media manager. My job was that of a trainee who had to shoot videos, interviews of various artisans who were on-board," recalls Sana.
With SHURU-ART Sana says she not only grew as a skilled video producer and also as a human being. The art around her changed her way of looking at life. She not only learned the skills of story-telling through her camera and pen but also began being gripped by the same.
"What started as a 3-day in a week training, turned into my full-time interest. Then came the Startup Summit of January 2016. The startups were expected to send a representative. It was then that I was made the CEO of Shuru-Art. I'm the youngest one in my family. And I was on top of the moon since for the very first time I was entrusted with something that was of this great intensity as well as responsibility. Since then, there has been no looking back. And in last three years, SHURU-ART is just like my own baby, whom I have nurtured from crawling stage to the running one!
So what does SHURU-ART actually do to nurture artists? Sana tells me that SHURU-ART is not just an online as well as offline one-stop shop for selling various art forms and works, but also:
Conducts art workshops in Govt. Primary schools of Varanasi, as art is not a part of their curriculum. The intent of these workshops is to nurture creativity among children at an early stage.
Produces online art courses and DIY tutorials in association with artists.
(Checkout her Art work on her SHEROES Profile Feed)
SHURU-ART has 85 artists from Varanasi and Patna in the age group of 20-27. And she says the maximum part of her day, every day goes into getting the best for them, be it for the upgrading a skill-set or selling their works. Sana adds that SHURU-ART has a certain policy towards scope for more artists. She informs" Our policy is to work only with student artists from Tier 2/3 cities who are pursuing either MFA or BFA. Currently, we're tied up to Banaras and Patna. We have plans to include students from Allahabad, Aligarh, and Guwahati in future."
So many faces, so many hands, and such breathtaking, beautiful work. But who is close to your heart and art, Sana? "Mahima, the two artists whom I've actually seen growing with ShuruArt are Neelam and Sangeeta.
Neelam is from Salempur and lives in Varanasi to pursue her MFA from Vidyapeeth. She conducts our Let's Start Art programme in 5 govt. primary schools of Varanasi. And is also the face of our DIY series on YouTube. After joining ShuruArt She has been able to support her education and takes care of all of her expenses on her own.
For our very first exhibition in Hyderabad (August 2016) we were accepting artworks from all the artists. Sangeeta was the only artist who got rejected because of the quality of her painting. But she didn't give up. She would work hours together at a stretch to improve. And you should personally come and witness her success today.
But what about Sana's journey? "It wasn't as easy as it might seem today. No one in my family had any entrepreneurial background. To convince my family about my work, not as a hobby, but a full-time vocation...took a lot of effort. They wanted me to pursue something more stable as a career - banking, teaching, news reporting, freelance content writing, basically anything but ShuruArt. No parents in the world can stop worrying about the future of their children. All they can do is trust. It is up to us how we gain that trust. I did it by being consistent and working hard." Sana Sabah asserts and also adds that even at work it was a great challenge to gain the confidence of artisans.
She recalls,
"The common notion about us among the artists used to be that we'll sell their paintings at much higher prices and would only share pennies with them. But my association with art made me a changed person who won them over with empathy. And today their trust is now my biggest and most valued asset."
And the best part of this journey, she states, has been her own inclination towards painting! Yes, she is learning to paint and keeps sharing her beautiful work at SHEROES.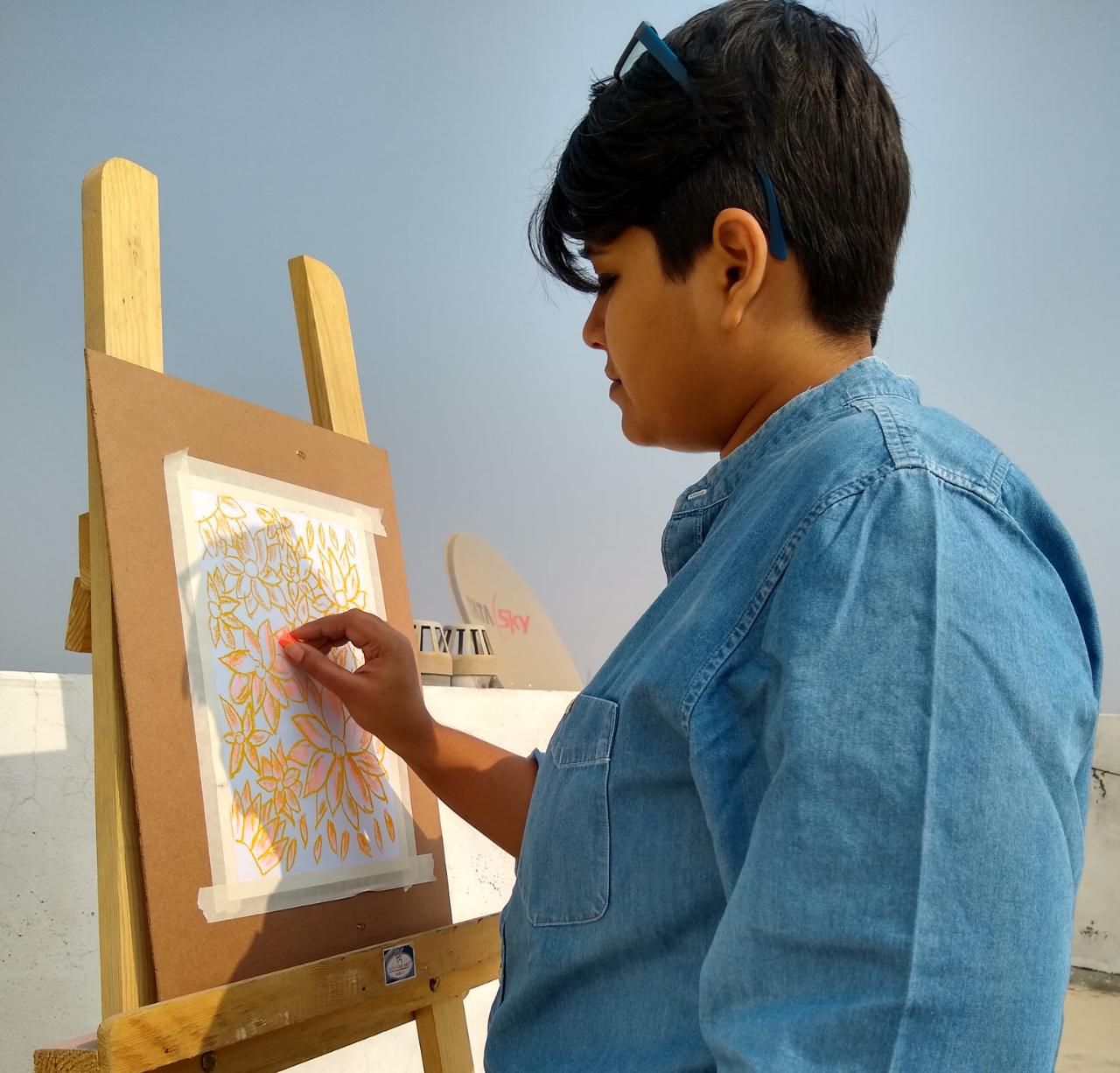 "Sairee is the person who inspired me to continue to lead Shuru-Art. She's one of those few people who didn't belittle me for my age and gender. And she's the reason I joined SHEROES. It was after joining SHEROES I became aware of how women are helping each other on the professional front. This feeling of sisterhood is warm and fuzzy. Knowing that If I'll ask for help I'll get it. The fact that I can help a woman fulfill her dreams is in itself an empowering thought," chuckled a very upbeat Sana
And she leaves us with beautiful artwork and an equally inspiring message:
"Making mistakes and taking harsh feedback on our work is crucial for our improvement. Perfection is not a one-time thing. It comes only after going through numerous imperfections. Revere your dark as much as you revere your bright."
(Here's What Happened in Sohrai Art sessions conducted by Team Shuruart.)
If Sana's art and heart has touched your soul too, do share her life story and also pour love for her in the comments column. And that will also be my motivation to bring make you meet more such inspiring ladies through the ongoing #MeetTheSheroes Series
You can also follow Sana on SHEROES.
---

Mahima Sharma
---
S*****

Really inspiring dear @sana.❤❤❤👌👌👌👌
S*****

Awesome ......Inspiring


A*****

Loads of love... You are an inspiration
S*****

Really heart touching story🤗🤗 loads of love💞💞 and all the best👍🏽👍🏽
P*****

The motiveted story, for those like me who want to do something in life but has no vision
A*****

Encouraging story. You are really brave.
S*****

Thank you Pooja for your kind and encouraging words. 💐
P*****

This is really a heart touching story.. Sana is really so brave because working on your dream without parents support needs courage really you are an inspiration..And always love for Mahima mam thank you soo much for patiently knowing everyone's story and encouraging us mam😘😘...

Similar Articles You love