Mahima Sharma
29 Jul 2019

.

1 min read
Dr Aarati Patil Is Re-writing The Future Of Women's Health Through Ayurveda
Today, I will take you to meet 35-year-old Gynecologist Dr Aarati Patil from Sangli in Maharashtra, India. You might ask me, why? Because she is a SHEROES Champion?
My answer will be, NO because she is an Ayurveda Champion who has decided to dedicate her life towards women health by shattering the myths and wrong practices of other conventional forms of treatment. How? She runs Fortitude Ayurveda and is also the Chief Consultant at Gynoveda founded by Rachana Gupta, another SHEROES Champ.
But before we know more about her works, let me share a few details about her life and how she made it to this field, despite the fact that she had all the privilege to choose to be an MBBS doctor.
Yes, the elder of the two daughters in the family, Dr Patil says, she had doting parents who wanted the best for their girls.
"We were free like birds to soar and meet the heights that we wanted, it was pretty clear to me from a very young age that I will become a Doctor. My parents are very religious followers of Ayurveda & I have seen their strong belief & love towards Ayurveda at many instances. Right from small episodes of cough & cold to high fevers, they always preferred Ayurveda formulations for me in childhood & I am the witness of their great choice.
Ayurveda is an ancient medicinal system of India which is more than 5000 yrs old. All other medicinal systems including Modern Medical system have emerged out of it. After passing grade 12, I expressed my willingness to go to Ayurveda instead of choosing conventional Medical system. Unlike other parents, my parents were extremely happy with the decision & I got admission to Government college at my home town."
And that's where I ask her," Why Dr Patil, why Ayurveda and not anything else that is a way of modern life?"
She smiles and tells me, "You and I are both generating awareness in our own ways at SHEROES, right? So, let me share some examples from the platform itself, to make you understand why AYURVEDA?"
Dr. Aarti details three cases in particular in short as below:
CASE 1: Many patients approach me for PCOD/PCOS, which is the most common gynaecological disorder seen today. One lady who was very well educated was asking my advice for her daughter on SHEROES. She informed me that her daughter is on contraceptive pills for PCOS since last 4-5 years & now they are tired with it. Once they stop the pills period problems recur & her daughter was continuously gaining weight. I got really surprised & restless because even educated people do not want to think for a while before starting OC pills to their daughters at this early age & that too for such a long time period. Every-one knows that contraceptive pills are not for everyone & has very serious side effects.
Unfortunately, I meet such cases every day in my practice.
CASE 2: Another lady on SHEROES told me that she is having chronic PID, white discharge problems & she has taken antibiotics many times which usually gives temporary relief. Again taking antibiotics frequently is also not a great thing & can have serious health hazards.
Case 3: I noticed while interacting on Sheroes that many patients with a complaint of heavy bleeding due to Endometriosis, Adenomyosis, Endometrial Hyperplasia, fibroid etc are usually advised to go for Hysterectomy (Surgical Removal of Uterus). Women are unaware that Hysterectomy ( Removal of the uterus) has its side effects & it can be avoided. Ayurveda has a cure.
So what is the crux of the case studies? The basic awareness that allopathic treatment has far-reaching and life-long lasting side-effects is missing! So now you understand why we are meeting Dr Patil today?
The same was the reason, she says, that her parents wanted their elder daughter to be an Ayurvedic Doctor, despite the society looking down upon this practice, even in the modern times, when the foreign world is coming to India for Yoga and Ayurvedic treatment.
Dr Patil continues, "During my undergraduate studies in Ayurveda, I realised my inclination & interest towards Gynecology & Obstetrics compared to other subjects. Being a woman, I wanted to know more & more & also wanted help all other women around. I studied both Allopathy & Ayurveda books related to Gynecology with great interest to keep myself updated with both modern & ancient knowledge. I also joined & worked with Modern Gynecological Hospitals to keep myself up to date. I did my post-graduation in Gynecology as I could clearly see the great level of acceptance & exposure to varied types of Ayurvedic treatments in Gynecology in South India. Later, I decided to go for a proper management course to learn how to serve people better & to understand the needs of the modern woman not only in India, but even abroad. I went to Europe to complete my MBA for 1 &½ year & during this time I presented Ayurvedic Gynecology projects in different classes. After completing MBA successfully I planned for my own Clinic in Mumbai, Andheri West. This is how I established 'Fortitude Ayurveda Gynaecology & Pregnancy Care Clinic' where all medical issues are treated successfully and exclusively through Ayurveda."
Here she shares the credit of her successful career with her husband as well, "My husband is a real estate developer. He has always been a very big support in my life. I got married in 2008 & my post-graduation in Ayurveda Gynaecology, as well as my MBA in Europe, was supported mentally & financially by him. He has been always very ambitious & particular about my education & career."
Next, she shares how she got one step ahead to associate with Rachana Gupta of Gynoveda, to step into the online platform to make health accessible to all, even if they live far from her place of work. Dr Patil informs, "Gynoveda is an online platform where we help treat period problems through Ayurveda. As I started my practice in Andheri West, Mumbai under the name Fortitude Ayurveda, one of the biggest challenges that I faced is 80% of the patients could not see me in the clinic because it's not feasible for every woman to travel very long to a clinic. That's when I was aiming at starting an online platform. I was already having regular online consultations with patients not only in India, but abroad as well. But there was no particular platform to route all these women at one place, one time. That's when Rachana happened to visit my clinic & I understood that she was equally interested in women's health with Ayurveda. Our wavelengths matched perfectly & Gynoveda took birth."
That's where I ask her, "What about the uneducated women? They form the masses and need the education and care more than anyone else. What about them? How will you reach them?" Dr Patil smiles and answers, "I do organise health camps from time to time for the masses. Just treatment is not enough Mahima, educating them about menstruation and its related hormonal effects on the whole body is of utmost important. Period talk is the need of the hour. I am working in this direction as well. I am also interested in educating women on how they can take preventive measures in order to keep themselves healthy. This is what is the inspiration behind Fortitude Ayurveda & Gynoveda."
She adds," And that's also the reason why I joined SHEROES. One thing I liked about SHEROES very much is that, it is the biggest platform which is Women-only & we can talk & interact very freely about women specific issues. Being a gynaecologist & also as a woman, I experienced a lot of comfort & freedom while sharing my views with women. Different communities on SHEROES also helped me connect with correct group of women seeking for advice. You know most of the women don't even know basic things about their body! And my moral duty is to make them aware about her own body. If they don't talk about periods how will they talk about the period pain, which is mainly due to deficiencies in the body? It is as simple as that. But that simple thing has to be taught to them daily!"
So Dr Patil what is your six point advice in general to women to stay healthy? Dr Patil lists the simple six basic steps as below:
Sleep Early & get up early
Keep your meal timings fixed & avoid too much munching in between two meals
Exercise daily for minimum 30 mins preferably in the morning
Practice different Yoga-asanas daily for 15 min minimum
Choose a lot of fresh fruits, veggies, whole grains, green leafy vegetables in your diet
Avoid fast food, packages, processed, junk, oily, deep-fried, fatty, sugary & outside food always.
And in the end, she adds something extremely important, because she says women's health issues are more due to stress than internal. So she asserts,
"We must connect with our spouse at emotional level very strongly & we should learn to communicate our thoughts to our partner calmly & effectively. To lead a mentally healthy life I think it is important that both partners should respect each other & understand each other by means of strength & limitations."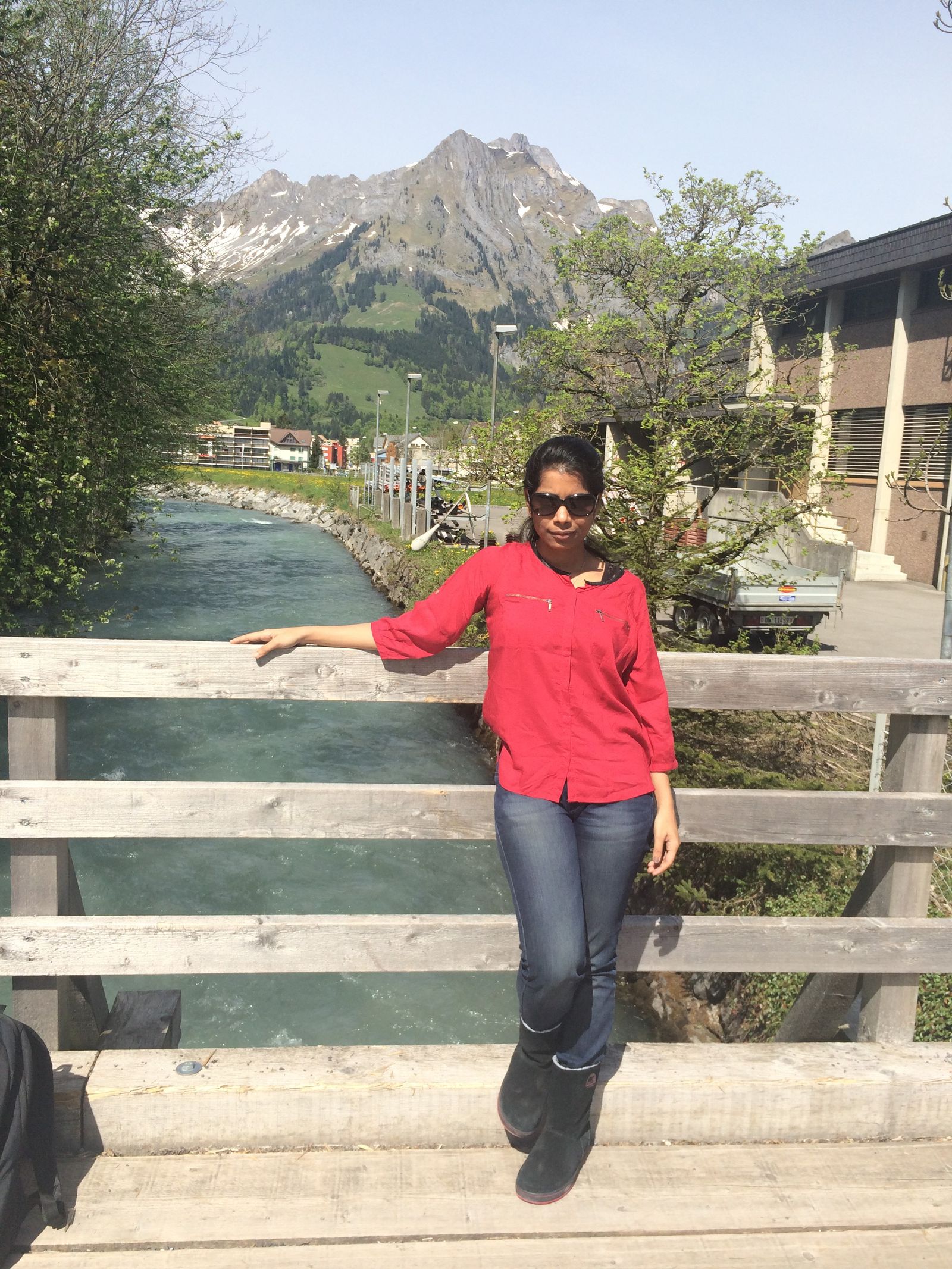 Wow! What an intense health talk? So why not ask something light to Dr Patil? Like how does a typical day in her life look like and what all she does to keep herself mentally healthy?
She laughs, "I get up at 5.30 am in the morning & spend 1 hour to read & write about Gynaecology & Ayurveda. I exercise from 6.30 to 7.30 which are open ground exercises followed by ½ hour of Yoga. My clinic timings are from 10 am to 7 am. After 7, I usually like to relax at home.
I eat my dinner at 8 pm. 8.30 to 9.30 PM I again land up in reading & writing about Ayurveda Gynaecology. I sleep by 10 pm. I work all the 7 days of the week & usually I take holidays of 3-4 days every month & choose to travel to my hometown many times.
To unwind? Well, I like travelling but I hardly get time to do so...I also like singing(classical) , exercising ( especially Yoga-asanas), talking to people ( especially with women on my favorite subject Ayurveda Gynaecology), watching movies, preparing food (Only on special occasions ), shopping for outfits."
Phewwww! Too much to wrap in a day isn't it? But then it's her life goal, to motivate women through her work and her own life. And that's what reflects in her parting message to all SHEROES.
"Do not neglect period problems. And don't go for intense medication or surgery. Opt for Ayurveda, talk to me. Make one thing clear in your brain: Women Gynaecological health is all about reproductive hormones. Thus, all you need to do is choose Gynaecological health consciously by nurturing good diet, lifestyle habits & yoga practices. And if you still face any issues, then Gynaecological treatment chosen must be an informed choice & not the blind following of the current medical trends. And last but not the least, I plead you NEVER fall prey to the medical advice of going for removing the uterus or a threat of the same to follow a certain treatment. Ayurveda is the oldest form of medical science. Trust it before you fall for any other!"
That was Dr Aarati Patil in an intense conversation with us in our ongoing #MeetTheSheroes Series. if you are facing any issue, do drop your queries in the comments column or talk to her directly by following her on SHEROES.
Don't forget to share her story as well as her profile, so that more and more women can #TakeCharge of their health!
---

Mahima Sharma
---
N*****

Hlo mam I am Nitu ... Mujhe aapse kuch puchna h meri marriage ko 2 year 's Ho gye but mujhe ek bhi baar pregnancy nhi hui plz mujhe btaye esa kya reason Ho sakta
S*****

I hve 6 mnth pregnancy.i want to knw now which kind of food good for me as well as my baby also? And now a days garbh sanskar seminar is trandy.is it necessary?is it really best for my baby?what should i do for my mental calmness?i do meditation three to four time in week.but dnt knw i cant do it concentratly.i knw only meditation will help me.and i knw i strongly need motivation and positive thinking.but dnt knw hw to get?if u help me its better.
M*****

I need ur help regarding mensuration.i am 49 plus but still hv regular menses.is it harmful for me or not while most of the women hv not periods at this age.plz suggest what precauations should i keep
R*****

Pls help to resolve uveitis prb.
S*****

Good information..can you give more information about pcos pl
B*****

Hi good morning Mam,, have a nice day. Best tips for health .
H*****

Hi mam,I want healthy n proper diet at d age after 45
S*****

I would appreciate if mental fitness is covered in detail too. Most of the women usually can't handle the game played by the harmones
P*****

I m really impressed ,u r doing great job for women's.
D*****

Wow it's very nice to have Aayurvedacharya in our community. I m really fond of Aayurved. N prefer to have aayurvedic medication fr any health issues.
K*****

नमसकार आरती ताई मला काहि दिवसापासुन (१वष)पासुन,pcos आहे मि ७,८महिने उपचार घेतले ,उपचार घेतल नंतर मला ४महिनयानि पाळि आलि.आता मागचया २महिने रेगुलर पाळि आलि आहे.आता परत डॉ कडे जायचि गरज आहे का?
P*****

I have consult my fibroids problem . I have big fibroids . Pls suggest to me what I do
S*****

I need your help.. Because of mensuration problem....
D*****

Wow.. Very important and informative article