Dhara Joshi
Last updated 27 Jul 2018

.

1 min read
It's Not Only Priyanka and Nick's Engagement Breaking The Status Quo
If the rumors flying around are to be believed, our Desi Girl Priyanka Chopra got engaged to Nick Jonas on 18th July, while she was celebrating her 36th birthday in London.
The two have been dating each other officially for 2 months now. However, they were seen together quite often since MET Gala 2017.
This rumor was further supported by a tweet from Ali Abbas Zafar, Director of the upcoming film Bharat, of which Priyanka Chopra was originally a part.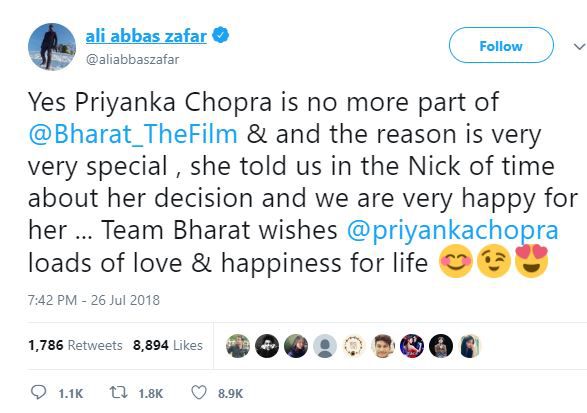 Here is what he wrote -
Yes Priyanka Chopra is no more part of @Bharat_TheFilm & and the reason is very very special, she told us in the Nick of time about her decision and we are very happy for her ... Team Bharat wishes @priyankachopra loads of love & happiness for life
Followers of both Hollywood and Bollywood film Industry are overwhelmed by this step taken by two.
Breaking the Stereotype around Age Gap
Recently most of you must have seen several memes around the two, due to their age gap, Priyanka being 36 and Nick being 25.
But this couple is truly unapologetic in all sense. They have successfully broken the Age Gap Stereotype. However, they aren't the first celebrity couple to do so!
4 Celebrity Couples Who have Broken the Age Gap Stereotype in the Past
#1. Shahid Kapoor and Mira Rajput
Very recently in 2015, Shahid and Mira got hitched with their age difference being 14 years with Shahid being 35 and Mira just 21.
#2. Sanjay Dutt and Maanayata
After 2 failed marriages, Sanjay Dutt found his love in Maanayata who was quite younger to him. However, the couple decided to take their relationship to the next level despite having the age gap of 20 years.
#3. Sridevi and Boney Kapoor
The "Hawa Hawai" of Bollywood Sridevi who recently passed away, she was also part of this league. She and Boney Kapoor had an age difference of 8 years.
#4. Dilip Kumar and Saira Banu
Forget about 2018, In 1966, the legendary couple of Bollywood Dilip Kumar and Saira Banu got married. This couple had a whopping age difference of 22 years with Dilip Kumar being 44 and Saira Banu being 22, at the time they got married. The couple recently completed 50 years of their married life.
There are 100s and 1000s of such examples if you look out in the open. But it's the old and narrow mentality of most people, who believe that having the age gap and getting married is a sin.
But the above mentioned and even several similar couples out there have set an example on how maturity & sense of togetherness overshadows everything.
Above all, as the saying goes - "Love will find a way".
---

Dhara Joshi
---
W*****

I don't understand why is everyone making such a hue and cry over their age differences. If they are happy with each other why don't we leave them in peace. Live and let live. When will we stop being judgemental? When will we start minding our own business?
A*****

Jitne bhi examples diye gaye hain unme female ki age kam thi male se isliye controversy nhi hui but priyanka and nick k matter mein female ki age male se jyada hai isliye controversy ho rahi age gap age gap ki because society age gap mein kam umr ki wife bardast kr sakti h but kam umr ka husband nhi society ne ise ek insult type create kar rakha hai
S*****

People are in love age is just a number it doesn't matter.. The lady should be younger or older doesn't matter.. Matter is they are happily from within.. They are in love and both are caring for each other that's the way it's goes for long term. According to me privately Chopra did the right things if she thinks her happiness is Nick an she will be happy why to create recess of she adopting a child. I guess he is grown enough to marry and be in a relationship.. So it's just Indian thinking of guys should be older n all.. It's all in our mind.. Because of society that's all.. Let other live in their private life.. Have some life in ourself to break this things I wouldn't ever mind to date a guy who is younger to me 3-6years but guys think in India to date a girl for long term yeah for one night stand and flings they are all look to sleep around elder ladies or even younger ladies.. India is going to next level of technological but what about society thoughts which is since decades that need to be change in the modern future India.. That's all I can say
P*****

Especially our indian have jelous mine
S*****

Its vry sad we indians judge vry soon for ppl who r happy in their own space n not bothered for who cares abut them or not but we r sitting here 2 predict their lives n future witout being a part of them as nobodys busissness it is 2 discuss n judge abut anybody elses no matter who ever the celebrites r n we hve no right 2 judge anybody elses life
M*****

I agree with the intent of the article. But all examples in the post about men being older than their wives are not surprising at all. And they are not the same thing. It happens all the time, and it is hardly a taboo. I think in fact the real problem is that while women being elder to their husbands is a taboo, men being much older than their wives is preferred within a lot of communities. There is a bit of hypocrisy and sexism at play here.
S*****

Understanding is base
A*****

Pyar umar nahi dil dekhta hai yaroo...
R*****

Yes i agree Bindu....no matter what is the age difference it is the maturity and sense of responsibilty that matters. Both partners must be respectful towards each other and they will be complimented.
B*****

For that matter even Sachin Tendulkar n his wife Anjali. Anjali is around 6-7yrs older to him. Sridevi eg., doesn't fit in this row(or even Shahid Kapoor's for the matter as it's not unusual in what I have seen in my in-laws place of Bidar dist in Karnataka) as it's quite normal to have a husband 8-10 years older than the wife. Hamare yahan yeh difference bilkul normal hai. My cousin is 2.5 yrs elder to me but both our husbands are of the same age group. So age difference for my cousin is 8yrs with her husband n for me it's 10.5yrs. Yeah but as you said maturity n sense of togetherness matters a lot n that's where my marriage lost the game. Though from the same age group n hvg same professional degree my husband n my jiju are extremely different when it comes to respecting the integrity and dignity of a woman