Gold Medalist Riya Didn't Give Up On Her Dreams Even When Faced With Fund Crunch
Published on 19 Jul 2019

.

1 min read
A little girl was once fascinated by a 'Sardar Uncle' who was living as a tenant at her parental house in Madhya Pradesh. The fascination was not towards his persona, but the swift moves and sporty looks that he had, even at the age of 40 plus. The little girl questioned him and that opened up her eyes and mind to the world of sports. The 'Sardar Uncle' Khushwah Singh became her first Coach.
"And since then there has been no looking back," says 19-year-old Riya Raghuvanshi who has won not just one but 3 Gold medals in Taekwondo at the National Level.
Riya begins unfolding her journey, "I am from Sironj, Madhya Pradesh. But right now, I am based at Indore with my joint family. I play many sports like Taekwondo, Football, Muay Thai and Cricket. But it is Taekwondo that gave me fame; I have won three Gold Medals, Three Silvers and Nine Bronze at various levels."
But not just this sport, Riya has balanced her sports life so well with her focus that she has played one national game of Football and also won Gold in MUAY-THAI too! Being a former athlete myself, I am awestruck! How did you do this Riya?
She laughs and says, "My sports journey began at the age of eight. All was going well, I had init

ial support of my family too. But not when it came to being a professional player. I had won many medals until then. But when I told my family, I wanted to pursue it as a profession, it didn't go well with my family. Like everyone else, earlier they also had the opinion that women don't make it big in sports in India. This is because we need a lot more support from the government. The current central government is taking measures for women sports, but much more is required. For instance, our financial condition wasn't too stable. There was a time a few years back when I got selected to represent India in THAI-BOXING at THAILAND (BANGKOK). The fees being charged was Rs. 60,000. I had no funds and thus my dream to win for India was shattered."
But then she adds that when she had begun getting local and national fame, Riya's parents and family had begun backing her, despite all odds. Though she could not represent India at an international level, her hopes are high.
She says soon she will be able to do that, and will also work in a direction where girls like her don't have to face what she has faced.
Riya says she is also working at ground level to motivate educational institutes in her state to recognise sports as an important aspect in schools as well as working with local administration and state government to increase funds for sports, especially for women. She says her mother has been her consistent support in her efforts, whether personal or in this arena.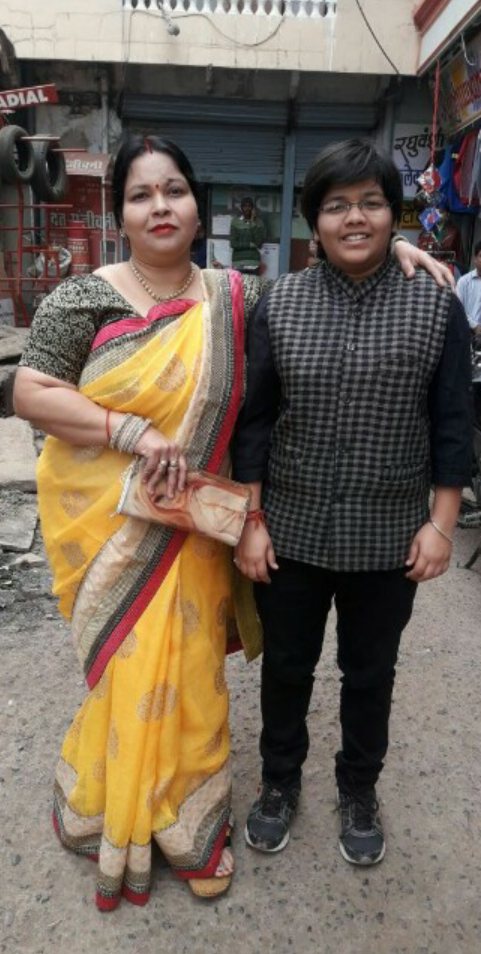 "I have two younger sisters, Papa-Mom, Paternal Uncle, Aunt, a cousin brother and a granny in my family. The elders came to my support once I gave them great results! So that's how Life is; when you are determined to excel, no one can stop you. I am pursuing B.Com right now. And my aim is to be an officer. Not many know that besides being a sportswoman, I am also a Motivational Speaker, who takes weekly session across Madhya Pradesh. For this, I will credit my friend Neha, who introduced me to a network marketing firm, where our work is to motivate others to excel. It gave me a new direction in life."
She adds that when she connected to SHEROES, she found a platform where women support each other, they uplift each other and move towards excellence. And she began motivating whoever she found a little low in life.
"I found this women-only platform called SHEROES, the safest place to not just motivate women, but also share my life, my views, my skills! No one judges another here! It is like a big family. And it is so much fun to be here, the same fun that I feel when I am with my two sisters!"
Riya chuckles like a kid, who has finally found a play-zone of her choice!
Riya adds, "My dad and mom never made us feel low about being a girl-child. They were worried about my future in sports, but that was a valid concern since in India women sports is mostly a self-funded effort. But never did we feel that we are girl children and we must not do this, or must not do that. And that's why today I am what I am, that's why perhaps SHEROES chose me for an interview," she smiles.
As we chat, Riya's alarm rings. It's time for her to go and practice Taekwondo. She bids us adieu with this message for fellow SHEROES;
"Every girl wants to excel, to live her dreams. What if Saina Nehwal or Mary Kom didn't get a chance to showcase their talent? What if their parents disagreed to their wish? Give yourself and your girl wings of courage to fly and mark my words she will never let you down. Hey girl, you are not just a marriage material, so don't give in to pressure. Live your dream, assert yourself. And the world will one day bow to your success! All you need is focus and determination. Rest will follow you."
Here, Riya Raghuvanshi also has a request from the national government:
"We girls have great potential. The way the country invests in sports like cricket and other such so-called celeb sports, the same way other sports like martial arts need the funds, physical as well as media support. We too can make India proud at the international level. All we need is genuine and persistent support."
So please make sure that you share Riya's story as much as possible so that her message, her request reaches the right people.
Till I bring you another inspiring story in my ongoing #MeetTheSHEROES Series, you can pour some love for Riya in the comments column and also follow her on SHEROES.
---

Mahima Sharma
---
---
Similar Articles You love