Fakiraah Irfan
7 Mar 2019

.

1 min read
Ladies, #ApnaTime Aa Gaya!
Ladies, #ApnaTime Aa Gaya!
Hear, hear! This International Women's Day the whole world is gearing up to talk about gender equality and put women on a ridiculous pedestal.
SHEROES thought of shifting the tone of celebration and make it an interactive one. We rather want women to tell us how and why they are celebrating this glorious day meant for women all around the world. Which, on the other hand, a lot of "Equalists" feel is a token acknowledgement of the feminist movement.
Whatever it may be, we don't want to lose an opportunity to celebrate you!
So this 2019, it's time to be a go-getter and run after your dreams. It's time to stop procrastinating & overthinking. You want to start your business, or end a relationship or author your book. Your #ApnaTime What does #ApnaTime mean? Our diverse community consisting of vibrant women from all walks of life solve this mystery for you!
#Apnatime Age badhne ka naam hi zindagi hai
"Do something nice for yourself today. Find some quiet, sit in stillness, breathe. Put your problems on pause. You deserve a break." ― Akiroq Brost
Sadaf Khatri from Kutch, a combination of good health and confidence makes every moment of her life #ApnaTime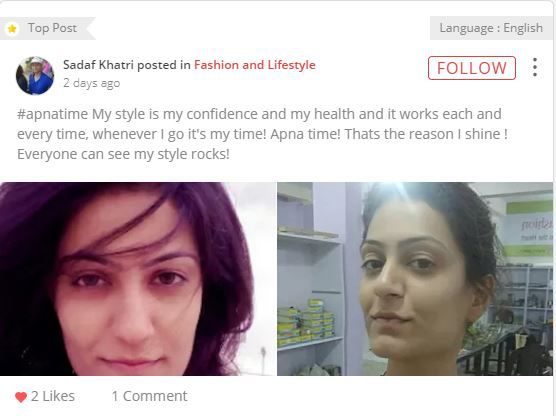 "My style is my confidence and my health. It works each and every time, whenever I go it's my time! #ApnaTime. That's the reason I shine. Everyone can see my style rocks!"
It's important for you to make time for your own self, it's okay to simply detox from all that is going around in your life and just be with your own self.
To a lot of women like her #ApnaTime is a space which is just meant for your self, no restrictions or boundaries. Space where all that really matters is how you feel and how you are! This is the best form of self-love. To be able to take time out and feed your soul the love that it deserves.
When we see women flamboyantly sharing what #ApnaTime means to them, it shows us that aspirations don't have an expiry date, nor are they specific to any age, sex, caste or creed.
Pallishree Pattnaik, who was recently featured in our ongoing #MeetTheSHEROES series also shared what #ApnaTime means to her. Pallishree overcame tremendous challenges in her life, but she didn't settle in a victim mode. Rather she got up, faced those challenges and emerged victoriously. Check out what she has to say;
"#ApnaTime My money, my style. The freedom that I have. Not a single pie from others. After 15 years of marriage, I could click PSC, became the topper of my state. That's the strength of a woman."
Rajkumari Dayamenti from Manipur feels there is no Right Time for #ApnaTime as whatever you do at this very moment is what defines you. Rajkumari shows us what it means to Take Charge. The sentiment which defines the SHEROES community and as we believe, women in general.
"#ApnaTime
Right Time
Right Time Never Comes
The moment you found it that's the Right Time
The moment you achieve it that's the Right Time
The moment you Stand Up that's the Right Time
The moment you know yourself that's the Right Time
Right Time Never Comes
If you don't start
Start, "That's the Right Time"
Subhra Chakraborty shares what it takes to be happy.
"#ApnaTime I paint for myself...It makes me so happy!"
Not everything is a race, not everyone is in a competition. Women defining their happiness and customising their success is at the heart of what #ApnaTime stands for.
Now is not the time to stop. Her SHEROES bio reads, MBA by qualification and a writer by passion, with a cool pen name, 'Virtual Siyahi'. Priyanka Nair calls on each and every woman to be an unstoppable force that drives the change that we have been working for years.
"Jisko jo hai kehna, vo kehta hi re jaega.. Jisko jitna hai chillana,vo chillata hi reh jaega..Na sunnege na, na rukenge...Bas apne sapno ki taraf aage badhenge.. Kis mein hai dum, jo humse takraega..#ApnaTime aayega🤘"
Nothing like the good ol' 'Me Time'
Co-founder of FlexiBees, Deepa N. Swamy knows a thing or two about priorities. Also, it is you that should be your priority at times. That's how you can stay sane!
"Deciding to prioritize Me today. Who is your priority today? #ApnaTime"
Start making way for reasons to do something, not excuses to not. This way you will stop procrastinating. That's what Ayesha Badar, a Pharmacy Graduate who turned to writing suggests to all the aspiring writers out there-
"Writers quit self-doubt and write your hearts out. #ApnaTime"
It is heartwarming to see women support and cajole each other to stay hopeful. #ApnaTime is all about hope. Hope to wait for a better tomorrow and take charge while you are it.
We often forget how the world works in a connected manner if you as a person value yourself it will reflect upon the other people in your life. And this will, in turn, create a cadre of a self-assured, poignant set of people.
---

Fakiraah Irfan
---
S*****

Breathe deeply, live every moment with smile n love yourself I hate to say these words coz I forgot long back all these I used to deep breath when I rested on my mom's lap or grandmoms I lived every moment when I explored the greenery new lines new birds collecting their feathers enjoying the beauty of flower by just seeing them Loving myself when I always used to see my eyes in the mirror Now I don't find any all I see is tears
D*****

I know how to carry my saree and skirt But forgiving those rotten eyes and words marks my worth. #Apna Time
D*****

Stop criticizing your worth because of someones blurred vision.. #Apna Time
J*****

Live Your Life The Way You Want To...#Apnatime
D*****

Be urself, accept the way u r,live ur life fully.
A*****

# APNA TIME think like a lady and act like a boss
P*****

OMG! Loved it!! Thank you and more power to #ApnaTime bole to #MeTime 😀😊
S*****

"Women are the mammoth reservoir of power and talent which has yet not been tapped."
Similar Articles You love