Jasmine's Mobile Toilet Is Helping Women Reclaim Dignity In Public
Published on 3 Jun 2017

.

5 min read
An Atlanta-based startup founded by young Industrial designer, Jasmine Burton, is making improved sanitation accessible to all across the globe.
According to UNICEF, 2.5 billion people lack hygienic sanitation facilities and 768 million people drink unsafe drinking water and, of these people, women and girls are disproportionately burdened by poor sanitation and water inequities.
These statistics motivated Jasmine Burton to pursue work in the fields of social justice and health equity and start a social impact start up Wish for WASH.
In 2014, her senior design team won the Georgia Tech InVenture Prize Competition, the largest undergraduate invention competition in the United States, for their design of an inexpensive mobile toilet, SafiChoo.
We catch up with this innovator-cum-social entrepreneur on her journey so far
How Wish for WASH was born
"In 2011, as a freshman at Georgia Tech, I was inspired to do something about the global sanitation crisis at a women's leadership conference.
I learned from a Georgia Tech alumna and one of my current mentors, Susan Davis of Improve International, that nearly half of the world doesn't have access to a toilet; of those people, women and girls are disproportionately burdened.
Specifically, I learned that pubescent girls in the developing world frequently drop out of school as a result of their schools lacking toilets.
As a product designer and a woman in higher education, this reality angered me so much so that I left the conference and called my mom to say "I know what I am supposed to do. I am supposed to design toilets".
Starting out young gave me purpose
This declaration about my destiny was made at the wise age of 18 and was fueled by my design education. I was learning that many product designers design trend products that are fashionable for 5-10 years, but that are then thrown away. I knew that I did not want to design something that would be thrown away when a new style becomes trendy.
Three years later, I had the incredible opportunity to design a toilet for the Kakuma refugee camp as a part of an interdisciplinary senior design capstone at Georgia Tech, and that led to the birth of the SafiChoo toilet and Wish for WASH.
The factors that were pulling me back
It is challenging to be operating in a space that I was not formally trained in (i.e., designers do not usually learn about working in the social sector in traditional education programs) as a young minority woman.
Prejudices in many forms permeate conversations with people from different sexes, cultures, races, generations, and countries which often times make work feel like an uphill battle.
Surround yourself with people and energy and beliefs that keep you not only grounded, but also that keep your fire burning for the work that you love and the vision that you have for your future is ultimately what I think matters most in life.
Industrial designs and its impact on global health
Design knowledge is becoming critical in global health. This is what sparked my senior design team to develop SafiChoo, an inexpensive mobile sanitation solution intended to reduce oral-fecal contamination and the spread of waterborne diseases.
The original SafiChoo toilet design included a sit-squat toilet seat, which enabled people of all abilities to use the toilet, and a three-part drawer system that separated the different consistencies of waste so that it could be repurposed in the community.
We learned that the drawer system and seat were not intuitive for the users; therefore, now, we have a much wider toilet bowl and have a bucket-based waste collection system all of which has been designed to improve the overall user experience via empathic and human-centered design principles.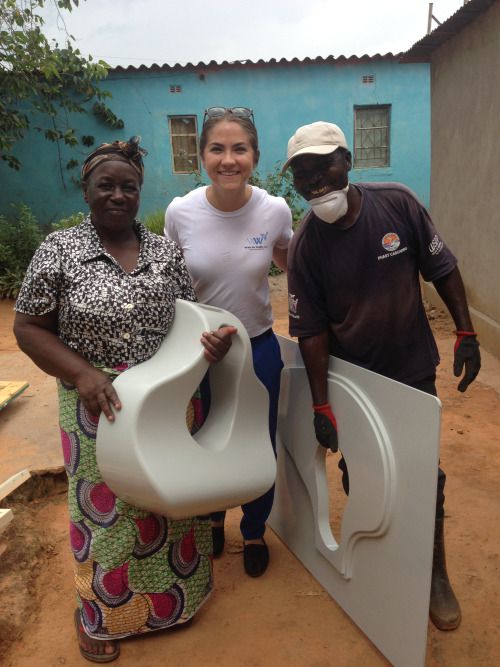 Creating products and services for the betterment of the world is great in theory, but means nothing without the buy in, understanding, and support from the intended users.
Secret sauce to a successful social enterprise is to "Keep going".
I think that often times starting the journey as a social entrepreneur can feel like the most courageous of tasks; however, as Wish for WASH has aged, grown and evolved, I have learned that the most courageous thing that a social entrepreneur can do is to keep going.
Despite the doubt, despite perhaps incomplete supply chains or sustainable funding mechanisms, or despite having all the details aligned; working in the global health sector as an entrepreneur is completely like chartering unknown waters
The story of your work alone is enough to create ripples of social change in society and that, to me, is the core of what it means to be a social entrepreneur.
Innovation and social impact work in India is incredibly inspiring and it is exciting to see a movement of young people interested in building a better and more equitable future for their communities."
---

SHEROES
---
---