How Vidya Is Sewing Her Fate, One Thread At A Time
Published on 4 Dec 2017

.

4 min read
At Vidya Gaikwad's house in Pusad town in Maharashtra, we find her busy instructing a group of young women who are seated on the floor, poring over embroidery patterns. Vidya smiles as we enter her house, where she lives with her in-laws, husband and two young children, before continuing with the lesson.
Pusad is a small town in Yavatmal district of Maharashtra. Over the past seven years, Vidya has painstakingly built a tailoring business from scratch. Today, for a small monthly fee, she trains young women from Pusad town in the basics of sewing and embroidery. Though she has an established business that provides her with an income, the initial years of the business, Vidya recalls, were very tough.
In the beginning, Vidya did not have funds to buy machines or other materials to start her business. With money hard to come by, and little interest from customers, she caught a break when a local NGO in Pusad put her in touch with Rang De. A low-cost loan allowed her to start a tailoring unit of her own.
After successfully starting a tailoring business of her own, Vidya now provides tailoring classes to other women in Pusad, Maharashtra.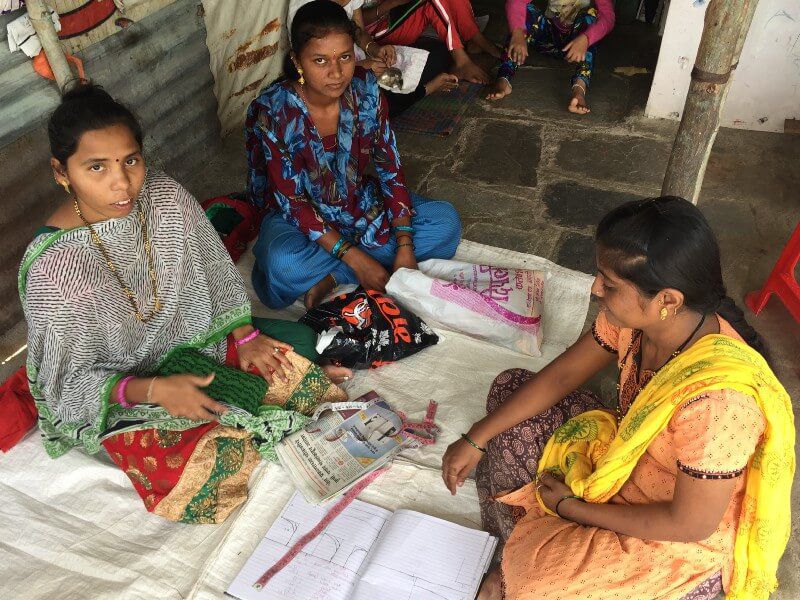 After repaying her first loan, Vidya gained the confidence to apply for a bigger loan to expand her business. As the months progressed, the villagers recognised her as a good and reliable tailor. Increasingly, she was sought out by the neighbours and extended acquaintances, who wanted their blouses stitched and sarees embroidered.
Vidya is a diligent and hardworking woman, balancing her tailoring work with the demands and pressures of her domestic life. Along with the tailoring business, she also manages her children and the expenses of the household. The money she earns from tailoring also adds to the family income, helping make ends meet.
Professions like tailoring offer women in small towns across rural India a valuable source of livelihood, but the income is not stable and fluctuates based on demands. During the lean season, when there are few orders from customers, the tailoring classes that Vidya conducts, provides her with a little money.
More than the money, Vidya runs these classes because she wants to help out other women like her. Coming from a working-class background herself, she knows that in many families, even a few hundred rupees more can go a long way.
When we speak to her, Vidya outlines her future plans for us - she wants to invest in more sewing machines so she can accommodate more students who want to learn the basics of sewing and embroidery, and increase the frequency of her classes. Always the one to look ahead to the future, Vidya's journey so far — from starting a successful tailoring business to mentoring other young women from town — is remarkable and truly inspiring.
This article is written by Prajwal Suvarna for RangDe, an organisation that works to alleviate poverty in India by supporting rural women entrepreneurs. This is the second in a series of articles that highlight stories of women who are working hard towards change in India's villages and small towns.
This piece is a part of our initiative Meet The SHEROES, which brings forth stories of ordinary women who are taking charge of their lives and making difference in their own small way. A circle of support for women across the globe to inspire and empower them.?
---

SHEROES
---
---
Similar Articles You love