Mahima Sharma
8 Mar 2018

.

1 min read
SUMAN SHARMA-- FLYING THROUGH THE GLASS CEILING
Once she was told by a male colleague, "You will puke, black out and probably die if you get inside a combat cockpit."
Today she an icon who is the first Indian woman to co-pilot sorties of the world's best fighters like American F-16, Russian MiG-35 and Sukhoi-30, and most recently the European Eurofighter Typhoon, which is world's most advanced fighter aircraft. And she did this all even before women pilots were commissioned into the Air Force very recently.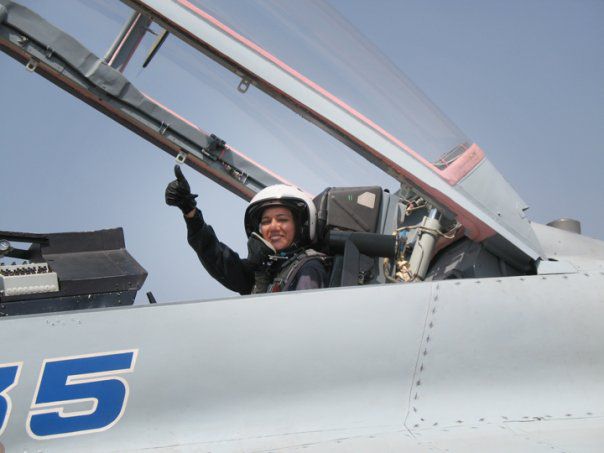 Suman Sharma in the cockpit of MiG-35 at Yelahanka Air Show
Meet Suman Sharma, SSB qualified former flying instructor with the Indian Military Academy, Dehradun and currently a well known aerospace & defence journalist, who is flying through the glass ceiling setting records after records.

Suman has achieved stunning heights. Let me list a few here....

A) Feb 2009: First Indian woman to co-pilot an F-16 sortie. It was a 40-minute-long sortie pulling 6Gs and some manoeuvres, at 20,000 feet at a speed of .9 mach, at Bangalore Aero India, Yelahanka.
B) At the same show, Suman entered Limca Book of Records for her Russian MiG-35 fighter jet flight as "world's first woman." It involved a 42 minute sortie, handing controls in mid-air, pulling 7G force and doing manoeuvres at .9 mach speed and 20,000 feet height.
C) In August 2009, Suman became the first woman in the world to co-pilot a sortie in a Sukhoi-30, even before the President of India-Pratibha Patil. She did a 21 minute sortie in the Sukhoi-30MK at MAKS airshow, Zhukhovsky, Moscow where she handled controls.
D) May 2017, Spain: Suman this time became world's first civilian woman and India's first civilian to co-pilot an hour-long sortie on a Spanish Airforce Eurofighter Typhoon in Sevilla-Santa Justa. This is world's most advanced fighter aircraft.
Not just this, Suman has also done an hour-long test-drive on India's indigenous main Battle Tank - Arjun in New Delhi in January 2010. In September 2009, she has also accomplished a one month trek with the Army on the Siachen Glacier at 16,000 feet without any medical problems.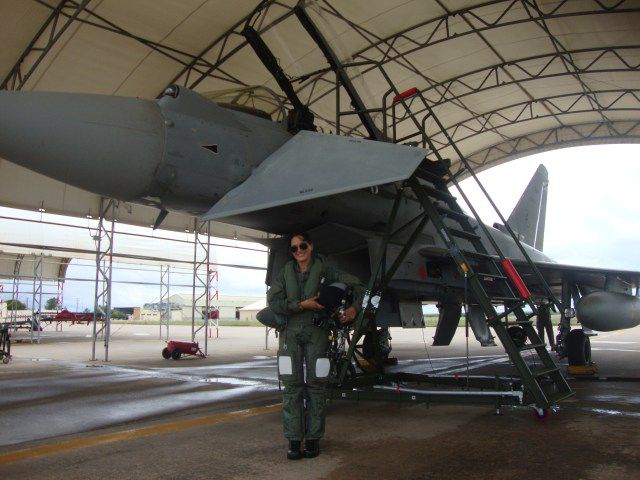 Suman Sharma right before her sortie in Eurofighter Typhoon Aircraft

So, did she push herself to achieve all this and more as a befitting reply to that particular male colleague or others who had tried to demean her? Or was it an obvious choice since her father is a retired Navy officer and elder brother a serving Colonel in the Indian Army?
"At home I was brought up like a boy, had full freedom, never felt cheated, deprived, disenfranchised. I come from a defence family, therefore armed forces or having anything to do with the armed forces was a natural choice for me. Given my experience and interest in the subject, I think this was the most natural thing to do. Moreover, never thought of trying to prove a point to anyone, I just did whatever I wanted to do and was passionate about. But yes, I didn't choose to become a defence journalist, guess this profession chose me, because nothing was planned," says Suman who was awarded the CMSB Journalist of the Year in 2013.
So did the brickbats and hurdles stop coming after she began showing her might to the world? She smiles and her answer leaves me stunned!
"One male colleague tried sabotaging my F-16 sortie by saying I was mentally unstable. Some male colleagues asked me what compromises I made to get in there; some even added that all this has come my way since I was a Fauji's daughter and I have no personal merit in my achievements," recalls Suman.
And in the very next breath she adds, "I take all such remarks as compliments, because they are saying all of that only because I am achieving my goals and also because they think I am ahead of them. They would probably say nothing to someone sitting quietly doing nothing. Never get into "Log Kya Kahengey" especially if you are sure of what you're doing is the correct thing. I did whatever I believed in and wanted to do, didn't do it for recognition. If your work is good, you will be recognised, sooner or later."



Suman Sharma unwinding at the Jaipur Polo Ground

I remember, she had dedicated GR8 Women Achievers Award - 2010: "To all those women in this country (and even abroad) who want to do so much, but are unable due to whatever circumstances, but notwithstanding; they are all winners in their own right !!"
My next question had to be who is her support system, besides her own iron determination. And where does she get all the stamina to don so many hats?! Not many are aware that she is an avid horse rider too who is very fond of watching Polo matches and horse shows!
"My parents, especially my mother had been my strongest support system. Sports, yoga, deep breathing, balanced vegetarian diet, lots of water and meditation keep me going. And then there are always old Hindi songs and movies as well as defence related book reading, to unwind," informs Suman who is well-known among her friends for watching 'first-day-first show' whenever she gets a chance!
So where do you see yourself in the next five years Suman.
She gives it a deep thought, "After my F-16 flight in Bangalore Aero India, I was sitting at a press conference and MiG officials came and said they wanted to put me on their plane too and 3 days later I was flying in the MiG-35. That is my fondest memory as a flyer; flying is my passion. So five years later....maybe you will see me in space; more fighter sorties and even writing books....perhaps a defence magazine."
You don so many hats, but who is real Suman at heart? She sits up straight and I can see a sudden twinkle in her eyes. She chuckles like a little girl, "Sometimes I ring bells of neighbours houses and run away." We share a hearty laugh at this, as she adds, "Sometimes I love getting wet in the rain during monsoons, I cook Rotis for street dogs and go and feed them at times."
Many faces of the icon - Suman Sharma. Perhaps this space is too small to cover all. So I decide to meet her again for more and she invites me to dine over her home-cooked-favourites 'Missi Roti and Rajma Chawal' which happen to be my favourites as well.


Suman Sharma with External Affairs Minister Sushma Swaraj

And while I bid her adieu, her parting advice kept ringing into my ears for a long time, "Keep your heart and mind in the right place, be honest, hard working and everything will fall in the right place. Don't look for shortcuts, it doesn't help. Be passionate about whatever you want to do. Look after your health, it's important to be healthy. Pay taxes, take care of your finances."
---

Mahima Sharma
---
M*****

Hi I proud of you but Mai bhi apke keisa kuch Karna chahti hu So plz advice me
P*****

Suman sharma journey is Very inspiring , Really proud about her