Chak de! – Says Indian Women's Ice Hockey Team
---
---
Chak de! - The movie spoke volumes about the state of affairs of Indian Women Sports and Sports Women. Women, even in sports, seem to be an ignored lot or let's say that the men get pride of place even on this battlefield. Also, hockey, whether on ice or ground, has to fight for survival against its arch rival cricket.

But, keeping all this sorry state of affairs aside and after months of struggle to get the right funding and sports gear, what happened in Bangkok was a display of sheer grit, will power and perseverance. Yes! The Indian Women's Ice Hockey Team registered its first win in the international arena. The victorious team added its first victory ever in an international match on Thursday by beating Philippines at the Challenge Cup of Asia fixture held in Bangkok.

A few days back, even their participation at the Challenge Cup of Asia was uncertain. Out of the 28 women who were selected for the team, several came from Ladakh, who took to this boys-only sport with fervour. They faced a fund crunch, so they started a fundraising campaign, and finally managed to participate in the event. And win it!

It was also the victory of a massive crowd funding campaign, where more than 3000 donors contributed in a crowdfunding platform for training, accommodation, airfares, visa, team jersey, and equipment and made a distant dream, possible.

When the going gets tough, the women get going!

Thank you, donors!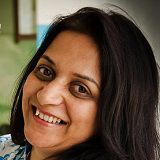 Written by Sonali Karande Brahma