How Sandhya Redefined Her Success By Becoming Independent Analytics Consultant
Published on 21 Feb 2019

.

1 min read
Our #SheDrivesData series of conversations features female forces who are thought leaders, influencers and changemakers in the field of technology to inspire, advice and elevate other aspiring women.
It's a pleasure and an honor to share with you our conversation with Dr. Sandhya Kuruganti! An economist by training, Dr. Sandhya is an Independent Analytics Consultant and the Co-Author of the highly rated book Business Analytics: Applications to Consumer Marketing.

After taking her Ph.D. from Rutgers University, Dr. Sandhya has worked in senior leadership roles at American Express, Citibank and Kairoleaf Analytics Pvt. Ltd.

Dr. Sandhya talks about her amazing journey from an Economist to an Independent Analytics Consultant and what this role entails, the changes needed in our education systems to include global trends in data science, her advice for women getting back to work and things that inspire her!
What caught your interest in Data Analytics in the beginning? What was your journey like from there to becoming an Independent Analytics Consultant?
Although I am an economist by training, the journey towards Data Analytics started with my keen interest in Statistics in my undergraduate days followed by Econometrics during my post-graduate degree at Delhi University.
Teachers had a pivotal role to play and I had good professors who motivated me with their excellent teaching.
I was also hugely influenced by my father, who is a highly regarded macro econometrician in India.
I then specialized in Econometrics during my doctorate years in the US with a Ph.D. in the same area.
Incidentally, my official entry into data analytics happened over a Christmas party and my first job in analytics at American Express in New York followed soon after. And here I am with 20+ years as a practitioner in data analytics.
Becoming an independent consultant was a conscious decision and a natural progression in my career path. In fact, I was one of the daring ones to climb off the corporate ladder after a very successful inning at Citibank where I set up and led the analytics function for India and COE for Asia Pacific/Europe region.
At one point, I had an awakening that I had to do something for myself from a holistic perspective, be it, writing a book, taking care of my mental and physical health etc.
Being an Independent Analytics Consultant must be very interesting. Can you tell us more about what it entails?
I enjoy being a consultant as I work with different organizations and teams and this rich and unique experience has been amazing. I get to work on diverse projects with different challenges.
I also receive immense satisfaction from my assignments at organizations that are in their infancy in their adoption to analytics for decision making.
I also train analysts from different backgrounds and shape their career. I also have a good work-life balance.
Being a consultant is not easy, it requires a good network to get assignments, adaptability to the changing environment, and perseverance. I say this because a consultant is always looked at as an outsider and therefore you need to spend the effort to earn an organizations' respect.
Furthermore, assignments are hard to clinch as organizations in India are still resistant to consultants in data science despite the fact that the tech sector welcomes independent consultants with open arms. The stream of assignments is also erratic with both very busy and very lean periods.
There are many women in our community who have taken career breaks for family commitments. When they try to get back the barriers are too high for them to get through. Would you recommend independent consulting?
I agree that it is tough for women who have taken a break for family reasons and it does become difficult for re-entry into full-time analytics jobs despite a booming demand for data scientists in this age.
I think there are several reasons for this, primarily the "rapidly evolving industry practices" and "losing touch with work".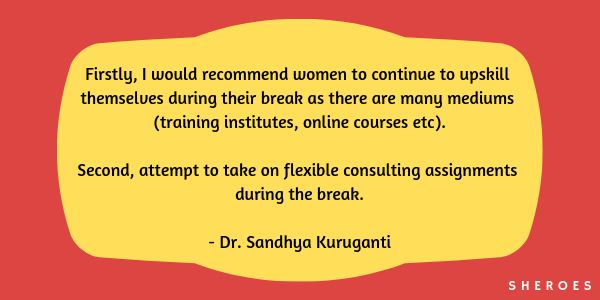 ​
And then return to a full- time job post break as switching to independent consultant does require a minimum level of expertise in the field.
What do you think of the position of data science, ML and AI in our current education system? How do you think it can improve?
I am disappointed regarding the state of data science, ML and AI in our current education system.
Firstly, many laterals are entering this field for the salary perk and not necessarily interest in this field and it shows up very clearly when it comes to clarity and understanding of the subject.
Most current data scientist trainees are not ready for entry into industry and evidence of this can be witnessed by the low placement rate. While there could be several ways for improvement, one of my strongest viewpoint is that training needs to be more "application and business oriented".
This can be achieved by spending a good part of the program on "hands-on case study approach" using "real world data" that is available online thanks to Kaggle etc.
I am also not a big proponent of online training and nothing can beat traditional "in classroom teaching".
The reason I say this is that data science is not a straight jacket (black and white) like technology. It involves plenty of "human" judgment" beyond "machines" and "programming" to derive data insights that can make a significant impact on the bottom line.
You have co-authored the highly rated book Business Analytics. What inspired you to write it?
I like this question. The idea came to me while I was setting up the COE for advanced analytics for Citibank Asia Pacific and Europe. I had hired plenty of freshers - statisticians, economists and management graduates from top institutions and the job of business training was daunting.
At the end of the day, it is "business analytics" and the task marrying of business with analytics is a critical one. I wanted to share my experience as a practitioner to the community and it is really gratifying when readers reach out to me on how helpful my reference book has been to them.
However, the inspiration and motivation to write the book came from my late father who was a Professor in Economics and has several authored books to his credit.
For more such insights and cool interactions with achievers and veterans from the fields of AI, DA and ML head to our SHE Drives Data community. The #SheDrivesData series is celebrating women in tech and data. We want our data sisters to join us in this celebration.
---

Namita Nair
---
---
Similar Articles You love