Mahima Sharma
Last updated 23 Feb 2019

.

1 min read
A Mother Of 3 Kids, Ayesha Travels To Be Her Own Person
She keeps lighting up, brightening up the Travel Community at SHEROES with inviting photos from all across Hyderabad asking people to visit the city.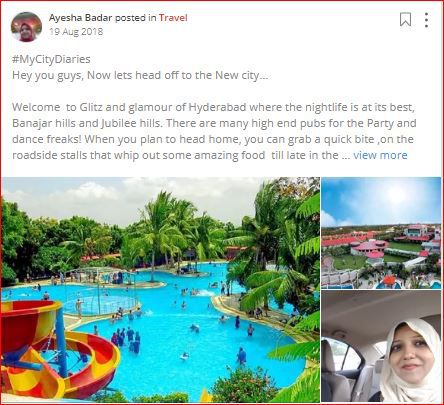 But she is a thirty-year-old Pharmacist who was once based in the US and traveled its lengths and breadths! So let's know the story of Ayesha Afreen Badar who is now based in Hyderabad with her three children and husband. And know the story behind these lovely posts about Hyderabad.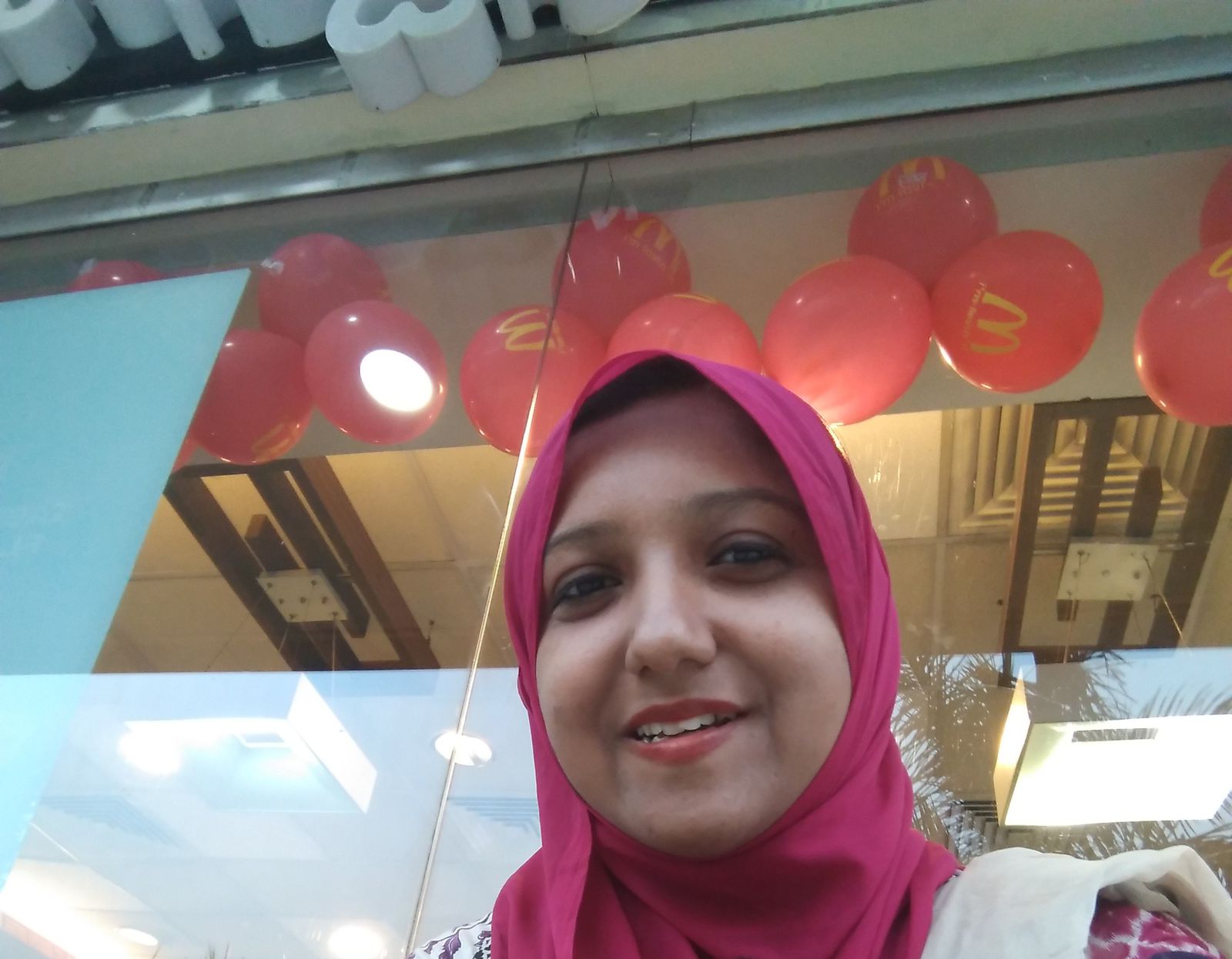 Rather than talking about herself, her love for travel and SHEROES starts pouring out, "Having traveled a lot, I always wanted to pen down my thoughts and experiences. However, I never really got an opportunity to do so. But when Lola Jutta (who was then the TRAVEL COMMUNITY Moderator at SHEROES) asked me if I would like to do a piece on Hyderabad, I was more than happy! I simply love Hyderabad, its culture as well as its cuisine. And this was my chance to make my mark...chase the passion to pen travel stuff. "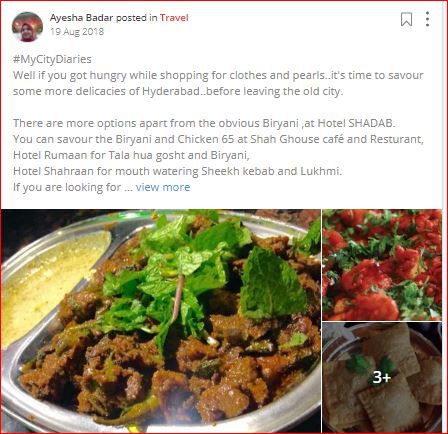 But then she also adds that her posts do not always have the images clicked by her. She takes help of the internet too! And keep doing such city promotion selflessly. "I wanted to act as a guide to people who would come down to Hyderabad. And, my pics on SHEROES would help them recognise the places in the city to explore since my posts carry even the local locations," informs Ayesha who, when moved back to India, began working as a healthcare content writer. And is currently working as a Sub-editor for Apollo Life, Hyderabad.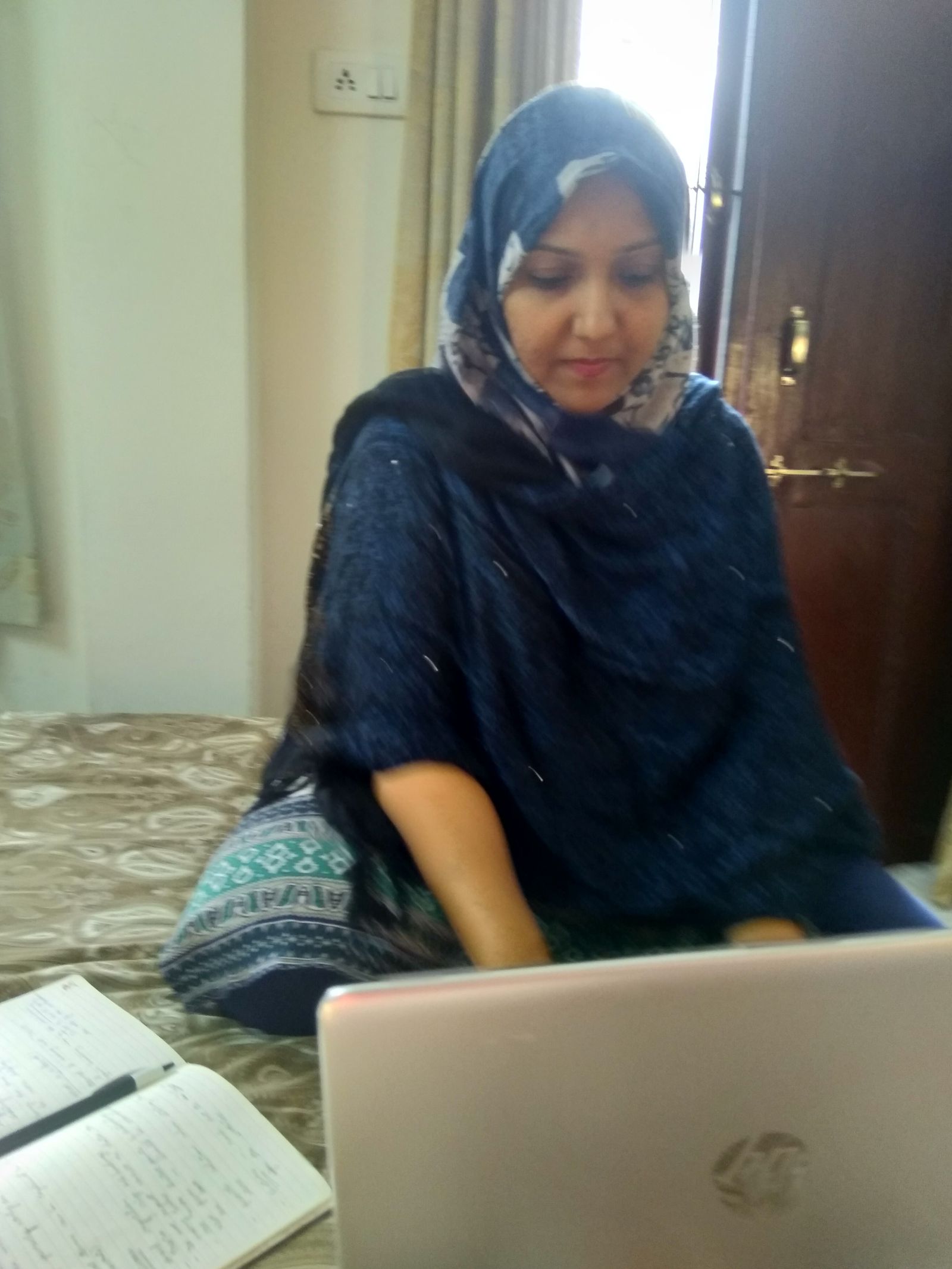 I ask her: You are a qualified Pharmacist who worked in the US when your husband was posted there. Now you are in India, chasing an entirely different passion along with your current profession. What gives you that extra-kick to do so?
And pat comes her reply, "During my stay in the US, we traveled extensively. It brought out the traveler in me, which I didn't know existed. During my travel, I learned to respect different cultures. This experience also brought out the food critic in me. Moreover, I love growing as an individual. What gives me an extra kick? It's the insane urge to be my own person and be something more than a wife and mother."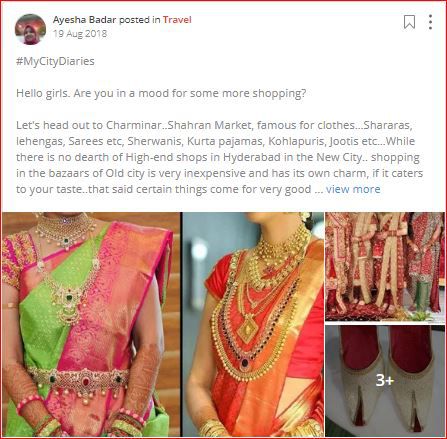 Ayesha takes pause to come back and talk again about SHEROES. "In 2018, I became active on SHEROES App. The welcome response from. the members were overwhelming and warm, it made me feel right at home. Since the time I joined SHEROES, I have worked as an editor for their 2nd edition of SHEROES magazine. I am really thankful to the team for giving the opportunity. Also, I have learned amazing stuff from different communities like Homes & Gardens, Cooking & Recipes, and Women in Tech. "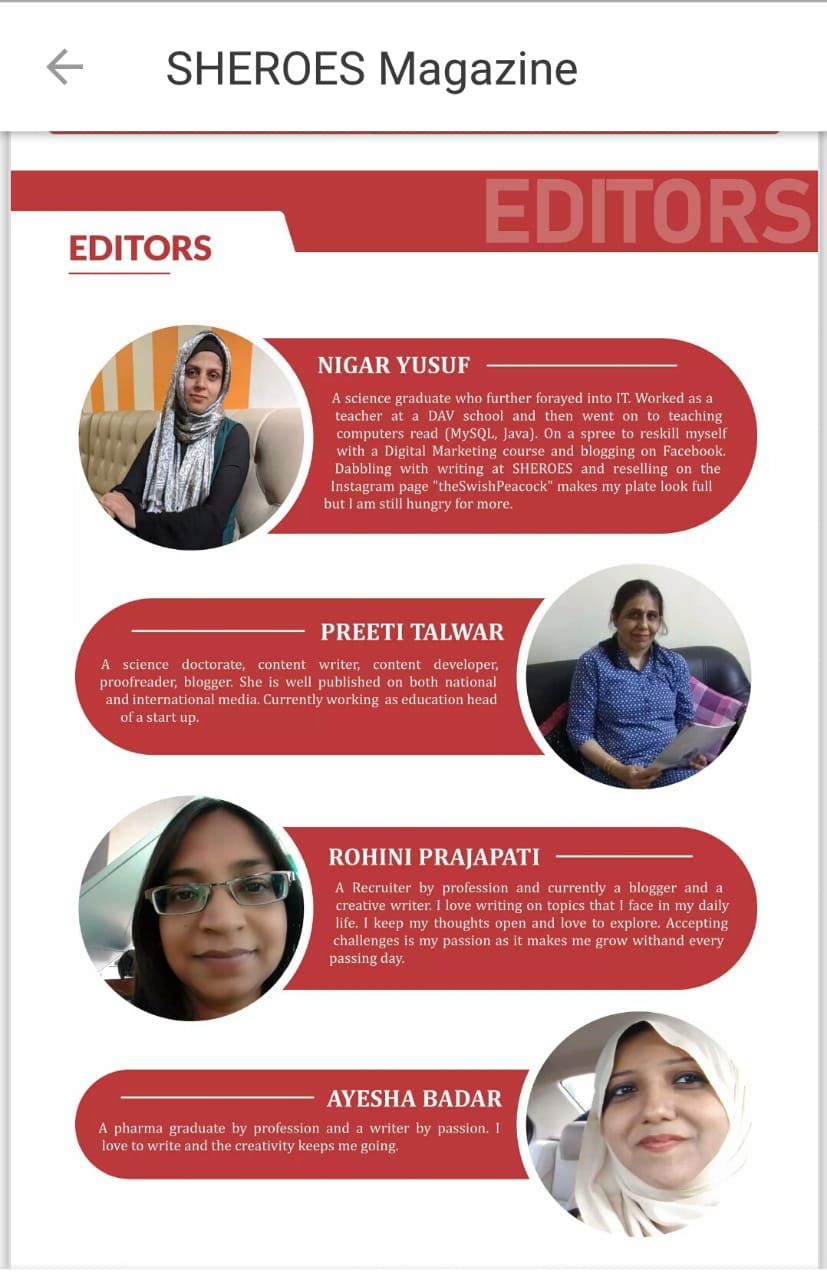 Ayesha you have traveled extensively, how have you grown as a woman?
"Mahima, I love India. But I feel outside a woman has a lot more respect as an equal partner than India. Every family member has their contribution towards taking care of the house, the children in the family. In India, I would love to see such a change in society. Thankfully, I have a supportive husband. But not all women in India have so. I would love to see this shift towards gender equality in India, which is a much-needed step towards women empowerment."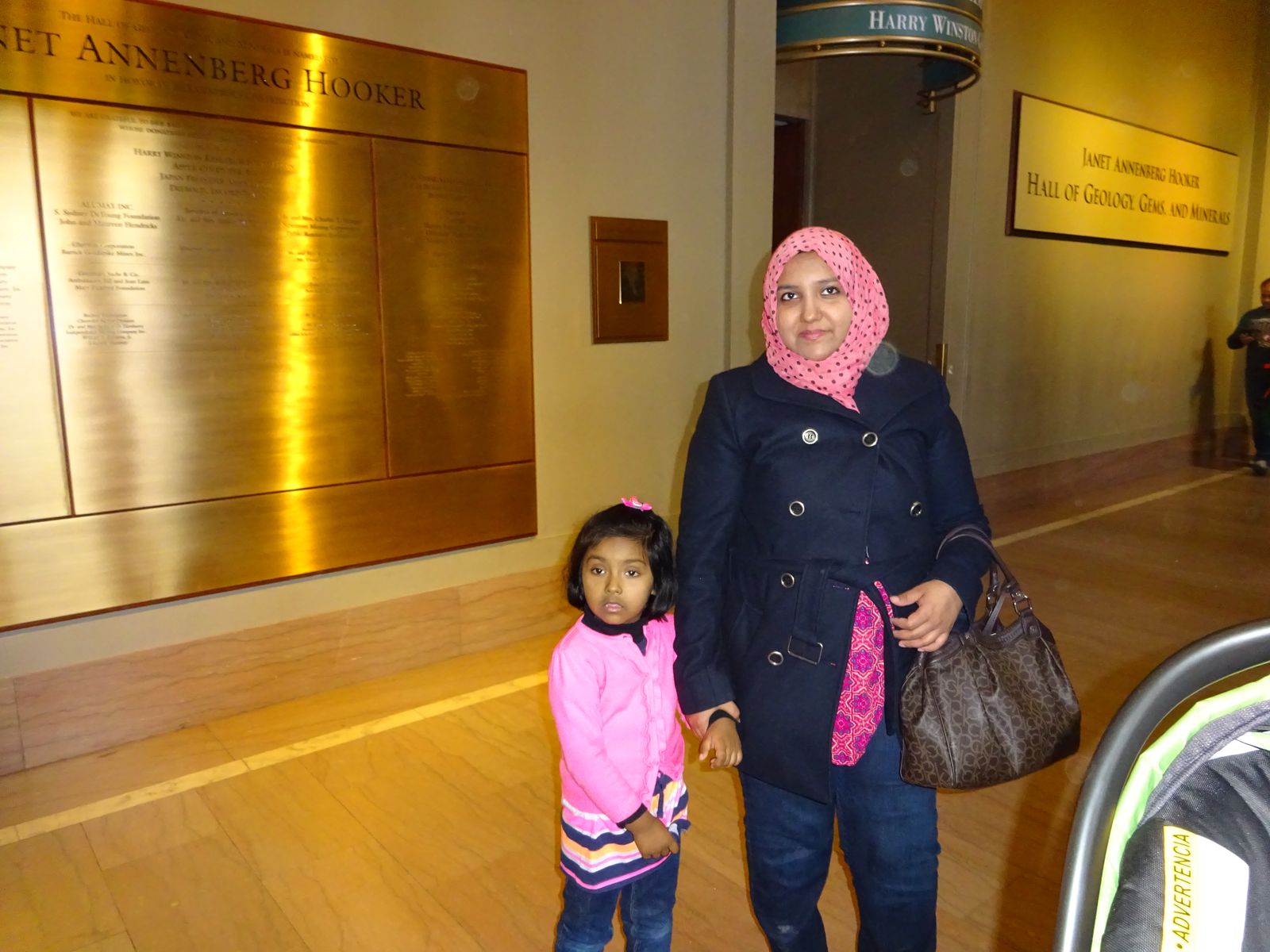 You have a daughter who is elder to two sons, so Ayesha how do you ensure that the three children become a part of the better India, that you dream of Ayesha?
"With one girl and two boys, striking gender balance at home gets tough. Thus, I teach them about unity among siblings and how they should always respect women and girls of their age too at school. Each one has to help in the chores and at times are also assigned little joint-tasks," informs a very determined mother in Ayesha, who is adamant to be the change, she wants to see.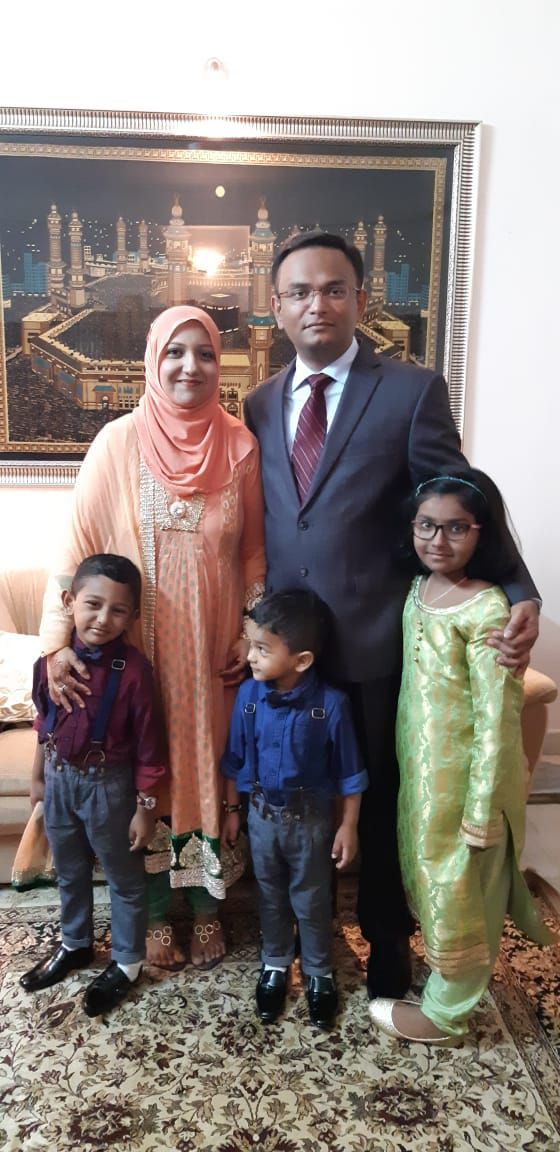 So what's your message to the umpteen women on SHEROES who are reading your story, Ayesha? She smiles and signs off saying:
"I would say life doesn't give you second chances, so grab it while it's still there. Never back down for the fear of failure. Girls need to learn that they can have their say and be respected while living on their terms and boys new to learn to give that respect to woman and treat them with utmost love and care. Be independent and self-reliant. One day your kids will follow you."
If #HerStory in our ongoing #MeetTheSheroes series has left you inspired, don't forget to share it. And don't forget to leave lots of love for Ayesha in the comments below. You can follow her on SHEROES.
---

Mahima Sharma
---

S*****

Its very nice to know you Ayesha ji Wtever, u r human being first.your work is really appreciable..Thx to Mahima ji to presented...🙏🙏
P*****

It's great to know you💃👌
U*****

Bravo!! Ayesha...dear Kudos to your spirits👏👏👏👏👏 Lovely is your journey, wonderful💐💐 presented as always by dear ji Mahima📝🌹👌👍
S*****

👏👏i hv no words for you . I always want to b prove herself BT I think I can't, I m doing just simple B. Ed, and my in laws have nerrow mind 😧😧😞
A*****

Inspiring story .. Ayesha ..👌👌
M*****

It's good to know about you @ayesha
A*****

Thanks dear fellow Sheroes for your love... I feel closer to you guys after expressing myself through the article. And thanks Mahima for penning down my bio so well...thanks Merril for hand picking me. I am glad you guys liked my story. So much love...
N*****

I myself being a vagrant couldn't agree more with you Ayesha ....the Sheroes magazine brought us together and now I am happy to read and know more about you.
S*****

Lovely! Much love.
S*****

Wow ayesha 1st of all its nyc to hear from u as a muslim female gender getting the place n platform to share wit all ur pics n a traveller informing abut ur spectacular facts will bring more women closer n confident n independent in society will become easier especially in india where there r so many cultures as me too hve travelled so many places abroad n india n still looking forward to travel more n more explore learn abut different cultures thnx to sheroes we r getting this oppurtunity to share wit each other💕💕💕💕
D*****

A good read!!!!Quite inspiring👍👍 Even i too am mother of 3😉😀
P*****

Love you even more after knowing you much more through this :) ♥️♥️♥️♥️
R*****

Taking care of children, family and work life with full enthusiasm. Great.
H*****

I never thought writing a travel log could be so fulfilling. Kudos to you @Ayesha Badar. Thanks for sharing Mahima.
P*****

Awesome!! It was great knowing you @Ayesha Badar.
Z*****

Inspiring..n Congratss dear
P*****

Very very motivating.I will start dreaming again .Congratulations
Similar Articles You love