8 Reasons Why You Must Visit Vietnam
Last updated 30 Dec 2017

.

6 min read
I was looking for something crazy, thrilling yet serene! I was on the lookout for dramatic landscapes, fascinating history, epic food, pulsating energy and I stumbled upon Vietnam and decided to visit the country. A very good decision, I must say!
Vietnam is a country of breathtaking natural beauty with a unique heritage which is utterly compelling and astonishingly exotic. The stunning and varied geography, rich cuisine, plentiful beaches and endless shopping centres - all of them make convincing reasons to travel to the country.
I absolutely loved Vietnam and all that I experienced there. To give you a little taste of Vietnam and what I loved, I will share my escapade with you all.
Eating Your Way Through Old Town Hanoi
The old quarter in Hanoi with its French architecture, buzzing motorbikes, overflowing storefronts and tucked-away temples is a charming city with its steaming street food. If you are non-vegetarian, Vietnam is a great place for food.
Enjoy a great variety of street food and don't miss out on the Pho Noodles, a popular Vietnamese dish. I definitely had my fair share of food there and then some more!
Dip In For The Amazing Views And Relaxation
The World Heritage seascape of Halong Bay, dotted with jagged limestone pinnacles, is one of Vietnam's biggest attractions and should be on your checklist. One of the most popular ways to experience the bay is on a cruise. One can also enjoy some kayaking, swimming and hiking here.
Kayaking was an awesome experience - one is surrounded by breath-taking scenery and it allows you to experience the limestone towers in an up-close manner, which was truly beautiful. The surprising part was that many local people live there in small wooden houses selling food to tourists, fishing and renting boats and kayaks.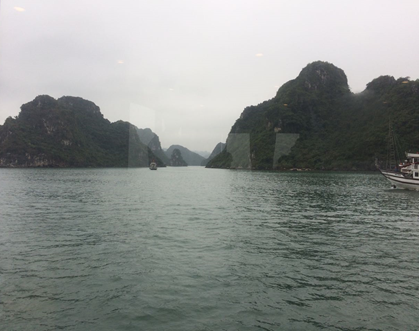 Lose Yourself in the Stories and Culture
The water puppetry show in Hanoi depicts the Vietnamese cultural scenes, country life and folklore stories. It was interesting to not only see the puppets, but also the traditional music and singing that was synchronized with the water. So, indulge in the culture and stories that come alive through these amazing puppets here!
Spend A Night in Ho Chi Minh!
Nightlife in Ho Chi Minh, Downtown in District 1 with rooftop bars and smooth jazz bands are the go-to nightlife entertainment in Saigon. A street named Bui Vien with its boisterous street bars, appetizing eats (for us it was the French Fries, Garlic Bread and Saigon Beer - a heavenly combination) and the good vibes there, it is certainly the place to be when the night falls.
It is a backpacker's hub so foreigners and locals mingle freely with each other and chat the night away. One can sit back on the small plastic stools laid out on the street, drink some beer while watching the sunset and gaze the stars away.
For All The History Junkies Out There
I spent most of my time roaming around the city and soaking up in the culture and history. One of the most popular things to see is the Vietnam War Museum and the Cu Chi tunnels. You also get to see the French-style Church of Notre Dame and the Grand Palace. The Museum is amazing, you can peacefully walk around, click the pictures and see the war exhibits and military equipments.
Shop Beintehaan at Ben Thanh Market
It's a buzzing market, full of shopping stalls and as it is located in the heart of the city, that probably makes it the most important, central landmark of the city. We saw both foreign tourists from around the world, as well as Vietnamese shoppers.
If you are shopping for clothes, souvenirs, nuts or dried fruit, tea or coffee - you can easily spend a few hours getting lost in the tiny, packed lanes of the market. As touristy as it may sound, you just can't give the Ben Thanh Market a miss!
A Skyscraper and Helipad - Check!
The tallest building in Saigon is the Bitexco Financial Tower, which would rank as one of my favourite skyscrapers anywhere. Its iconic shape has made it a local landmark and the highlight of the tower is definitely its beautiful helipad. Make sure to include this tower in your travel itinerary.
Slither-in Wine Tasting On Your Schedule!
There was a bee farm on the first island here that we sailed to, so we tried some natural honey produced by bees on the island - definitely do that! There are small markets where the locals sell clothes, fruits and some souvenirs with tables full of goodies just waiting for you. I tasted a bit of everything - I tried honey tea with some grains, along with some fresh fruits like dragon fruit, jackfruit, watermelon and papaya!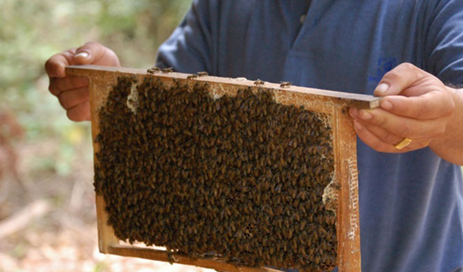 There was also a wine tasting after these snacks - snake wine and banana wine. The wines tasted exactly like VODKA - a straight, neat shot of vodka but the bottles looked awesome though. As for the snake wine, one can see the snake coiled up and locked inside the bottle - moving, which was fascinating and scary, to say the least! So, put some time away for the adventurous wine or the natural honey, whatever floats your boat.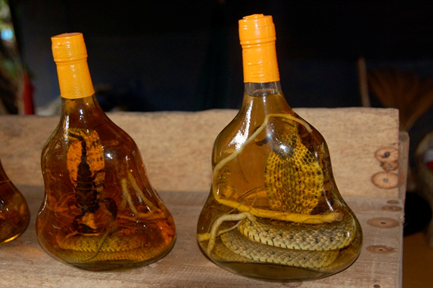 So, I would say, if Vietnam was not on your travel list before, you should certainly add it now. You will surely have a great time here. Now it's your turn to navigate your way through and explore the many possibilities waiting for you in Vietnam. Happy Travelling, friends!
---

Saloni Maheshwari
---
---